Bill, Mary & kids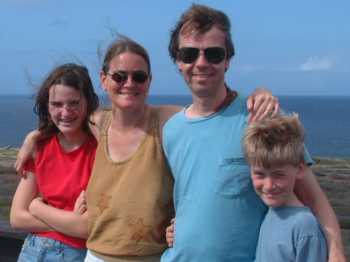 Meredith, Mary, Bill, & Brendan in Curacao
January 17 - January 30, 2003
Bill and Mary and their 2 delightful children Meredith and Brendan decided to escape the depths of the Northwest winter to come visit us in Paradise. Since Mary home-schools the children, they didn't have to wait for school vacations. Like us, they decided that the trip was a "field trip" for the kids, and qualified as school.
The plane from Puerto Rico to Bonaire was delayed so they didn't arrive until after midnight. Jon picked them up at the airport, walked them across the street, piled everything in Tomcat (our dinghy), and drove them the couple miles across the bay to Ocelot. Brendan reckoned that this midnight dinghy ride was just the coolest thing!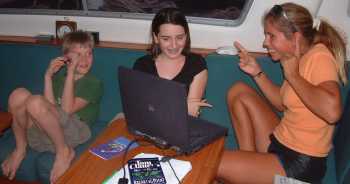 Life with kids is often perplexing, but never boring
Their first day was spent quietly recovering from the flight and slipping into Caribbean mode while Jon, Chris and Amanda finished up their scuba class. Even the next day was spent quietly exploring the cute town of Kralendijk - until that evening when 4 boats with a total of 12 adults and 14 kids on board got together for a giant potluck!
Monday the highlight was taking Tomcat a couple of miles across the bay to the island of Klein (Little) Bonaire for some snorkeling. This was a new experience for Bill and Mary, and the waters around Bonaire are superb. Underwater visibility is often en excess of 100'. By contrast, the visibility in Puget Sound is perhaps 10' on a good day. Both Bonaire and Klein Bonaire are entirely surrounded by coral reefs, and they're world famous for the quality of their diving and snorkeling.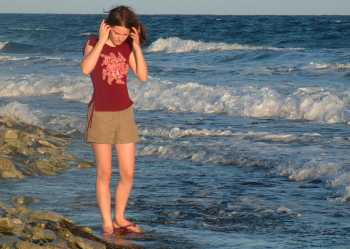 Meredith just loved watching the ocean
Tuesday and Wednesday we rented a car and toured the island. Sue's back was still giving her fits, so she stayed on Ocelot Tuesday, and the rest of us had firm instructions to photograph all birds seen, which included many pink flamingos. Much of the interior of Bonaire is pretty dry and scrubby, but our excellent (if slow) lunch was at a delightfully cool oasis in Rincon. We checked out some caves, the windmills that power much of the salt-works, and the lighthouse at the bottom of the island. That evening 3 boats got together on the catamaran 5th Season for a night of music making and feasting. A typically delightful cruising evening. Wednesday afternoon saw us back out on Klein Bonaire snorkeling and exploring.
Thursday we sailed to Curacao - our only sail, but it was a goodie. We started by putting up full sail on a broad reach and zipping past the rich folks houses in the brisk wind and flat water. Then we set course for Curacao, doused the jib, and put up the spinnaker. Bill was having a delightful time, grinning from ear to ear as we thundered along. One humorous note is that Bill's sailboat is steered with a tiller, which is pushed in the opposite direction from where you want to go. This proved interesting when Bill was on the helm.
| | |
| --- | --- |
| Bill loves to sail, and we had a delightful sail to Curacao | Bill learning to steer a boat with a wheel, instead of a tiller... |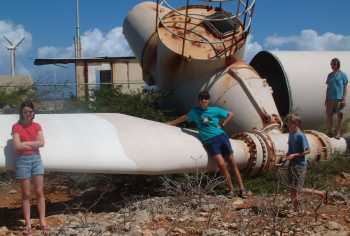 OOPS! I thought YOU had it!
In Curacao, we met up with old cruising friends from the 1980s, John and Casey, who loaned us their car, their house, their phone...
Curacao has a couple of fairly amazing wind-generator farms. Apparently, they generate something like 12% of their electrical needs from wind power. We went to visit one farm out on the lonely windward side of Curacao. Jon and Bill, ever the electrical engineers, thought perhaps they could improve output efficiency with only a few minor modifications. The (somewhat predictable) results are displayed at right. We left as quietly as we could...
We were originally going to sail with Bill and Mary from Bonaire, through Curacao, and on to Aruba (which we never really got to) but Sue's back and sacroiliac joint got extremely painful, making it difficult for her to walk or even move. So we ended up dropping them off at the airport in Curacao so they could fly to Aruba to meet their flight, while Sue spent lots of time (and money) in hospitals and doctor's offices.
Up | Bill, Mary & kids | Harshbargers Return | Jan Reed | Tony Returns | Bill & Mary Return
What to Bring | 2002 Visitors | 2003 Visitors | 2004 Visitors | 2005 Visitors | 2006-11 Visitors
Top Level: Home | Destinations | Cruising Info | Underwater | Boat Guests | Ocelot | Sue | Jon | Amanda | Chris | Site Map | Make a Comment
---
Lifetime
Commodores
of the
Seven Seas
Cruising
Association

If our information is useful,
you can help by making a donation
Copyright © 2000‑ Contact: Jon and Sue Hacking -- HackingFamily.com, svOcelot.com. All rights reserved.