26 March 04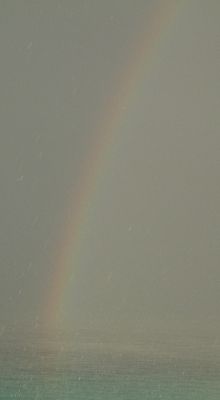 Rainbow in a morning squall
Kathy's journal notes, continued:
A grey and soggy morning. Pam and Kathy didn't bother with the sunrise because it was too cloudy. Also, perhaps we were getting acclimated to the time zone so could sleep later. Sue baked sweet rolls for breakfast, and then we finished packing and loaded all our stuff in the dinghy with the intention of taking a 9:30am flight to Tahiti. We left snorkel gear, one pair of water shoes, and one water bottle behind for Ocelot to use, and Pam swapped Sue a swimsuit for a blouse so she'd have something to wear to dinner in Papeete. Both Pam and Kathy took a collection of shells, Kathy's accompanied by several coral samples. Before we were out of sight of Ocelot, the engine on the dinghy died, probably water in the gas line from the heavy rainfall the night before. Sue and Pam started rowing back to the Ocelot while Jon fiddled with the gas line, trying periodically to get the engine to start. Sometimes it would start just long enough to give Pam and Sue a bit of a lift.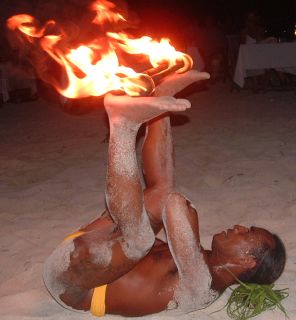 Spectacular fire dancing in Bora Bora
Back on the Ocelot, we collected Amanda to drop us off at the sea wall so that we could walk up to the road and hitchhike. Pam and Kathy were a little dubious about 4 people, 2 with luggage, getting a ride in the rain. But Jon and Sue were right to be optimistic - the second vehicle to approach stopped, a pickup with a bench in the bed right behind the cab. Pam and Jon climbed into the bed, while Sue and Kathy joined the driver in the cab since they were the ones who could speak and understand French. He told us that he was an ambulance driver for the Raiatea Hospital. He asked where we were going, and then drove us right to the door. One more example of the generosity of spirit we encountered in French Polynesia.
When we got to the airport, Sue had a little difficulty making the attendant understand that we wanted to use just the Raiatea->Papeete part of our Bora Bora->Raiatea->Papeete tickets, but then it was done and luggage checked -- weighing all told 14 kilos less than it did when we arrived, now that the nuts, oatmeal, hummus, falafel, rum, and scuba gear were no longer included. Even though our tickets were fixed, we didn't get on a 9:30 flight because none arrived. The weather was too bad for the trip in the morning. Since we ended up waiting until afternoon before takeoff, we had one last long visit with Sue and Jon.
First we walked around the airport looking at the wares sold in booths: bright pareros and scarves and native jewelry. Kathy and Pam both bought several pareros and necklaces made with sea urchin spines. Kathy also found what she thought was a manta ray made of polished oyster shell to take home to Tommy, who has an international animal collection, mostly from his grandmother's travels. Jon and Pam pointed out that it was really a whale fluke. Then we walked down a slight hill to the little cafe, got cups of coffee, and sat outdoors at a table under a roof, so we could watch the rain without getting wet. We talked about everything from our children's natures to future plans to politics. We also watched crabs scuttle around in the grass and a long eel slide around the weir in a stream close by. Sue ordered us beer and croque monsieurs (basically, toasted ham and cheese sandwiches) for lunch. The bar tender was a sarcastic wise guy, but unfortunately I can't remember any examples of the behavior that made me think so.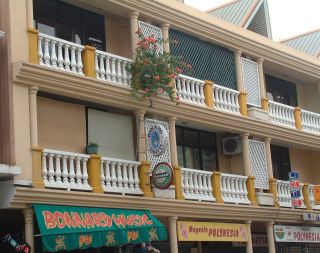 Colonial buildings of Papeete, Tahiti
The plane finally took off around 12:50, so we left Sue and Jon to run errands and hitchhike back -- we'd worked hard to pick out landmarks so they'd know when to get off to find the right sea wall. They were carrying the radio so they could fetch Amanda or Chris to pick them up. The flight was uneventful. Pam had the bright idea of finding a "left luggage" place, putting everything we'd need for the night in one backpack. Kathy was skeptical that such places still exist, but we found one up close to the road -- a large shed with lots of shelves and an elderly woman sitting at a table taking money and giving out retrieval tickets. We walked up to the road and caught a ride in "Le Truck", one of the vehicles that circle Papeete to transport people. "Le Truck" has a pickup-like cab and a long backend -- half way between a pickup and a bus -- with a roof and wooden benches along the sides. In Papeete, we got off on the street beside the harbor and walked up and down until we found our hotel. Pam didn't have the confirmation sheet that showed the room was prepaid -- the receipt was in the folder she left behind in San Diego -- but the receptionist gave us the room anyway after a little persuasion (more Polynesian hospitality).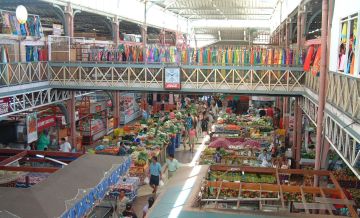 Papeete market houses dozens of tiny stalls
Our room was very pleasant, on the fourth floor facing the harbor with a balcony bigger than the room, two beds, and a shower. I don't remember whether we flipped or not to decide who went first, but we both had hot showers and washed everything. I think we concluded those were the second most delicious showers of our lives, right after the outdoor cold-water showers on Bora Bora right after we finished cycling around the island.
Next stop was the covered market for gift shopping. More pareros, hibiscus shirts for Neil, Ed, and Chris, a black t-shirt with dolphins for Tommy, a dress out of parero fabric smocked at the top for Kathy since all her clothes were too dirty to wear to a restaurant, jewelry including a tiny oyster-shell manta ray that passed Pam's inspection. Sue and Jon had advised Kathy to buy black pearls from the loose bins all around the market, rather than buy the jewelry. The other parts of the jewelry, such as gold settings, drive the prices much higher. Kathy found three, one large one and two smaller ones, in a gun metal / pewter shade, but she reached the corner stand too late to get them drilled. There must be some places in Chapel Hill where that can be done.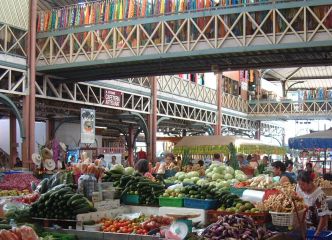 Papeete's "marche" with fish, veggies & souvenirs
On the way back to the hotel, we stopped at a sidewalk cafe/bar for a beer. We then started searching the guidebook for a restaurant that was within walking distance of the hotel and sounded appealing. We made a short list, failed to find the first one, and then were the first guests at the second one, the Moana Iti. The place didn't even seem open, since the hour was an American dinner time, not a French one, but we were tired and hungry. A young Polynesian waitress took our order, having great difficulty telling us what was really available. Apparently the menu is a list of everything they ever serve, but on any given night, only a fraction is prepared. After several "not available's", we told her we wanted Mahi Mahi and left it up to her to choose. She brought Mahi Mahi Meuniere and Mahi Mahi with green peppercorns and a half bottle of Chateau Timberlay. We each ate half of each dish, which were both wonderful, the fish fresh and tender. After we left, the waitress came running out and whistled -- when we turned back, she had the pen that Kathy had left on the table. She could whistle as well as Pam, which is saying something.
We thought about taking a walk, but we had lots to discuss so we sat on the balcony and watched the harbor and talked until bedtime.
20 March 04 | 21 March 04 | 22 March 04 | 23 March 04 | 24 March 04 | 25 March 04 | 26 March 04
Up | Karen & Jon Return | Vince Lowney | Bill & Mary Return | Pam & Kathy
What to Bring | 2002 Visitors | 2003 Visitors | 2004 Visitors | 2005 Visitors | 2006-07 Visitors
Top Level: Home | Destinations | Cruising Info | Underwater | Boat Guests | Ocelot | Sue | Jon | Amanda | Chris | Site Map | Make a Comment
---
Lifetime
Commodores
of the
Seven Seas
Cruising
Association

If our information is useful,
you can help by making a donation
Copyright © 2000‑ Contact: Jon and Sue Hacking -- HackingFamily.com, svOcelot.com. All rights reserved.