Wilds of Africa
12 March 2008, Richards Bay, South Africa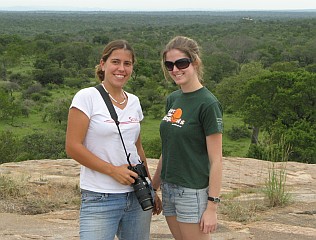 Amanda & Rachel in Kruger
Dear Friends and Family,
Wow - March already, and Ocelot's still at the Tuzi Gazi Marina in Richards Bay, the same place she's been for the past 3 months! But we've not been idle, and while we await the passage of some nasty lows in the Mozambique Channel (including a named cyclone), we can tell you what we've been up to. This letter covers the country of Swaziland, as well as Kruger National Park, the Eastern Cape, Addo Elephant Park, Swartberg Pass, the Garden Route, and Cape Town, all in South Africa. We're also working to update the website after having suffered a double hard disk crash over Christmas. Stay tuned!
After Jon's dad returned home in late January we picked up Amanda's Australian buddy, Rachel (a former cruising friend whose family we've known since 2002) who will be with us until May. Rachel had never been to southern Africa so we headed immediately for the famous Kruger National Park. Within 4 hours of landing in Africa, she'd seen her first (of many) elephant. By the end of Rachel's first day we'd had close encounters with giraffes, elephants, warthogs, impalas, kudus, waterbuck and white rhinos. What a great beginning!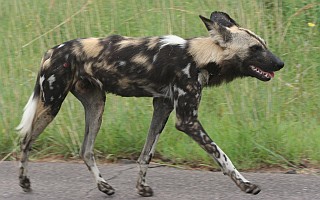 An African wild dog with its mottled colors
Four days in Kruger Park allowed us to cover much of the southern half of the park - arising at 4:30am, out the gates at 5 to watch the last of the nocturnal animals, picnicking at watering holes and game hides, and driving until the internal gates closed at 7pm. It was mid-week, off-season, so we needed no advance reservations: just rocked up at a rest-camp and chose a rondavel for the night for Jon and Sue (who like a bed, air‑conditioning, and mosquito net in this, the malaria season) and a camp site for Amanda and Rachel who had a spiffy little dome tent to keep the mozzies, hornbills, and vervet monkeys out. (They found their tent was a "4‑man" tent, so they kept their eyes out for 4 blokes to fill it...)
The park was much as we remembered it from 1980 and 1998, but being summer the grasses were higher, the vistas greener, and the watering holes less frequented. But the tall grass did put more animals out on the road, like hyena, elephants, and lions. Luckily, the skies were generally overcast, so temperatures were delightful (they're often 104°F or 40°C this time of year). Our special treats were a pair of wild dogs (the rarest predators in the park) in the road with us, one of whom made a piercing siren-like "whoop whoop whoop" sound while staring at the ground. No head thrown back like a wolf! We had a lioness pass within 3 feet (1m) of the car, and a pair of cheetahs cross the road right in front of us. We did over 400 miles (680 km) with over 60 significant animal encounters!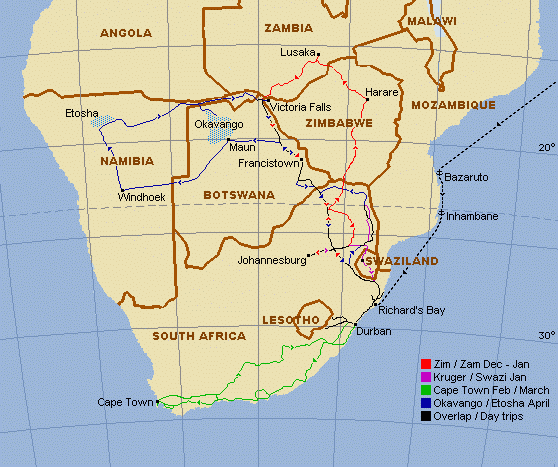 Our major road-trips through southern Africa. Richards Bay-Durban is 2 hours drive
Blue lines are 5 degrees, 300nm or 600km apart. Maun-Windhoek is 500m or 830km
From Kruger we drove south over the swollen Crocodile River, through the condom-dispensing and relatively hassle-free border post into Swaziland. It is estimated that 1/3 of Swazis are HIV positive. The free condoms offer a small hope of stemming the disease which continues to devastate the population, partly because of the highly mobile population of truck drivers who stay away from home and wives for weeks at a time, and the stigma the people attach to the disease. There are countless free clinics available, but people will not go because they don't want their family or neighbors to even know they're being tested.
We spent a weekend with Jon's cousin, Rose, and learned that her gardener is losing his wife and refuses to take her to a clinic for treatment. Very troubling. At Rose's we saw her awesome stained glass work (some of which has been done for the palace of one of the King's 13 wives) got the laundry done, caught up on family news, explored the Swazi national museum, and put together more family history, including photos of Amanda's great great grandparents. We also learned that Coca-Cola suffered a major hit when cell-phones came out - The Coke plant supplies all the syrup for greater southern Africa, and the locals used to buy a Coke whenever they had some spare cash. Now they tend to buy phone-time instead, which has significantly cut into Coke sales. From Manzini, we drove on excellent roads south through more commercial pine and eucalypt forest, then dropped down into low hills topped with green shimmering sugar cane and back into South Africa.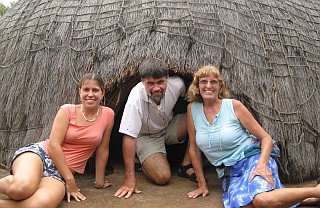 We try out a Swazi hut, but it's a bit small!
Passing Richards Bay, we dropped off our extraneous stuff (like the empty fuel jugs we needed for Zimbabwe) and took a couple days to air out Ocelot and visit the Umfolozi and Hluhluwe National Parks, where we were treated to not one but two sets of elephants chasing us (backwards) down the road!
We took a leisurely 7 days to drive down the coast to Cape Town, with highlights at Oribi Gorge with its deep forested canyons cut by ancient rivers into granite cliffs, Addo Elephant Park (major close encounters with young male elephants) and the magnificent Swartberg Pass where twisted red layers of sedimentary rock create fantastic shapes along the sheer sides of the gravel switchback road. We visited all of our potential ports along the coast, figuring it never hurts to assess an anchorage/port before needing to pull into it! By touring this coast by car we won't be thinking, "Gee, I wonder what's inland of the harbor" as we make our way southwest. This will allow us to sail the coast as far and fast as we please (weather permitting).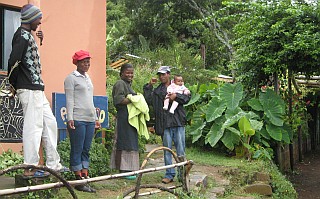 Lovely Xhosas manage Amanpondo Backpackers
Along the "Garden Route" we visited the Tsitsikama Forest and explored the Storms River bridge and gorge, as well as the Storms River Mouth, an area of magnificent rocks and seething ocean.
We visited several cousins and old friends, many of whom are optimistic about the future of this New South Africa. In the backpacker places we stayed we met local Zulus and Xhosas (say that with a click for the "xh") and other people of color who were so fun and hospitable. What a wonderful change from the old regime South Africa! Not only do they have so many more opportunities, but they aren't afraid to speak their minds now.
The Cape welcomed us with brilliant blue skies above the ever-amazing Table Mountain massif. If possible, the Cape Town area is more beautiful than we'd remembered it! We can't wait to get Ocelot down there, to wake up in the morning and see the rugged cliffs overhead.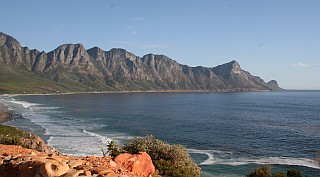 Beautiful Gordon's Bay, near Cape Town
Weather, weather, weather - It dominates our lives as sailors. When we returned to Richards Bay (by plane, as we left Inni the Audi in Cape Town for our use down there) we had a few days to wait for fair winds, so we undertook a "4-day cosmetic project" on Ocelot to smooth her whale-ruffled hull. Well, TIA (This Is Africa) and the 4 days turned into 10 as we struggled with the 2 steps forward, 1 back routine while 2‑5 workers sanded, painted, re‑sanded, re‑painted, polished and crawled all over our decks each day.
In the end we did lots more beautifying than just the whale damage -- stripped, primed and painted the aluminum mast and struts, got new names put on our bows, and the whole boat polished and waxed. Ready to go! Well, not quite. Jon tweaked his back, and Amanda, Sue and Rachel got nasty summer colds, so we had to wave goodbye to a weather window which was probably too short for safety anyway. Next one comes up about the 17th or 18th of March, and then we're heading down the Wild Coast towards Cape Town and the final leg of our African journey. [Or so we thought - ed.] We'll be in touch!
Fair winds and Calm seas -- Sue, Jon, Amanda and Rachel
Up | Mozambique Channel | South Africa Arrival | Africa Road Trip #1 | Wilds of Africa | African Game Parks | Family Update | Kruger Return | Touring Africa | The Eye's Have It
Laos Letters | Vietnam Letters | India Letters | Nepal Letters | Indonesia Letters | Malaysia Letters | Thailand Letters | Sri Lanka Letters | Maldives Letters | Chagos Letters | Seychelles Letters | Madagascar Letters | Mayotte Letters | Africa Letters
Top Level: Home | Destinations | Cruising Info | Underwater | Boat Guests | Ocelot | Sue | Jon | Amanda | Chris | Site Map | Make a Comment
---
Lifetime
Commodores
of the
Seven Seas
Cruising
Association

If our information is useful,
you can help by making a donation
Copyright © 2000‑ Contact: Jon and Sue Hacking -- HackingFamily.com, svOcelot.com. All rights reserved.