Family Update
9 June 2009, South Africa
Dear Friends and Family,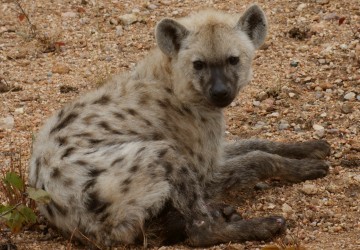 Hyena mom outside her den
As we write this we're in the African interior - specifically, Kruger Wildlife Park! The stars are shining over our "safari-tent", strange and exotic animal noises are coming from just outside the fence (we're right against it and we've already been visited by a hyena) and we can hear some wonderful local singing from the workers' village. (OK, there's something ... wrong about being outside your tent in an African game park and being on the internet, but our access comes via the cell system, which they provide at the rest camps.)
Days here start before the sun as we grab a quick bite and jump in the car to be out the gates when they open at 6am for a morning game drive, hoping to catch some of the nocturnal animals before they return to their burrows. Yesterday we saw White Rhinos, giraffes (including 4 adolescents running across the road in front of us and down across the river bed - they're so graceful when they run) elephant (including a cute baby who didn't even know how to drink with his trunk yet) hippos, a big herd of Cape Buffalo, majestic kudu with their stunning corkscrew horns, Wildebeest (aka Blue Gnu), zebras, several types of vultures and birds of prey, crocodiles, and 2(!) prides of lion. Today we came across a small herd of Sable with their long, saber-like curved horns, which are extremely rare in Kruger. Just past them we were slowing down to look at some White Rhinos when a cheetah came slinking out of the grass and crossed the road right in front of us! Then he took off after a small herd of Impala who immediately scattered, sounding the alarm. We've also seen Bataleur Eagles, Fish Eagles, hornbills, oxpeckers, duikers, mongoose, jackal, Vervet monkeys, baboons, klipspringer, Waterbuck, Scops Owl, and of course thousands of impala.
Kruger Park is huge (about the size of Israel) so we're planning to spend 5 days in here before returning to Ocelot via Swaziland.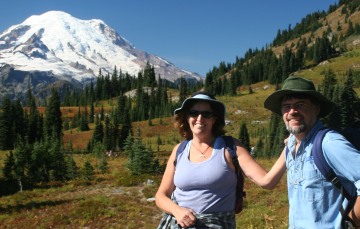 We get a mountain-fix at Mt. Rainier
When we last wrote we were back in the USA, freezing our buns off in the chilly northwest in wintertime. Jon was working a short contract for a friend at Aesculight, programming more safety features into a small surgical laser. The contract was extended until March, which gave us ample time to get Amanda settled into the University of Washington (UW, where she's studying Oceanography), to celebrate both Thanksgiving and Christmas with friends and family in a properly cold environment, to get in some excellent skiing, and to catch up with many wonderful friends.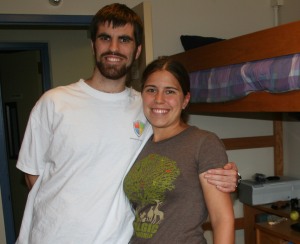 Chris & Amanda in her dorm. Hey! It's BIG!
When Spring Break came in April, we took a road-trip back down to California with both kids, seeing more friends and family along the way. Sue and Jon flew back to Ocelot at the beginning of April and have been slowly restoring her to sailing trim. There's an old saying that "Boats and crew ROT in port" and we're afraid it's true. Not only did several of Ocelot's systems need attention after our 9‑month absence, but both of us had several kilos of blubber to work off.
We've been chided for not keeping you all up to date, but the truth is that we're still not still sure where we're headed... What we'd like to do is to sail back to Malaysia and Thailand. We have several friends coming up from Australia, both this year and next year, and we'd very much like to go trekking in the Himalayas again, as a 30-year anniversary (our first wedding anniversary was 1 day's hike out of Everest Base Camp in 1980). The normal route back to SE Asia is to sail up the Mozambique Channel (trying to avoid the whales this time), hop off from the northern tip of Madagascar for the Seychelles, then sail NE into the northern Indian Ocean until the SW Monsoon comes up and allows us to curl over to the east, usually just north of the equator.
The problem with all this, of course, is that the recent anti-piracy actions in the approaches to the Red Sea have pushed some of the Somali pirates further south, and some are now operating around the Seychelles. At the beginning of May, 2 ships were attacked (1 was hijacked) on almost a direct line between Madagascar and the Seychelles. Another ship was attacked 100 miles east of our proposed track. Even leaving the Seychelles is problematic, as 4 ships have been attacked recently north and east of the Seychelles.


The Imperial Dubrovnik entering Richards Bay. Lucky freighter?
The French military went in and rescued both of the hijacked French sailboats, but 1 owner (and father of a small child) was killed. The only other sailboat hijacked (that we've heard of) was from the Seychelles. It was captured along with a small research vessel and now all 9 crew are being held for US$3 Million(!) ransom. The Seychelles is trying to exchange their crews for captured pirates, but of course the Somali war-lords that control the piracy have no interest in getting their peons back. Indeed, the captured pirates are enjoying the good food and TV of western jails and may not really want to return.
There is an excellent map showing much of this at the International Chamber of Commerce. Click on Hybrid in the upper right corner so the place-names show up, then center the map on the Seychelles (NNE of Madagascar). Click on the + sign above the left-hand slider 3 times to zoom in (the first click may give you an error, but future clicks shouldn't). Not a very encouraging picture. Clicking on a marker gives an overview of what happened there, with more details available. If you click on the Live Piracy Report link on the right, you'll see all of the attacks that have been reported in the last few weeks.
(Warning - Rant coming...) What really annoys us is that many of the piracy reports end with something like "... when the pirates saw the coalition helicopter they broke off the attack." Where's the part about the helicopter blowing the pirates into the next lifetime? Why are the coalition forces so impotent? By May of 2009, pirate attacks had already exceeded all of 2008! Despite the huge military build-up, pirate attacks have more than doubled just this year, and the rate is accelerating.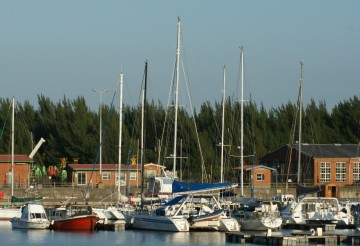 Ocelot (blue sail cover) in Tuzi Gazi Marina
What's the difference between hijacking an airliner and hijacking a ship? The few pirates that have been caught have had their weapons taken away but then they're usually RELEASED! What kind of message does this send to the pirates? Somalia is so full of AK‑47s that losing a few is of absolutely no consequence at all. (In Mozambique one can buy an AK‑47 for 25kg of corn - probably less in Somalia.)
Shipping companies have NO OPTION but to pay the ransoms demanded. This gives the pirates incredible incentive to expand their operations. They've taken in hundreds of millions of dollars in ransoms! Only a national military has the strength to stop concerted piracy, but they have to provide a significant disincentive if they're to be effective. Why aren't they doing something to convince the pirates to give it up?
Many people seem to think that since Somalia is so destitute that these people have some right to their piracy. But much of Africa is in just as poor an economic shape, and they don't resort to armed violence against innocent civilians. Oh, the police might setup a road-block and shake cars down for a couple of bucks, but corrupt police are endemic - we got that even in Bali. No, these pirates need to be taught that their actions are wrong. (OK, I'll get off my soap-box now.

)
Other sailing options for us include sailing due east from Richards Bay, running the edge of the Roaring 40s south of Madagascar and then curling up to Mauritius and Reunion (due east of Madagascar). The trip NE from there to the equator would probably clear the pirate areas. But of the last 3 boats we've seen try that southern route, 2 got beaten-up pretty badly and had to return to Richards Bay with their tails between their legs and some of their equipment badly shredded. (The third boat are crazy Kiwis so they hardly count.

) Not what we're out here for...
Another option is to go back to our very first plan - wait until the southern hemisphere summer (Nov‑Dec) and sail down to Cape Town. Then cross the Atlantic in early 2010 and maybe catch Carnival in Recife, Brazil (which was a complete HOOT in 1981). This would get us closer to potential visitors from the US, and would get us that much closer to our beloved Pacific. It would also let us play in Africa for a few more months, taking more road-trips deeper into the interior. But then we may just have to buy a 4WD...
We Shall See...
In the meantime, all the best to all of you!
Fair winds and calm seas -- Jon and Sue Hacking
Up | Mozambique Channel | South Africa Arrival | Africa Road Trip #1 | Wilds of Africa | African Game Parks | Family Update | Kruger Return | Touring Africa | The Eye's Have It
Laos Letters | Vietnam Letters | India Letters | Nepal Letters | Indonesia Letters | Malaysia Letters | Thailand Letters | Sri Lanka Letters | Maldives Letters | Chagos Letters | Seychelles Letters | Madagascar Letters | Mayotte Letters | Africa Letters
Top Level: Home | Destinations | Cruising Info | Underwater | Boat Guests | Ocelot | Sue | Jon | Amanda | Chris | Site Map | Make a Comment
---
Lifetime
Commodores
of the
Seven Seas
Cruising
Association

If our information is useful,
you can help by making a donation
Copyright © 2000‑ Contact: Jon and Sue Hacking -- HackingFamily.com, svOcelot.com. All rights reserved.