African Game Parks
7 May 2008, Richards Bay, South Africa
Dear Friends and Family,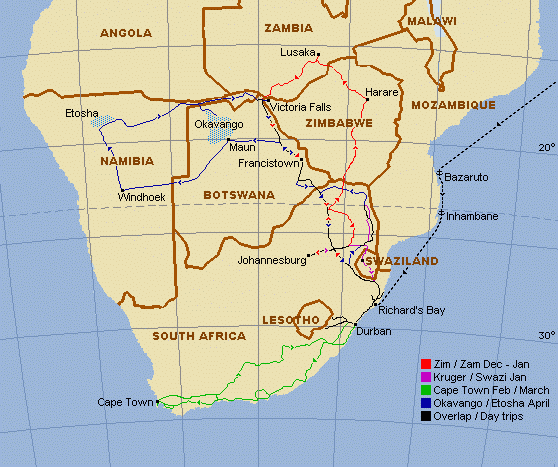 Our major road-trips through southern Africa. Richards Bay-Durban is 2 hours drive
Blue lines are 5 degrees, 300nm or 600km apart. Maun-Windhoek is 500m or 830km
We've just returned from our longest African Road Trip yet - this one almost 8,000 kilometers (5,000 miles) through 4 countries and 8 border crossings.
But our BIG news is that we recently decided not to continue on to the Caribbean to sell Ocelot, but to sail back to SE Asia once the Indian Ocean cyclone season has ended. Since we had to wait over a month anyway, this provided a convenient excuse for another road-trip (as if we really needed one). So Sue and Jon flew back to Cape Town to retrieve Inni the Audi, spending a delightful 3 days driving up through the small Karoo and next to the towering Drakensburg mountains.
We started our road-trip by returning to the Kruger Game Park, in the NE corner of South Africa. We'd seen the southern end of the park in late January, but the grasses were pretty high then, limiting our visibility. We also wanted to get further north, to see what that end of the park had to offer. This time the grasses were much lower, so we could see further. Also, it was autumn -- rutting season for the antelope, so we hoped to see some males duking it out for the title of Alpha Male of the herd. (Note: this behavior can also be seen in places like Microsoft, where programmers compete for the title of Alpha Geek!)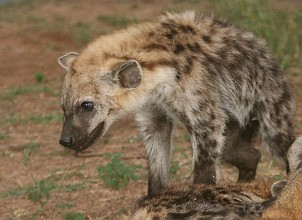 Hyena pup not yet weaned, with sibling
Kruger is always a thrill to visit - we took thousands of photos and had a difficult time choosing which to put on the website. We'd get up before dawn to get out the gates as soon as they opened, hoping to get a glimpse of the nocturnal animals before they went to bed. We'd stay out until curfew (sunset) forced us back into the rustic, yet comfortable rest-camps, tired but ecstatic at what we'd seen that day - Lions, kudus, impalas, warthogs, hippos, rhinoceros, crocodiles, bush‑bucks (new), klip‑springers (new), elephants (yet another close encounter), hyenas (right by the car), jackals, giraffes, zebras, Cape buffaloes, etc., etc. Sue and Amanda identified many new species of birds, including some nice owls, vultures, and lots of raptors.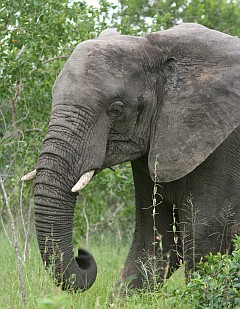 Up close and personal in Kruger
The elephants were probably the most fun to watch, as herds of them would come down to the river to drink in the afternoons. Often they had playful little babies (well, little for an elephant) some so young that they didn't even know how to drink with their trunks - so they'd just get down into the water until it covered their mouths! Then they'd get up and play with one of the nearby younger elephants until one of the moms would tell them both to behave.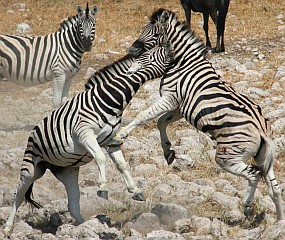 Male zebras fighting for dominance
From Kruger we drove some long and lonely roads west, through the middle of Botswana to Windhoek (the capital of Namibia) and then north to the Etosha Pan Game Reserve, up near the Angola border. Since Etosha is about 1,000 miles (1,600 km) from Kruger, and in a very different ecological area (basically, desert) we expected different animals. Some were the same - we saw vast herds of zebra and wildebeest (they have complimentary senses, so often like to travel together), but also springbok (vast herds), ostrich, kori‑bustards, dik‑dik, and Gemsbok (Oryx) which we hadn't seen yet on this visit. The Oryx is especially adapted for the desert, with a special heat exchanger in its nose to cool blood going to its brain. They also have long, rapier-like horns, and finely tailored suits - beautiful animals.
In northern Namibia autumn was in full swing. Under the soulful gaze of fellow antelope, pairs of fully horned springbok clashed head on, hooves pounding the dirt to dust. Male Gemsbok brought their rapier horns together, heads lowered, haunches bunched to try and win this saga of dominance. And amidst a herd of zebras, males bit and kicked, rising high up on their hind legs to force the other into submission.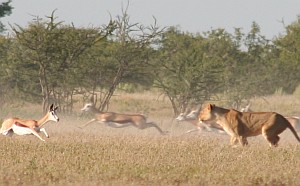 Springbok woes. Oops. Wrong way!
In the feline world the dramas were different. We watched from our car, entranced, as 3 lionesses played with a herd of perhaps a thousand springbok. They stalked, rested, sat up and watched, tails twitching, then raced forward. The springbok scattered like streams of tan and gold water, gathering, spreading out, changing direction. Then the lions sank down again, heads just above the golden grass, eyes following the small antelope as they hesitantly, skittishly, then foolishly (bravely) filed past the lions. The lions obviously weren't very hungry, but were perhaps waiting for room service of a wounded buck or doe to stumble at their feet.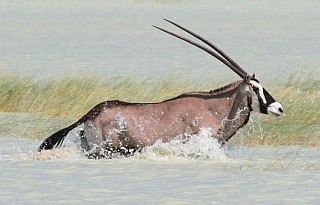 A real treat to see a desert Gemsbok in water
The heavy rains of this past summer were late in leaving, and the famous Etosha Salt Pan, usually dry, was full of water and reflected the azure sky like a huge inland ocean. This profusion of water kept the animals dispersed, but for our eyes, so used to the emptiness of true ocean, the dizzying black and white of a herd of zebra or the stark sight of a line of Gemsbok crossing a shallow pool was a visual feast. At night we'd walk (inside the rest camps) to specially lit watering holes to quietly watch the animals come and go. Three giraffes, as silent as fog, entering from the bush. A mother and baby pair of rhinos ripping grass by the waterhole. Stealthy jackals skirting the edge of the artificial light. And at dawn, a Giant Eagle Owl landing on wings of silence to perch on a snag, watchful for a last meal of some small hare or snake before the orange African sun arose.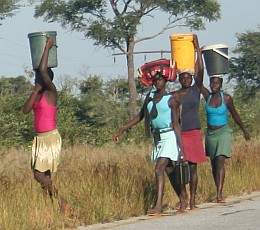 Carrying water home from the well
From Etosha we headed east into the Caprivi strip, which none of us had ever visited before - after all, it was a war-zone not so long ago. Then we crossed back into Botswana seeking a few days of quiet in the watery world of the Okavango Delta. It's the seasonal rains in Angola that flood the Okavango River and force it south, through the Caprivi strip and into the Kalahari Dessert. In northern Botswana, it spreads out into a huge delta almost 100km (60 miles) on a side before sinking into the desert. The water varies from a few inches to a few feet deep and the area is covered in islands, so the animals move about freely. Even lions cross the flooded savanna to search for food on neighboring islands.
Down 120km (75 miles) of bone-jarring sand and dirt road (barely passable in our 2WD Audi) lies the pre‑electricity, subsistence farming, goat herding, thatch hut village of Seronga. In 1997 the village formed a tourism cooperative that allows the men to take tourists out into the wilds of the Delta. Previously, the men had worked away from home 8 months of the year. The cooperative allows them to work from home and provides an affordable alternative to the astonishingly pricey "camps" that operate in Moremi Game Preserve in the central Delta. Since the money goes to the people (rather than a big corporation) this is where we went for our Okavango experience.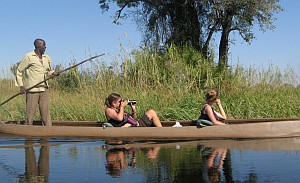 Amanda photographs birds from the makoro
After sorting our food and camping gear, we set out in narrow "makoros" (fiberglass replicas of dugout canoes) for 3 days and 2 nights on the Delta. Our competent guides poled us through papyrus and hippo grass. They led us on game-walks where we came upon an elephant trumpeting his anger at a troop of baboons that threatened to steal his favored Marula fruits. When the guides spotted the fresh spoor of a lone (and therefore highly aggressive) Cape buffalo, they had us cautiously detour around the small mound of buffalo-concealing brush.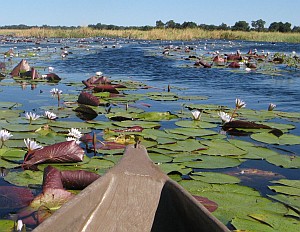 Water lilies adorn the Okavango Delta
We rested during the midday heat under the shade of African Ebony trees and watched a lone elephant walk nonchalantly through our campsite. We bathed in cool clear pools, declared free of crocs and hippos by the guides. We cooked supper over open fires and camped 2 nights in bush clearings just feet from the water's edge, where hippos snorted and called throughout the night. Ever watchful, the guides stoked the fire all night to keep the animals at bay. To stay hydrated under the blazing sun we drank the slightly earthy, clear tannin-colored water straight from the Delta through the hollow stems of the day water lilies.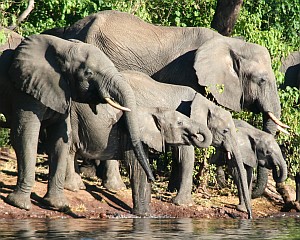 Whole families come to the river to drink
In the car once again, we backtracked the terrible dirt road from Seronga to the funky old outboard-powered ferry across the Okavango River. We reentered Namibia and drove almost the entire Caprivi Strip (500km or 300 miles) before reentering Botswana at Chobe Game Park. There, we hired our own boat and guide for a 3‑hour game-viewing river trip. With Jon's father we'd done a similar boat trip in the morning, which was a bird extravaganza. But this time, with the red African sun sinking in the west, we drifted close to small herds of elephants that cavorted, drank, sprayed water on their backs, and jostled for the best spot on the river's edge.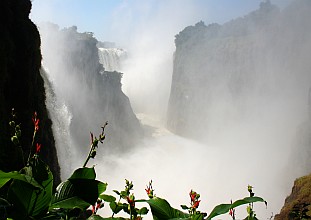 "The Smoke that Thunders", in full flood
The last item on our list was to see the Victoria Falls again, but this time from the Zimbabwe side. Much more of the falls are visible from the southern side, with several kilometers of (spray-drenched) trails that border the chasm. With the Zambezi River in full flow (higher even than it was in January!) the "Smoke that Thunders" gave us a great show, falling into its abyss with a deafening roar while an almost opaque curtain of spray shot up out of the chasm and high into the sky. Wanting to help out the desperate Zimbabweans who manned small stalls devoid of tourists, we bought a few mementos (using US$) and rented funky old raincoats which gave us an illusion of staying dry.
Our trip back to Ocelot in Richards Bay was long but relatively uneventful - well, except for hitting one of the many car-eating pot-holes at 75 mph (120 kph) and blowing out a front tire (and tweaking the suspension a bit). Now that we're back, we're getting Ocelot ready for our passage across the Indian Ocean. The first part of the trip, back up the Mozambique Channel, will be the most difficult bit, as we'll be fighting adverse currents and sometimes contrary winds. From Mayotte (just west of the north tip of Madagascar) we should have the winds behind us, but we'll still have several thousand ocean miles to sail...
Fair Winds and Calm Seas -- Jon, Sue, Amanda and Rachel
Up | Mozambique Channel | South Africa Arrival | Africa Road Trip #1 | Wilds of Africa | African Game Parks | Family Update | Kruger Return | Touring Africa | The Eye's Have It
Laos Letters | Vietnam Letters | India Letters | Nepal Letters | Indonesia Letters | Malaysia Letters | Thailand Letters | Sri Lanka Letters | Maldives Letters | Chagos Letters | Seychelles Letters | Madagascar Letters | Mayotte Letters | Africa Letters
Top Level: Home | Destinations | Cruising Info | Underwater | Boat Guests | Ocelot | Sue | Jon | Amanda | Chris | Site Map | Make a Comment
---
Lifetime
Commodores
of the
Seven Seas
Cruising
Association

If our information is useful,
you can help by making a donation
Copyright © 2000‑ Contact: Jon and Sue Hacking -- HackingFamily.com, svOcelot.com. All rights reserved.