The Eye's Have It
8 September 2009, Kruger Park, South Africa
Dear Friends and Family,
South Africa?!? Weren't we just in the Seychelles? Well, yes, Africa doesn't seem to be letting go of us. There's a bit of a story there...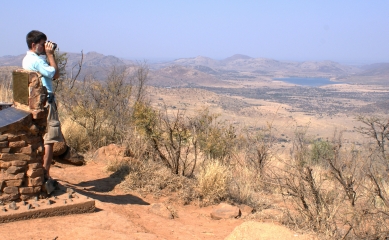 Jon can see clearly now! Binocs help at Pilanesberg NP
We were having a bunch of fun in the Seychelles. We'd run into another cruising family with 3 of the cutest boys you can imagine (8, 10, and 12) and we'd been out playing with them, sharing some meals and visiting a fun open-air street fair. We also did a glorious hike up to the top of a huge rock cliff overlooking the whole north side of Mahe Island.
Then Jon took the dinghy out to Ocelot and noticed flashing lights in the outside corner of his right eye. By the time he got back to the yacht club, he had large spots floating around in front of that eye. The next morning he visited the best optometrist on the island, who said he had a retinal detachment. This is where the light-sensitive layer at the back of the eyeball detaches from the underlying tissue and falls into the middle of the eye. If not treated immediately it can lead to permanent vision loss. But they certainly couldn't do anything about it in the Seychelles. The best and closest treatment was in South Africa.
So we booked tickets to Johannesburg and flew the following Sunday. A friend picked us up at the airport and loaned us a car, and a cousin who lives close to the clinic loaned us a bedroom. On Monday the ophthalmologist-surgeon saw Jon and said that the retina wasn't detached yet, but it was torn and would detach soon if not treated. Apparently the jelly in Jon's eye had shrunk (no saying why) and had torn one of its attachment points. This tore the retina and also a blood vessel - the spots in Jon's eye were blood.
The doctor then used a green argon laser to stitch the tear back down to the underlying tissue to keep it from tearing further and possibly detaching. This was pretty amazing from the inside, as Jon felt he was on the receiving end of about 100 photon torpedo blasts from Star Trek! All relatively painless so no anesthetic needed - pretty amazing technology.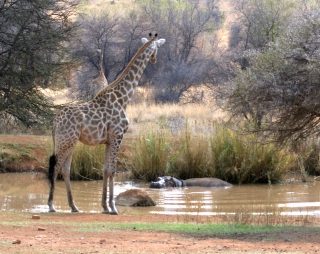 Giraffe vs Hippo stand-off. MY waterhole!!
But Jon's vision was still largely obscured by the blood, so the next morning he went in for a couple hours of arthroscopic eye surgery under a general anesthetic. Three tiny slits were made in the upper part of his eye for a light, a suction tube, and a replacement water tube. His eye gel (and the obscuring blood) was vacuumed out and replaced with sterile water, the eye was checked for any more tears, and the remaining attachment points were severed to prevent them from tearing in the future. He woke up with an eye that was a bit sore but could see clearly again! The doctor checked it again 5 days later and said it was healing well. The only real problem is that the eye will probably develop a cataract within the next year or two, but that seems to be fairly routine surgery these days (as routine as it ever is carving an eye with a scalpel...)

A cheetah watches his flank after crossing the road
In the meantime, we've had a few days to play. We spent a couple of days in Pilanesberg, a game park 2 hours north of Jo'burg in what was an old volcano 1.5 billion years ago. We saw a rare brown hyena which we hadn't seen before, as well as several other animals that we don't see in our usual haunts, like Red Hartebeest, Black Rhino and Springbok. Sue also added 5 new birds to her ever-growing list. We also visited the "Cradle of Humankind" - the region around Jo'burg where many significant archeological finds have been made. A beautiful, modern museum called "Maropeng" houses some of the skulls and fossils and helps pull together the whole story of human evolution as it is understood to date. This museum would never have been built in the old apartheid days, as then the Dutch Reformed Church ruled, and creationism was the rule.
As I write this, we're outside our "safari tent" in Skukuza camp of Kruger National Park with stars blazing overhead, hyenas snuffling on the other side of the fence, and we can hear the workers village chanting and singing in the distance. We had a great day yesterday - saw all 3 of the big cats. Didn't think today could be as good, but Kruger never ceases to amaze, and we had an awesome day with great birds and elephant herds with tiny young playful elephants.
Tomorrow we return to Jo'burg to bid farewell to Jon's cousin, return the borrowed car, and get ourselves to the airport for a "red-eye special" all-night flight back to the tropics, Ocelot, and the Seychelles.
Fair Winds and Calm Seas -- Jon and Sue
Up | Mozambique Channel | South Africa Arrival | Africa Road Trip #1 | Wilds of Africa | African Game Parks | Family Update | Kruger Return | Touring Africa | The Eye's Have It
Laos Letters | Vietnam Letters | India Letters | Nepal Letters | Indonesia Letters | Malaysia Letters | Thailand Letters | Sri Lanka Letters | Maldives Letters | Chagos Letters | Seychelles Letters | Madagascar Letters | Mayotte Letters | Africa Letters
Top Level: Home | Destinations | Cruising Info | Underwater | Boat Guests | Ocelot | Sue | Jon | Amanda | Chris | Site Map | Make a Comment
---
Lifetime
Commodores
of the
Seven Seas
Cruising
Association

If our information is useful,
you can help by making a donation
Copyright © 2000‑ Contact: Jon and Sue Hacking -- HackingFamily.com, svOcelot.com. All rights reserved.