Interior Floors
This page is still very much under construction...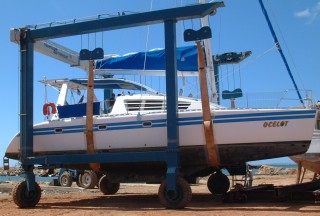 Never thought we'd see Ocelot flying!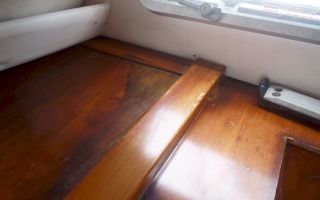 Interior teak doesn't like getting wet over & over
Interior Varnish: Ocelot's interior is all varnished teak (except for the headliner and the sleeping areas). After 10 years, much of it needs to be stripped back to bare wood and then coated with 10 layers of new varnish. This is a huge job, best done with a spray‑gun in a workshop. We've tried varnishing, and while we can do OK on small patches, this is something we'd rather leave to professionals.
(Varnish: "High-fiction coating applied to nautical stories to improve their audience holding capacity over frequent retellings."

from Beard and McKee)
Woodwork: Several small jobs need to be done, and again, these are best left to professionals as Jon can not match the quality of Ocelot's existing woodwork. The cockpit table needs to be remade, 2 areas around our entryway have soft wood that needs to be removed and rebuilt, the lattice work that our chain runs over needs to be replaced, the whole galley sink area needs to be re‑thought, the cutlery drawer needs to be moved to make way for the new stove, the teak "eyebrows" over our forward windows need to be replaced (probably in fiberglass), several wooden strips in each of our 4 bathrooms need to be replaced with something more waterproof, etc.
There are also several smaller jobs that we will be doing ourselves: Install new faucets in all 4 bathrooms, rewire the mast, new foredeck lights, install new galley faucet, replace our depth transducer, install a new radar, install larger hatches over our forward cabins, rework our saloon cushions, new covers over our aft storage compartments, epoxy coat the rudders, etc. Should keep us off the streets and out of trouble...
Thai Refit: Up | Rebuild Decks | Extend Transoms | Cockpit Area | Below Waterline | Bimini | Spars | Deck Hardware | Exterior Lockers | Salon | Galley | Cabins | Heads | Interior Floors | Electrical | Maintenance | Weekly Logs 2012 | Weekly Logs 2013
Ocelot Pages: Ocelot Layout | Ocelot's Deck | Cockpit Photos | Inside Ocelot | Kronos 45 Specs | Modifications | Refrigeration | Venezuela Haul Out | Tonga Haul Out | Thai Refit
Top Level: Home | Destinations | Cruising Info | Underwater | Boat Guests | Ocelot | Sue | Jon | Amanda | Chris | Site Map | Make a Comment
---
Lifetime
Commodores
of the
Seven Seas
Cruising
Association

If our information is useful,
you can help by making a donation
Copyright © 2000‑ Contact: Jon and Sue Hacking -- HackingFamily.com, svOcelot.com. All rights reserved.