Inland Malaysia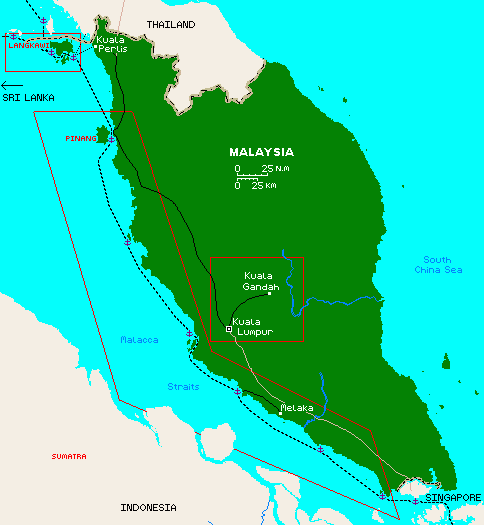 Visited: Late December, 2006.
(Sue) We had only a very short time to explore inland Malaysia, packing it in between sailing up the coast and getting back to Langkawi to share Christmas festivities with our cruising friends on Scud. The main goal of our inland trip was to pick up Christopher at the airport in Kuala Lumpur. Yeah, he could have found his way to Langkawi on his own, but what was the fun of that? We take any excuse for a trip, and we all wanted to see something of the interior of the country. So, after getting the hook down in Langkawi on Dec 16 we promptly set about figuring how to get the 4 of us (Rachel was still visiting us) down to the capital before December 22nd. With Ocelot being watched by the folks on Scud, we headed off at 6AM on the 21st. A dinghy ride, ferry ride and short walk (interrupted by breakfast) got us to the bus terminal in Kuala Perlis, near the Thai border. From there it was an 7 hour ride down the super North-South Highway to Kuala Lumpur. We arrived at dusk, and soon found ourselves on the local train to the northern suburbs. There our new friend, Sulynn Choong, picked us up -- tired and a bit road-weary but happy to have arrived.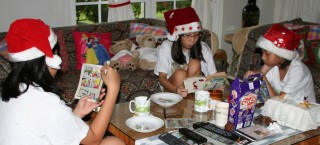 Santa's helpers - Emma Jane and friends
Probably the highlight of Malaysia for me was getting to know Sulynn and her sparkly young daughter Emma Jane. We first met them (as friends of a friend from the States) when they visited us in Admiral Marina, Port Dickson after a 3 hour drive all the way from north of Kuala Lumpur. They took us all out for a "real" Chinese seafood dinner at a little open-air restaurant down the road from the marina and then spent the night aboard Ocelot. It was such a treat to be welcomed to Sulynn's home near Kuala Lumpur for 3 nights at the height of the Christmas rush. Yes, Malaysia is a Muslim country but there are many Christians, Sulynn and her family included. Although Sulynn already had a house full of guests (her sister and daughter from Singapore, another young girlfriend of Emma Jane's, Emma Jane's dad from Hong Kong, plus Sulynn's mom and Emma Jane) they still made room for the 5 of us from Ocelot.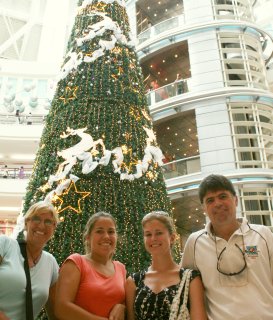 Christmastime in the Twin Towers Mall
With Sulynn busy with pre-holiday work load and Emma Jane's activities, we didn't have a lot of daylight time together, but Sulynn did take us on a lively driving tour of Kuala Lumpur. The gardens and monument to the Malaysian soldiers was beautiful, as were the old fountains and architecture in the city center. We enjoyed lunch in the fancy mall at the base of the famous Petronas Twin Towers, then Sulynn took Amanda and Rachel with her to another mall while she finished her work for the day. Jon and I went by fast train out to the International Airport to meet Chris. When we arrived back at the house at midnight, all the family was up, the Christmas lights on, the wine glasses chilled, the fridge filled and the laughter going strong. We enjoyed carol singing, decorations, a tree with gifts beneath -- to which we added a few goodies -- and boxes of Christmas cookies. It was lovely to get a glimpse into holiday festivities with this wonderful family.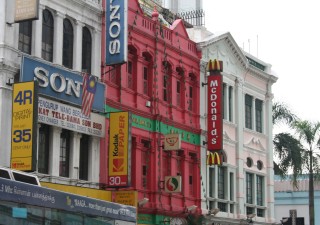 Old buildings, new businesses in Kuala Lumpur
(Amanda) Malaysia is a surprisingly first-world country, especially Kuala Lumpur. The bus ride south was long, but comfortable in a huge, roomy, air-conditioned bus. In fact it was so air-conditioned I had to wear jeans and a sweater for the whole ride! Wonderfully cozy. The first day we were there, Sulynn took us mall-crawling. There were lots of malls to choose from, and they were all massive. Typical for me, I had lots of Christmas shopping still to do (three days and counting) so I appreciated that. It was also fun walking around with Rachel, trying to find a shop that had something, anything we poor teens could afford. Later, when Mom and Dad went to pick Chris up from the airport, Rachel and I played around with Emma Jane and her cousin and friend, putting up Christmas decorations and dancing to loud music.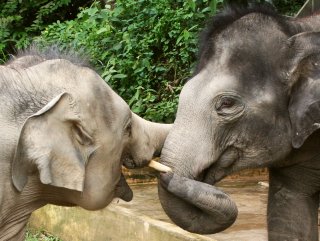 Elephant friends, at Kuala Gandah Sanctuary
And then Chris arrived! It was great to see him again, especially since I could tease him about being so pale... and having a beard! He was so psyched to hear we were going to an elephant reserve the next day. For that matter, I was pretty psyched too! We'd read about this place in a magazine, and it sounded like so much fun. I could hardly wait to get there, but when we did get there, we were too early for the activities! (It was Friday, their holy day, so things started later than normal.) Time to seriously sloooow doooown. We had lunch at the sanctuary's little restaurant and walked through the info area, reading about Indian elephants, which I'm not as familiar with as the larger Africans. We then watched a movie about what the reserve is trying to do, which was amusing because it started off with "Amanda is a long way from home." Well yes, I am, how did you know? Turns out they were talking about one of their orphaned-and-relocated elephants.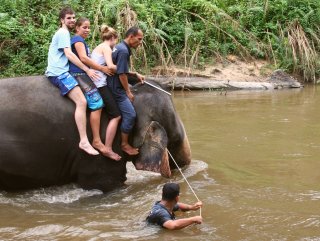 Hold on! Going swimming!
It was great taking pictures of the elephants as they got hosed off. We were close enough for a normal lens to work just fine, but I got some close-ups of their gorgeous eyes as well. And then feeding them! Massive chunks of cucumber and papaya and full hands of bananas were put out in crates and the workers waved us forward. If you lifted a piece up high enough, you could place it right on the elephant's tongue. Employees and volunteers (including one Texan girl about my age) were right there, making sure everything went all right. They stopped us from feeding cucumber to one of the elephants - she only held it in her cheek or spat it out and stepped on it. I guess it just wasn't to her taste.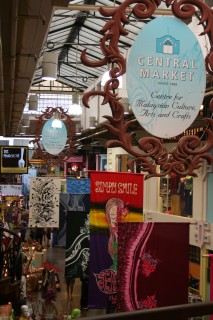 KL's renovated old market
Everyone got to ride, bareback, around in a little circle while holding tightly to the 'driver'. That was novel, and fun enough, but then they asked if Rachel, Chris and I wanted to ride one down to the river for the next activity. Right on! It was fun, though slightly nerve-wracking as we walked down the ramp, feeling each lumbering step and being sure we were all about to fall off. We knew what was coming, so had taken off shoes and sunglasses, and it was very cool when we walked into the river. One guy had a rope around the elephant's ear and pulled a bit... and the elephant obligingly leaned over, dumping us all into the water. What fun! I wish we could have stayed there longer, and volunteered for a bit. Such a great place!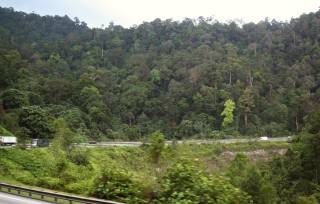 A 6-lane highway thru the forests of Malaysia
(Jon) I really enjoyed inland Malaysia, even the long 7 hour bus rides from Langkawi to Kuala Lumpur and back. While most of the Malaysian passengers wanted to close the huge window-shades so they could sleep, I wanted them open so I could see out. The highways were very well made and swept us quickly past miles of palm covered lowlands punctuated with large limestone massifs jutting suddenly 1,000' (300m) up from the flat countryside. Because limestone is somewhat water soluble, great flowing arms of dissolved and then re-solidified limestone stalactites branch down from the walls in grotesque shapes. These formations of giant limestone blocks jutting suddenly out of the flat countryside were very striking and continued north through much of Thailand as well.
Much of our enjoyment of Kuala Lumpur was our delightful host. When Kathy, who'd visited us in Bora-Bora, heard we were going to Malaysia, she put us in touch with Sulynn, a woman she'd met at graduate school in Pennsylvania. Although Sulynn already had a houseful of guests, she opened her doors to all 5 of us and also gave us a tour of Kuala Lumpur. A delightful and remarkable lady.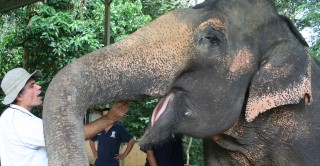 Open wide! Jon feeds an elephant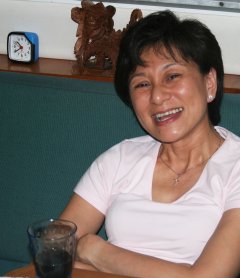 Sulynn, on her visit to Ocelot
Kuala Lumpur was a dizzying jumble of ethnic groups living in a vast concrete jungle that ranged from ancient and decrepit to ultra-modern skyscrapers - the Petronis Towers are the tallest twin-towers in the world. Christopher and I went exploring one day and ended up on top of Kuala Lumpur's extremely tall radio-tower for a birds-eye view of the whole city. Being there just before Christmas made the normal buzzing activity of the city even more frenetic. Walking through the Indian and Chinese sectors was especially entertaining. Luckily, we found a funky old farmers-market that had been converted into a shopping mall for local artifacts, so we could do some last-minute Christmas shopping.
But perhaps the most fun for me was renting a car and driving through the mountainous jungles NE of Kuala Lumpur to visit the Kuala Gandah Elephant Sanctuary. Palm-oil plantations have been burning down the elephants' native habitat in order to expand. (For this reason, we've joined the general palm-oil boycott). Rather than letting the elephants ravage the plantations (which I think would be poetic justice) the elephants are sedated by dart-gun, chained, resuscitated, and taken to the sanctuary before being permanently relocated to the Taman Negara National Park. Washing, feeding, riding, and even swimming with the working elephants was something I'll remember for a long time.
Malaysia Pages: Up | Malacca Straits | Langkawi | Inland Malaysia
Related Pages: Malaysia Home | Malay Newsletters | SE Asia Flora/Fauna | Cruising Malaysia
Indian Ocean: Indonesia | Singapore | Malaysia | Thailand | Nepal | India | Sri Lanka | Maldives | Chagos | Seychelles | Madagascar | Mayotte
Top Level: Home | Destinations | Cruising Info | Underwater | Boat Guests | Ocelot | Sue | Jon | Amanda | Chris | Site Map | Make a Comment
---
Lifetime
Commodores
of the
Seven Seas
Cruising
Association

If our information is useful,
you can help by making a donation
Copyright © 2000‑ Contact: Jon and Sue Hacking -- HackingFamily.com, svOcelot.com. All rights reserved.