4 Oct 05
Tuesday, 4 October 2005, at sea, 19° 26'S 174° 13'E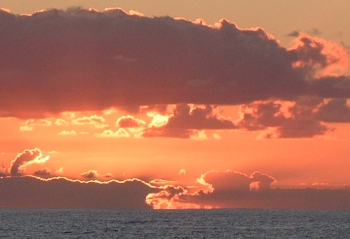 Sunrises at sea are so beautiful
Dear Friends and Family,
Sunrises at sea are so beautiful. We're in the absolute dark of the moon, so the stars shine brightly all night, providing enough light even to see the water, heaving with a slightly oily look beneath Ocelot. Then, about 4am, we get the faintest glow in the sky to the east. The deep black lightens slightly to a deep indigo or a dark purple as more blue seeps into the sky, and then a deep navy blue. After a while the few clouds take on a rosy, orange glow, and shafts of orange light radiate up from where the sun will rise. Then the clouds on the horizon begin to be outlined in bright gold, building the crescendo that should really be set to music. The light intensifies to unbelievable levels after a dark night and finally the sun crests the horizon, heralding the start of another beautiful day.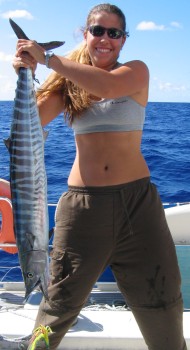 Amanda lands a 41" Wahoo
And beautiful it is! Last night the winds were light so we were only poking along at 4-5 knots, but the seas were flat so it was easy to sleep. This morning we have the classic deep blue skies overhead, thinning to a powder-blue at the horizon. There are a few puffy clouds marching across the sky and going about their business quietly, as clouds do. The ocean's the intense blue of the deep Pacific with sparkles from the sun and a sprinkling of small whitecaps. We have about 15 knots of wind, which is just about ideal for us, and we're scooting along happily at 6-8 knots with the wind just forward of the beam. The seas are still pretty flat so the decks are dry except for the very bows.
About 8am, just after our breakfast (homemade granola, cereal, banana, papaya, and pineapple) Sue looked back and we all heard that happy cry, "Fish ON!" It was a 41" (1.1m) Wahoo, probably the biggest we've ever landed. Amanda brought it in and filleted it beautifully so we had Sashimi and Sushi for lunch (we have wasabi and nori but no fresh ginger). A fish this big will feed all of us for several meals.
About lunch time we went through a small squall line and the wind was much stronger on the other side. So we've been doing 7-9 knots all afternoon with 18-22 knots of wind and lumpy seas. Tonight we tried slowing Ocelot down so we can get some sleep and we're now down to 3 reefs in the mainsail and lots of the jib rolled up, and we're still bounding along at 5-7 knots. But the forecast is that tomorrow will bring lighter winds, which will be nice.
Besides getting email, we have 3 radio nets throughout the day. From these we have learned that it's now permissible to stop in the Loyalty Islands, just NE of New Caledonia, before checking into Noumea, so we've now changed course to head for Lifou, the middle of the 3 Loyalty islands.
Fair Winds -- Jon, Sue, Amanda and Tianna - The intrepid crew of Ocelot
Up | 3 Oct 05 | 4 Oct 05 | 5 Oct 05 | 6 Oct 05 | 7 Oct 05 | 8 Oct 05 | Fine Cruising | Idyllic Cruising
Panama Letters | Ecuador Letters | Galapagos Letters | Marquesas Letters | Tuamotus Letters | Tonga Letters | Fiji Letters | New Caledonia Letters | Australia Letters
Top Level: Home | Destinations | Cruising Info | Underwater | Boat Guests | Ocelot | Sue | Jon | Amanda | Chris | Site Map | Make a Comment
---
Lifetime
Commodores
of the
Seven Seas
Cruising
Association

If our information is useful,
you can help by making a donation
Copyright © 2000‑ Contact: Jon and Sue Hacking -- HackingFamily.com, svOcelot.com. All rights reserved.