Fine Cruising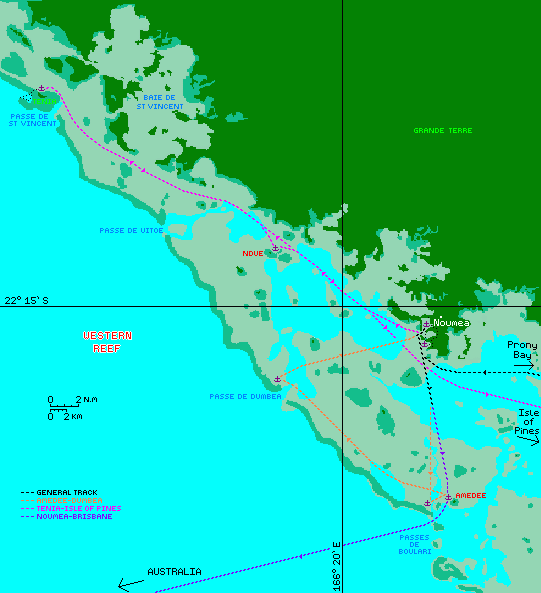 11 Oct 2005, New Caledonia barrier reef
Dear Friends and Family,
After our arrival in Noumea we spent 2 nights there, buying fresh fruits and veggies at the local market, dropping off our passports at the Australian consulate, exploring town a bit, revelling in the infinite fresh water at the marina, and (of course) decompressing with a beer or 2 at the local watering hole.
The second night we found ourselves hosting an impromptu party for a bunch of people we'd never met before. We actually enjoy this and see it as one of the benefits of owning a catamaran. Since we have the most room, the party is often on Ocelot. In this case it was hosting some surfers. We don't surf (although we enjoy windsurfing and boogie-boarding) but the Scud boys are mad-keen surfers. Apparently, the "breaks" next to the entrances through the barrier reef are excellent surf spots. So at 8am we hoisted anchor and headed out the 15 miles to the main SW entrance through the reef -- Boulari Pass.
The warm breeze was light from the NW, the sun bright, and the sky clear -- beautiful calm conditions. When we arrived at the reef we found a vast plain of beautiful sand to anchor in, just next to Scud. The 2 catamarans looked gorgeous, suspended over the swimming-pool clear water. The boys went out surfing and we watched them for a while but the coral was beckoning. We donned snorkeling gear and splashed into the 76° F (24° C) crystal clear water.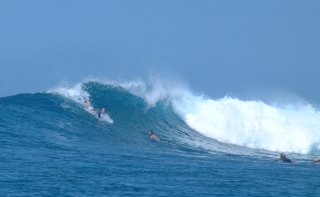 The surf is good at Boulari Pass
There were several new corals to see, including an amazing blue to blue-green variety that grows in huge lumps that we've never seen before. But the most amazing aspect of the snorkel was the fish - they were HUGE. The whole reef is a protected park, and the French know how to enforce their rules, so there's been no spear-fishing here for ages. We saw several fish that we haven't seen before (we always do, even after all this time) but it was so fun to see such large fish, many in the 2' (.6m) range. We weren't surrounded by sharks as we were in French Polynesia, but we did see a few, usually hiding under rocks. We even saw (and left) a big lobster. We found a big remora under Ocelot, looking at us and wondering if he should hitch a ride. Cleaner-wrasse had established cleaning stations throughout the reef and were busily grooming the larger fish. Three-foot (1m) groupers were common, as were large and colorful parrot-fish. Some we still have to identify but all were generally larger than what we'd seen in Fiji. Even the turtles we've seen are large.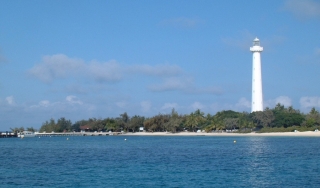 Amedee Island and Lighthouse
After lunch (good French pate, brie, fresh baguettes, and home-made Gazpacho) and a siesta, the boys went back to their surfing and we decided to check out a nearby island. The wind is supposed to swing around to the SE tonight, so we tucked into a more protected anchorage and enjoyed exploring and walking around Amedee Island with its 100 yr-old lighthouse. Its most interesting aspect was all the (very poisonous) banded sea kraits. These snakes are quite timid and their small fangs are at the back of their small mouths, but their venom is much more poisonous than land snakes. They seem to feed on eels.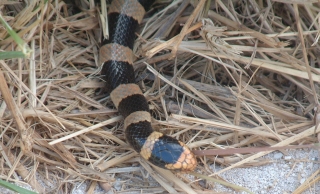 Banded Sea Kraits are extremely poisonous
While we generally think of them as sea-snakes, the island was covered in them. Apparently, they come ashore to digest, so you have to watch where you put your feet when walking on the island.
Tonight we're having a 3-4 boat pot-luck on Scud. Sue and Amanda have concocted an Enchi-Lasagna - sort of like a Lasagna of Enchiladas - and some Sangria. Should be fun.
Fair winds -- Jon, Sue, Amanda and Tianna Hacking
Up | 3 Oct 05 | 4 Oct 05 | 5 Oct 05 | 6 Oct 05 | 7 Oct 05 | 8 Oct 05 | Fine Cruising | Idyllic Cruising
Panama Letters | Ecuador Letters | Galapagos Letters | Marquesas Letters | Tuamotus Letters | Tonga Letters | Fiji Letters | New Caledonia Letters | Australia Letters
Top Level: Home | Destinations | Cruising Info | Underwater | Boat Guests | Ocelot | Sue | Jon | Amanda | Chris | Site Map | Make a Comment
---
Lifetime
Commodores
of the
Seven Seas
Cruising
Association

If our information is useful,
you can help by making a donation
Copyright © 2000‑ Contact: Jon and Sue Hacking -- HackingFamily.com, svOcelot.com. All rights reserved.