5 Oct 05
Wednesday, 5 Oct 2005, at sea, 20° 12'S, 172° 00W
Dear Friends and Family,
Last night was a bit sleepless because of the larger waves from the higher winds yesterday afternoon. But by midnight we'd crawled out from under the cloud cover and the stars were beginning to come out. The winds eased and we started rolling out some jib. By first light (4am, as we've moved to New Caledonia time, GMT+11) the winds were down enough that we unrolled all the jib and shook out all 3 reefs. Ocelot scooted along happily as the seas gradually eased.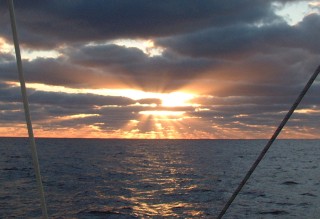 We never tire of sunrises or sunsets at sea
As I looked back at the sunrise, the clouds near the horizon were outlined in brilliant gold, and a rosy shaft announced where the sun would rise. A few minutes later, I was treated to a (very rare) Green Flash Sunrise! Only the third one I've ever seen. There were some clouds behind us but none in front, and as the day progressed the sky completely cleared of clouds - just clear blue sky and even bluer water, sparkling brilliantly and punctuated with the flecks of a few white-caps.
Up ahead of us are our friends on "Scud" whom we met in Grenada and Venezuela in 2002. They have 2 teen boys and a St. Francis 44' catamaran, about the same size as Ocelot but only half the weight. They don't carry such cruising niceties as a dodger, bimini (sun cover over the cockpit), teak interior, hard-bottomed dinghy, washing machine, Scuba equipment, water-maker, or even doors to their cabins - a real sailing machine. We left Fiji at the same time, but after 2 days they were about 85 miles ahead of us. So we've now got some "position-envy", but we'll get over it when we're in port and have all our toys to play with.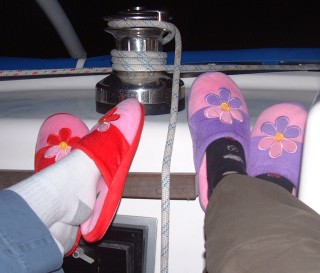 Night watch gets cold enough
that the girls often wear slippers
Now we notice that the high-pressure system that was supposed to help us get to New Caledonia has stalled just west of the island. This means that we'll be sailing into ever decreasing winds, and might even have to motor the last bit. So we've altered course again more to the west (instead of SW) so we can hold what wind we have for as long as possible.
Our watch schedule has had to change now that Christopher is at the University of Washington. We miss him dearly, more now because we have to go to a 2 hour watch with only 4 hours off. Still, we're better off than most cruising couples. Our niece, Tianna, is with us but this is her first overnight passage, so she's more of a companion for Amanda and the 2 of them stand the same watch, often connected to the ear-buds of their CD players.
Tonight for dinner we had a delightful roasted leg of lamb (the owners of the Robinson Crusoe resort that we just left in Fiji also own a butchery). Sue served it with fried plantains and coleslaw. For entertainment we had ... a troupe (well, pod) of Pantropical Spotted Dolphins, frolicking in our bows and trying to encourage us to go faster.
Fair winds -- Jon, Sue, Amanda and Tianna Hacking, s/v Ocelot
Up | 3 Oct 05 | 4 Oct 05 | 5 Oct 05 | 6 Oct 05 | 7 Oct 05 | 8 Oct 05 | Fine Cruising | Idyllic Cruising
Panama Letters | Ecuador Letters | Galapagos Letters | Marquesas Letters | Tuamotus Letters | Tonga Letters | Fiji Letters | New Caledonia Letters | Australia Letters
Top Level: Home | Destinations | Cruising Info | Underwater | Boat Guests | Ocelot | Sue | Jon | Amanda | Chris | Site Map | Make a Comment
---
Lifetime
Commodores
of the
Seven Seas
Cruising
Association

If our information is useful,
you can help by making a donation
Copyright © 2000‑ Contact: Jon and Sue Hacking -- HackingFamily.com, svOcelot.com. All rights reserved.