7 Oct 05
Friday, 7 October 2005, at sea, 21° 43'S, 167° 57'E
Dear Friends and Family,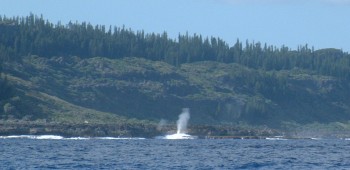 Blowhole on Mare, the southernmost
of the Loyalty Islands in NE New Caledonia
We left you yesterday with our spinnaker up but very light winds and not much progress. In the evening a nice breeze sprang up from the SE so we turned SW towards the main reef entrance to New Caledonia and had a nice sail for several hours. We admittedly motor-sailed for a while during the night, but about 10 this morning a delightful (and totally unexpected) north(!?) wind came up giving us a glorious sail for several hours - clear skies with just a few puffy clouds to make it interesting, sparkling blue flat seas, and a gentle warm breeze to waft us along. Trade wind sailing at its finest.
We even have New Caledonian land in sight! The southernmost of the Loyalty Islands came over the horizon about mid-morning and has been getting closer all day. Sue has decided that, even if we aren't stopping along the way, nothing can keep her from sightseeing. Much of yesterday and today she spent up on deck with her binoculars looking for birds, beaches, recognizable land forms, and anything else to give her a bit of insight into these beautiful islands we are passing.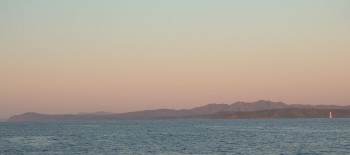 New Caledonia reef entrance at daybreak
With a bit of luck, this should be our last night of this passage. At 4pm we were 63 miles from the SE entrance through the reef. We hope to get there at first light. The French are usually pretty good at marking their channels, but we don't trust them enough to enter at night. Then we have about 40 miles of navigating through the reefs to get to Noumea, where we'll go through formal entrance procedures. We'll try to send an email saying we've arrived safely, but we may be in the marina (the first night is free) and radio is notoriously difficult from marinas, so don't worry if we don't.
New Caledonia is the 4th largest south Pacific island, behind Papua New Guinea and the 2 islands of New Zealand. It is enclosed by the world's 2nd largest barrier reef, behind the Great Barrier Reef of Australia. It's the world's 3rd largest nickel producer, after Russia and Canada. Despite the aid that France pours into New Caledonia, they are steadily moving towards independence, although it's still 10-15 years away. Apparently, New Caledonia has some of the world's greatest diversity of lizards. There are few native mammals, so lizards have filled many unusual ecological niches. All in all, it sounds like a delightful place to explore, and we're all looking forward to it.
Fair winds -- Jon, Sue, Amanda and Tianna Hacking, s/v Ocelot
Up | 3 Oct 05 | 4 Oct 05 | 5 Oct 05 | 6 Oct 05 | 7 Oct 05 | 8 Oct 05 | Fine Cruising | Idyllic Cruising
Panama Letters | Ecuador Letters | Galapagos Letters | Marquesas Letters | Tuamotus Letters | Tonga Letters | Fiji Letters | New Caledonia Letters | Australia Letters
Top Level: Home | Destinations | Cruising Info | Underwater | Boat Guests | Ocelot | Sue | Jon | Amanda | Chris | Site Map | Make a Comment
---
Lifetime
Commodores
of the
Seven Seas
Cruising
Association

If our information is useful,
you can help by making a donation
Copyright © 2000‑ Contact: Jon and Sue Hacking -- HackingFamily.com, svOcelot.com. All rights reserved.