6 Oct 05
Thursday, 6 October 2005, at sea, 20° 25'S, 169° 40E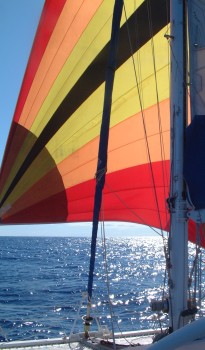 Running along the trades
under full main & spinnaker
Dear Friends and Family,
We had a glorious night, with Ocelot scooting along at 6-9 knots for much of the time. This morning brought beautiful clear skies, calm seas, and also our first sight of land! The southernmost of the island chain of Vanuatu showed up at first light as a slight purple bruise on the horizon against the lighter blue of the brightening sky. As the day progressed it grew larger (and more inviting) as we passed only 8 miles south.
This island shows up as various names from Anatom to Aneityum (which seems to be what the Lonely Planet uses). While the interior is high and volcanic, it has a lovely lagoon and anchorage on the SW side. Reportedly, it has no malaria, our main reason for bypassing Vanuatu. While we'd love to go visit, it's not a port of entry so we're not allowed to stop there and its mysteries will have to await our next time around.
The calm seas also heralded a drop in the wind. By noon the slight swell was tossing us around enough that the sails were no longer able to hold the wind, so we furled the jib and set the spinnaker. We've had this glorious, colorful sail out in front of us, but the winds are so light that we haven't made much progress. As our forecasts say the winds will not only decrease but go behind us, I suspect we're going to have to burn some diesel if we don't want to stay out here forever.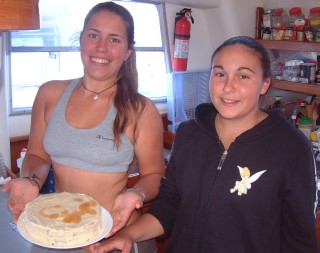 Birthday Carrot Cake for Chip
This is where the speed of our friends on Scud really makes us envious. This morning they were about 120 miles (over 200 Km) ahead of us (we talk on the radio several times a day). Since they won't have as much of these light winds to deal with, they'll probably get in 1-2 days ahead of us. This afternoon we're 140 miles from the middle of the Loyalty Islands, and about 180 miles from the reef entrance to New Caledonia. Since Scud has decided to bypass the Loyalties, we probably will as well. The Loyalties are known for their preservation of what's left of the original Kanak culture, and we'd love to go there, but the winds are actually fair now for sailing to the main SE entrance to New Caledonia. That doesn't happen very often and we don't want to wait in the Loyalties for the next "window".
While it's Oct 6 on our side of the dateline, it's still Oct 5 in Seattle. This is Sue's brother's birthday, so a carrot cake was cooked, frosted, and half consumed for afternoon tea in his honor (any excuse for a party). Happy Birthday, Chip!
Fair winds -- Jon, Sue, Amanda and Tianna Hacking, s/v Ocelot
Up | 3 Oct 05 | 4 Oct 05 | 5 Oct 05 | 6 Oct 05 | 7 Oct 05 | 8 Oct 05 | Fine Cruising | Idyllic Cruising
Panama Letters | Ecuador Letters | Galapagos Letters | Marquesas Letters | Tuamotus Letters | Tonga Letters | Fiji Letters | New Caledonia Letters | Australia Letters
Top Level: Home | Destinations | Cruising Info | Underwater | Boat Guests | Ocelot | Sue | Jon | Amanda | Chris | Site Map | Make a Comment
---
Lifetime
Commodores
of the
Seven Seas
Cruising
Association

If our information is useful,
you can help by making a donation
Copyright © 2000‑ Contact: Jon and Sue Hacking -- HackingFamily.com, svOcelot.com. All rights reserved.