Idyllic Cruising
22 Oct 2005, Isle of Pines, Southern New Caledonia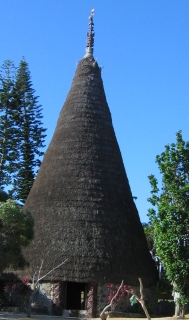 A Kanak chief's house
Dear Friends and Family,
The last few days have been too much fun not to share. We last wrote from Amadee Island and Lighthouse just outside of Noumea, dodging hundreds of poisonous sea-snakes and having a pot-luck with other cruising boats. From there we went further NW inside the outer barrier reef to Dumbea Pass so the boys could to do more surfing. We went looking for a wreck that's supposed to be there but couldn't find it, so we went snorkeling on the numerous coral heads instead.
Dunbea Pass doesn't have a good overnight anchorage so we went back to Noumea (12 miles or 24km) - Scud had blown out an engine cooling pump and we'd melted down one of our big 120A alternators. The Vietnamese alternator guy found us another ($300) but, of course, it didn't quite fit. Jon ground off some bits of the case and a friend on a big Catana 47 catamaran gave him a crucial 8mm bolt. Got it all put together, fired it up, and everything seemed to work fine. (So why did it melt down?) Meanwhile, Sue and the kids visited the fancy cultural center where there's a replica of a very tall Grand Case, or chief's home of the Kanak Tribes. Of course in town they also restocked some fresh veggies, croissants, pain-au-chocolat, and other necessary provisions.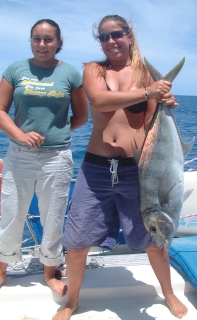 Amanda lands a nice
big Brassy Trevally
The Scud boys had heard of another pass through the reef about 30 miles (60km) WNW of Noumea that they wanted to surf so we hoisted the hook and were soon running under full main and spinnaker, scooting along at 7 knots under clear blue skies. About 11 am Amanda came up from below, glanced aft, and we heard that joyous cry, "Fish ON!" She pulled it in hand over hand and hoisted it on board - 34" (.9m) of fat Brassy Trevally - then she sat down to fillet it. We should have made a photo-journal of how she did it as she's learned well, but we were going through a dodgy bit of coral just then. The fish was so big that she had trouble breaking the head off, but she pulled 4 beautiful boneless and skinless fillets off, something like 20 lbs (9kg) of meat. So we fed much of the anchorage that night. We actually seemed to have hooked something on the other line as well, but it snapped - lure, leader, swivel and all. We think the 150 lb (70kg) nylon line rotted through, as it's been exposed on the aft-deck for 4 years now, so Jon replaced it and made up a new lure.
Triangular-shaped Isle Tenia is right at the St. Vincent Pass, on the outer barrier reef. The anchorage behind the island is over beautiful white sand and well protected from the prevailing south-sector winds. The water's so clear we can see our anchor chain on the bottom by moonlight. A hook in the reef provides good snorkeling protection on the outside of the reef and someone has marked a dinghy pass through the reef to get there without having to go out through the main channel.
We spent several days at Tenia, snorkeling both the inner and outer reefs by day and walking the white sand of the island at sunrise and sunset. Evenings were often spent with the folks on Scud, sharing meals, playing scrabble, watching movies, sorting photos and discussing what we'd seen. The inner reef was fun and easy, with brilliant live corals in clumps over the pristine sand bottom. We saw a tiny Lion Fish (poisonous, but only 3" long) and a live Egg Cowrie. These have black mantles but pure white shells, and are considered sacred in Fiji.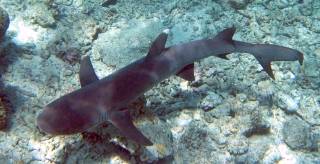 A White-tip Reef Shark swims below us
The outer reef was nothing short of fantastic - big blocks of coral coming up from about 30' (9m) to just below the surface, with canyons and channels to swim through in between them. The corals grow so profusely that they sometimes bump into each other, forming complete living carpets in all shapes and colors (we're seeing a lot more blue corals than we've seen before). The fish are both prolific and huge. Tenia and the surrounding reef have been a preserve for several years and the fish seem to realize that. We were able to swim with a big school of 1-2' (30-60cm) parrot fish, who more or less ignored us. Sue was photographing some coral formations when a big trevally came up behind her to say hello. We saw several 3' (1m) groupers, but they were more skittish. We only saw a couple white-tipped reef sharks and they quickly swam away, as did the turtles (but they're easier to follow). A delightful little slice of paradise.
On Wednesday we noticed that we'd have strong west winds for the next day, so we thought we'd use them to get down to the SE corner of the New Caledonia lagoon, to the Isle of Pines. This was pretty ambitious, as the only anchorage protected from the west winds was 75 miles (150km) away. So we got up at 5 am and started before the sun rose, getting treated to a gorgeous sunrise over New Caledonia. About 9 am Jon glanced aft just in time to see a 38" (1m) brassy trevally hit our port-side line. These fish are huge, enough to feed LOTS of people, with a firm texture almost like chicken. Jon took 4 big boneless fillets off it.
Navigation through this lagoon, the largest in the world, is challenging. There are coral reefs all over, popping up suddenly out of 200' (60m) of water. Plotting a 75 mile (150km) course through it all requires concentration and constant attention to the charts (we're VERY glad we have GPS and electronic charts!

) At noon we shot through a narrow channel between 2 huge reefs and out into clearer water. The wind came up to 20 knots so we popped the chute and had a tremendous sail, flying along at 8-9 knots (the GPS says we got to 12.4 knots) with Ocelot bounding happily over the waves. We arrived at 4 pm, well before dark, and gave most of our trevally away to other cruisers before going over to Scud for celebratory drinks.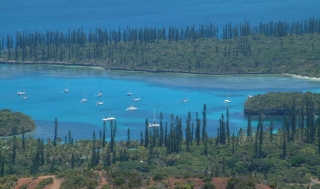 Our beautiful Isle of Pines anchorage.
Ocelot is in front, between the pine trees
The sand here is amazing, incredibly fine and soft, in long white stretches of beach. This used to be a penal colony for French political prisoners, so we're looking forward to exploring forts and ruins. Early this morning we climbed the local mountain for great views all around. For lunch we visited another island about 3 miles (6km) away, where the sand was so soft that we sank up to our ankles and beyond! The sand seemed to be aerated - it bubbled furiously around our feet as we walked through the shallow warm water. Never seen that before...
BTW, for those people looking for some good sounds of the South Pacific, check your favorite music source for the group Tevaka (Tay-VA-ka). We're told they're from the island of Niue, a bit east of Tonga. Their music captures much of the spirit of the South Pacific for us, "Patay-Patay" being one of our favorites.
Fair winds -- Jon, Sue, Amanda and Tianna Hacking, s/v Ocelot
Up | 3 Oct 05 | 4 Oct 05 | 5 Oct 05 | 6 Oct 05 | 7 Oct 05 | 8 Oct 05 | Fine Cruising | Idyllic Cruising
Panama Letters | Ecuador Letters | Galapagos Letters | Marquesas Letters | Tuamotus Letters | Tonga Letters | Fiji Letters | New Caledonia Letters | Australia Letters
Top Level: Home | Destinations | Cruising Info | Underwater | Boat Guests | Ocelot | Sue | Jon | Amanda | Chris | Site Map | Make a Comment
---
Lifetime
Commodores
of the
Seven Seas
Cruising
Association

If our information is useful,
you can help by making a donation
Copyright © 2000‑ Contact: Jon and Sue Hacking -- HackingFamily.com, svOcelot.com. All rights reserved.