Thai Interior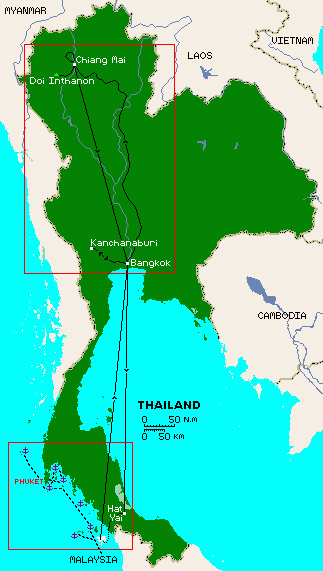 Our route through Thailand in early 2007.
Landscape: Much of central Thailand is characterized by rice fields, scrub forest and low hills. It is a fairly arid region compared to the coast and the south. The area around Bangkok is criss-crossed with many rivers and canals, and to the west, in the Kanchanaburi Province the arid flats give way to steep hillsides and forest where the last remaining wild tigers live. Northern Thailand sees more rain and is hilly, but still characterized by dry forest. Only the highest mountains support remnants of rainforest.
Visited: Mid-February 2007. The central areas we visited were Bangkok, the Chiang Mai region and the Kanchanaburi Province.
You can now read our newly illustrated Thai-Interior Newsletter account of this trip. Also, Amanda has now published the journal she kept while on the trip, giving her unique perspective.
(Jon) Sue organized our trip into the Thai interior, and I think it exceeded all our expectations. Since Thailand has these strange laws about how long we're allowed to stay and contribute to their economy(!?) we had to leave after cruising the coast for just one month. So we started our inland tour from Malaysia, leaving Ocelot in the friendly Rebak Marina. Since Rebak is actually an island off Langkawi, we had to prepare Ocelot to be left (which takes several hours) and then take a small local ferry to Langkawi before we could taxi to the local airport and fly to Bangkok.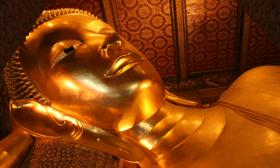 Head of the Reclining Buddha, Bangkok
It was dark by the time we arrived at our hotel, so our first taste of Bangkok was at night, with all the glittering lights of any big city, but a distinctly Bangkok flavor of sidewalk nightlife - street vendors selling clothing, watches, food, shoes, pirated CDs and DVDs, belts, flowers, religious icons, scarves, junk jewelry, and anything else they thought would bring a profit, including fried bugs!
Cities aren't really our thing, but this was Bangkok! We spent 2 days exploring Bangkok and barely scratched the surface. We:
toured the old palace grounds with all the gorgeous museums,
visited countless huge gold-plated temples and statues of Buddha,
went sight-seeing along the Chao Praya River by water ferry,
wandered the back-streets looking for fun restaurants,
swore at taxi drivers who refused to take us where we wanted to go,
rediscovered the joys of ice-cream on a hot day in a big city, and
explored many modern (air conditioned!) malls.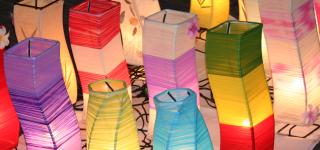 Cloth lanterns at a night market in Chiang Mai
Two days of glitz was enough for us country bumpkins so we headed up-country to Chiang Mai. There are several ways to get from Bangkok to Chiang Mai but we chose the day train (for reasons that escape me now). This was indeed an ethnic experience (the $18 tickets included lunch and 2 snacks) and the views were fun (we saw elephants by the river!) but the tracks and shock-absorbers were in such poor condition that at times we felt we were in a washing machine. We were bounced around so much that I'm somewhat surprised the train didn't leap off its tracks. We later learned that busses were cheaper, faster, quieter, gave a smoother ride, ran more often, were air-conditioned, and were probably the preferred transportation medium (besides flying). Those who take a night train get a night's sleep (although I wonder how good it would be) but miss all the passing scenery. Once by day was enough, though!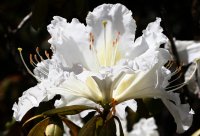 Rhododendron ludwigianum
The 1-square-mile, walled "old city" of Chiang Mai is still surrounded by a water-filled moat, and much of the old wall is still visible. The town has long since expanded way past its old boundaries, but the expansion is much like any large city - grey concrete and lacking the charm of the old city. Our delightful Chiang Mai Garden Guest House (053 278 881) was right in the heart of the old city, allowing us to explore to our hearts' content. We also rented a car (about $35/day) to drive up to 8,000' (2,400m) high Doi Inthanon, the "Gateway to the Himalayas". Hiking in the cool air and rhododendrons was a delightful change from our normal tropical climate.

Greeting the matriarch of the Karen village
The proprietor of our guest house, Pissamorn Senthong, speaks several languages and was able to organize an excellent inland trek for us. It started with a drive into the hills and an afternoon hike to a Karen village, where we met the ancient headwoman and got to sleep on bamboo platforms above a chuckling stream. The next day started with a bit more hiking followed by swimming, lunch, and an elephant ride down the river! Jon and Amanda's lead elephant had an attendant baby which she called with sub-sonic rumbles we could feel between our legs but couldn't really hear. We got a bit of a sand bath at one point, and at another the mahout and our elephant had a difference of opinion that escalated into an elephant trumpet - loud and rather awe inspiring when you're sitting on the elephant's back! After another delightful night in a local village (with Amanda and our guide trading off on the guitar and the rest of us singing the night away) we boarded bamboo rafts for a wet and splashy trip down the river to lunch and our ride back to Chiang Mai.
The trek was delightful and we'd do it again in a heartbeat, but next time we'll ask for:
1) a vehicle we can see out of for the long drives into and out of the mountains, and
2) some instruction on how to drive an elephant.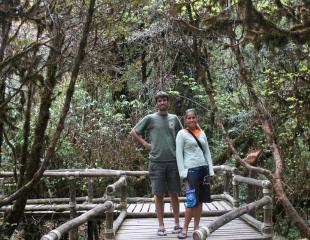 Chris and Amanda on the Ang Ka Trail
at 2500m (8250'), on Doi Inthanon
After cleaning up at the guest house we flew back to Bangkok and the next day took the bus to Kanchanaburi to visit a Buddhist temple that provides a safe refuge for tigers (and other wild animals). It was very cool to walk with and pet these huge felines. While we were in the area, we also visited the infamous bridge over the River Kwai, where the Japanese forced thousands of POWs to work (and die) while building a railroad to Burma.
The trip back to Ocelot was almost anti-climactic but included 4 taxi rides, 3 bus rides, a plane flight, 2 ferry rides, and all the joys involved when traveling in the third world. All but the plane flight were arranged at the last minute. It was good to get home.
(Amanda) It was strange to fly into Bangkok, and then back again. Having lived on Ocelot for 5+ years and personally seen and sailed every bit of the way from the Caribbean, it was rather a disconnect to suddenly be four hundred miles away when we could only have sailed 10 miles in the same amount of time.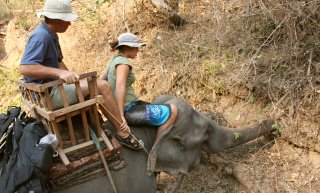 Hey! Whoa. It's not lunchtime yet!
We'd only sailed away from Thailand a week before, so I thought I might know what to expect - Thailand is Thailand, right? Wrong. Bangkok was nothing like the islands and coast, and neither were Chiang Mai or Kanchanaburi. We had, after all, gone there to see something new. Of course you can't get away from the tourist scene. We tried our best to stay out of the typical tourist rut, but with a limited schedule that was tough to do. I think our main rebellion against the standard way of doing things was to rent a car to drive to Doi Inthanon, the highest point in Thailand, rather than get a bus tour for an exorbitant fee.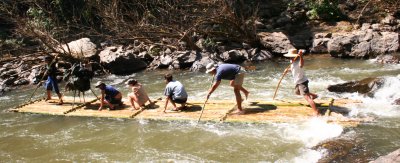 Jon & our guide madly poling through the rapids. Fun!
But the well-worn path is sometimes the best and certainly the easiest one to take. Our tour/trek through the hills north of Chiang Mai was fabulous and quite well structured - even if we did bump into several other tour groups along the way. Sleeping on raised, covered bamboo platforms was an experience. Riding bareback on the neck of an elephant mother was awesome, more so because she was a cantankerous lady who didn't like to take any nonsense from her handler and only heeded me when I hummed to her. Her baby came running at her subvocal, vibrating rumbles, which I think I would do too, were I a baby of hers. And riding an only-barely-floating bamboo raft down the river, complete with rocks, rapids, standing waves, and the wrecks of several old rafts... that was just pure fun.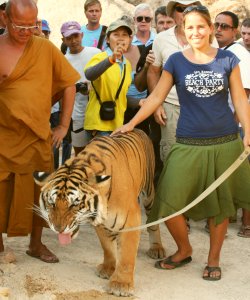 Walking with tigers, so cool!
In Kanchanaburi the fun and novelty continued with our trip to the Tiger Temple. We heard about it through the yachtie grapevine and we'd seen the website, and I thought it was a rather small thing. Not so. The car-park was full of cars, and the only reason the grounds weren't packed with people was because they had so much empty space - for future expansion, I believe. Anyway, once we got down to the tiger canyon, I didn't care that it wasn't our private place. Sure, there were lots of other people, and yes, to the volunteers and people working there we were just more tourists... but how often do you get to sit next to five separate tigers, pet them, have your picture taken with them, hold the leash of one as it walks back to its nighttime cage and its dinner of bloodless boiled chicken? Not very often. It was a great experience, more so because the whole goal is to protect and care for tiger cubs orphaned or abandoned by poachers, and rehabilitate new cubs into the wild.
Also read my Thailand Journal for a day-by-day account of our trip through the interior.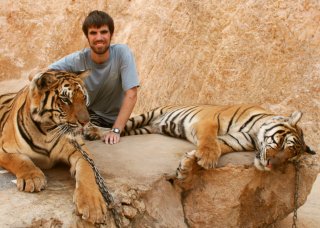 Chris with 2 Indo-Chinese Tigers.
(Sue) My favorite part of interior Thailand? Hard to say. Many details stand out in bright relief, though. In Bangkok the Royal Palace with its landscaped greenery topped by graceful golden roofs, and intriguing museums of a royal past jolted me into the reality of the city I had never seen on my short visits many years ago. I loved walking the streets at night along Pretchburi and Pratunam districts to step around the shoe sellers and medallion sellers, the cloth vendors and watch hawkers who covered the sidewalks in front of starkly modern office buildings and malls not yet shut down for the night. Two meals in Bangkok stand out above all others: one at Mama's, a small open-air cafe on the corner of Soi 20 or 21 and Pretchburi Street, just a few blocks from our hotel (the Pratunam Palace -- a grandiose name for an adequate, but concrete, barely air-conditioned hotel). It was our first Bangkok meal, and having ignored the suggestion to patronize some over-the-top touristy place, we felt at home in Mama's where the owner's wife or daughter spoke a bit of English, the menu had an English version of dishes we knew from Phuket, and best of all, the prices ranged from 60―90 Baht ($2―3) per dinner. We kept the Pepto-Bismol close at hand that evening, but suffered not one tummy twinge.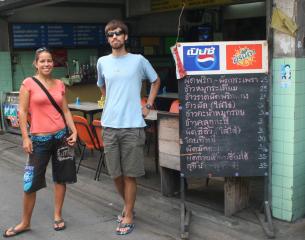 Mama's cafe in Bangkok. Only 1st class for us
The other meal, more sumptuous and a bit pricier (120―180 Baht or $4―6) was Indian, deep in the back streets of Bangkok near the Royal Palace. Stepping around dogs, women washing dishes in large aluminum tubs in the alley, and the children playing, we entered the Indian restaurant into a small, air-conditioned dining room with elegant table settings, lovely paintings on the walls, and friendly staff who were attentive but not over-bearing even though we were the only dinner patrons. It was one of the best Indian meals I've eaten, with spicy but delicately flavored meats and chickens, garlic rotis done to perfection, and an assortment of condiments. That it came from an open-air kitchen along the alley added to its piquancy.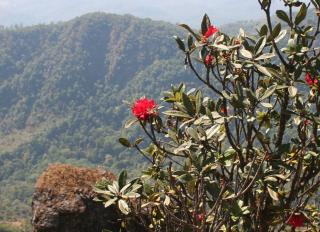 So Himalayan: R. arboreum in the Thai hills
In the far north, outside of Chiang Mai, I was thrilled to be able to drive (we rented a car) to near the top of Doi Inthanon, the country's highest mountain. When I saw the sign "Foothills of the Himalaya" it twisted my heart with a yearning for Sikkim and Nepal. Skeptical, but intrigued, we walked into the dense forest to be rewarded me with gnarled, moss-covered trees, their dark green foliage hiding numerous trusses of dark red Rhododendron arboreum, var. delavayi, a close relative to Sikkim and Nepal's low-elevation R. arboreum. Around the visitor center were low bushes with creamy white flowers of the R. ludwigianum. We were at the inviting elevation of 2500m (8250'), and the dank earthy smell, the cool moist air, and the dappled shadows around us gave me great joy. We took a longer hike (with the necessary presence of a park guide) deep into a drier forest, sliced by ravines of now-dry streams, and out onto a high-altitude plain with views to the west and the blue rolling hills that stretched towards China and Myanmar.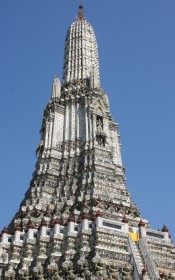 Spire of Wat Arun
After our great adventures in northern Thailand, with the interesting trekking by foot, elephant, and bamboo raft, we traveled to the Kanchanaburi Province west of Bangkok. The Tiger Temple was over-the-top wonderful and I wished we had lots of time and degrees in veterinary science or biology or zoology so we could stay and volunteer. But, well, we had to be satisfied sitting with gorgeous tigers and having our pictures taken! I loved the idea that Buddhist compassion, meditation and feeding wild tigers bloodless chicken created passive cats. There was a zoo keeper from Canada there who confirmed that the animals were definitely not drugged, as some nay-sayers claim. Wild animals are dangerous and unpredictable when they come off sedation drugs, and there's no way the monks could deal with tigers on and off drugs on a daily basis.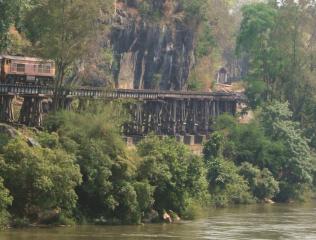 The Death Railway above Kwae Noi River
Kanchanaburi is most famous for its role in WW II, when the Japanese occupied this region and forced more than 100,000 prisoners to work on a railway connecting Thailand with Burma. Because of the harsh conditions, poor food, disease and hard labor, tens of thousands died, thus giving rise to the name "Death Railway." In a brutal 16 months all 415km (2/3 of which were in Thailand) were completed. The railway was in use for 20 months before being bombed by the Allies in 1945. One particular bridge, a wooden, then steel one, over the river Kwai, became famous in a book (The Bridge on the River Kwai by Pierre Boulle), and later a film. We got to visit the actual bridge on the River Kwai which is now quite a tourist attraction. For me, because my father fought in the China-Burma-India Theater in WW II, it was quite amazing to be standing there, on the edge of the Burma jungle.
Thai Pages: Up | Thai Coast | Thai Interior
Related Pages: Thailand Home | Thai Newsletters | Thai Diving | Thai Cruising Info | Thai Services | SE Asia Flora/Fauna
Indian Ocean: Indonesia | Singapore | Malaysia | Thailand | Nepal | India | Sri Lanka | Maldives | Chagos | Seychelles | Madagascar | Mayotte
Top Level: Home | Destinations | Cruising Info | Underwater | Boat Guests | Ocelot | Sue | Jon | Amanda | Chris | Site Map | Make a Comment
---
Lifetime
Commodores
of the
Seven Seas
Cruising
Association

If our information is useful,
you can help by making a donation
Copyright © 2000‑ Contact: Jon and Sue Hacking -- HackingFamily.com, svOcelot.com. All rights reserved.