Thai Interior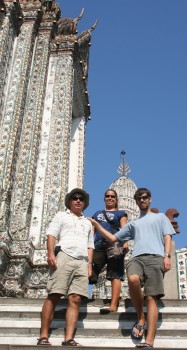 Jon, Amanda & Chris on the
steps of Wat Arun, Bangkok
13-24 February 2007, Thailand
You can read more about our individual impressions of this trip on our Thailand Interior page.
Dear Friends and Family,
Having limited time, we flew from Langkawi, Malaysia, to Bangkok for 2 days of sensory overload: Insane traffic jams with no rules on passing or lanes, night markets on the sidewalks of the business district selling everything from fried crickets to pork maw to socks, watches and pirated DVD's. Strangely, we found that taxi drivers often refused to take us where we wanted, forcing us to jump out in mid-traffic to change cars. We walked our sandals flat throughout the old Royal Palace with its gilt-roofed temples and museums housing ancient battle spears, gem-stone-embellished belts, and royal spittoons.
To rest, we rode the $0.30 Chao Praya River Express, a public ferry taking people to and from work, school or temple visits. The river is alive with barges, ferries and long-tail boats painted in bright patterns.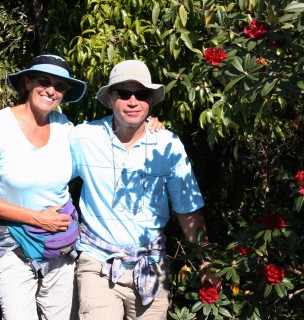 Sue and Jon on Doi Inthanon, with
Rhododendron arboreum var. delavayi
We doffed sandals to walk barefoot on the cool marble floors of many Buddhist wats (temples) where gilt-Buddhas reclined or sat in meditation behind the fragrant smoke of incense offerings. For supper we dove into the narrow, but well-swept streets of Chinatown where we dined in air-conditioned comfort at a tiny restaurant frequented usually by the lunch crowd. The popular Royal India restaurant lies part-way down a dingy alley, its open kitchen a small cubicle off the alley, next to the Asian squat-toilet facility. Our impeccably prepared and served meal came to US$25 for the 4 of us. Bangkok, the city of restaurants, had fed us Thai curries for $1 each the previous night at an open-air cafe near the business district.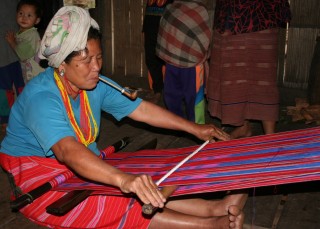 Backstrap weaving is still done in the villages.
From Bangkok we took the 12-hour day-train to Chiang Mai, the fabled city of the north, nestled in hills of dry forest. Rattling through Central Thailand over old, poorly maintained tracks we passed dry rice paddies, small villages, occasional elephants, and herds of Brahmin cattle sitting quietly in the shade of acacia trees. Alongside the rivers, flocks of white herons and egrets gathered by the dozens.
Chiang Mai retains its aura of beauty only within its 1 square mile of moat and ancient brick walls. There we explored wonderful small restaurants, wats, and used bookshops. We stayed at the simple but lovely Chiang Mai Garden Guesthouse where fan-cooled rooms with bucket-flushed toilets and hot water showers cost US$6 a night. We rented a car one day to drive to the top of Thailand's highest peak, Doi Inthanon, at 2,550 meters (about 8,000 feet). There, at the "Gateway to the Himalayas" we walked several miles in cloud forest to the song of sun birds under the shade of blooming rhododendrons. Mahogany and teak trees were draped in lichen and adorned with blooming orchids.
Sunday nights, central Chiang Mai closes several streets and hosts a huge and colorful night market. Vendors selling food (kebabs, ice cream, waffles, fresh fruit and juice), clothes, bags, paintings, embossed aluminum, jewelry, wood carvings and trinkets of all sorts lined the sidewalks. At street corners crowds gathered around street singers and dance shows.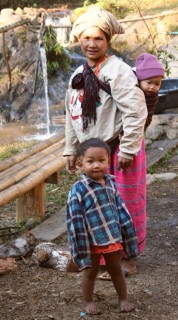 Bathing pool behind
Karen woman & children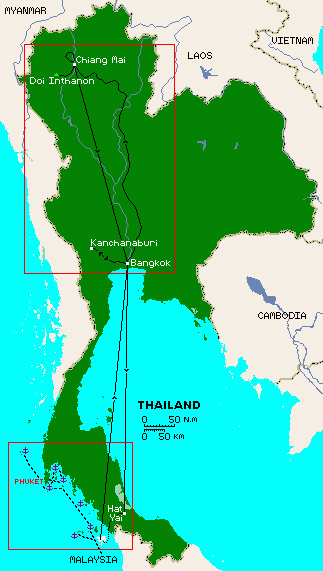 Our route through Thailand in early 2007.
Pissamorn, the quadra-lingual owner of our guesthouse, arranged a 3 day trek for us into the hills near the Burma border. We were joined by a German couple and 2 young Swiss women. Carrying only our day-packs and cameras we drove 3 hours north away from the smoke and smog of the city into lush hills, stopping to splash in cold waterfalls that made their way down narrow gorges. After a fried-rice and fresh fruit lunch we walked a couple hours down a narrow road into a 37-family village of Burmese Karen people.
As we rounded the last bend we were struck by a feeling of returning to lowland Nepal. Bamboo homes on stilts nestled in small yards of banana and mango trees. Worn foot-paths criss-crossed the village leading to terraced fields on the surrounding hills. The village elder, a 94 year old woman wrapped in a pink and red woven sarong greeted us with a touch of the hand as a blessing. No one had their hand out for treats or money. No one minded being photographed, and we were welcome to wander where we wanted. Inquiring about weaving, we were led to a house in which sat an older woman at a back-strap loom working tie-dyed warps of pink, red, blue and white into an intricate pattern. In her mouth sat a wooden pipe, worn smooth by years of handling. The Karen people continue to live close to the land, farming and hunting wild pig, squirrel, and whatever they can find.
Open air showers were provided by long pieces of split bamboo, directing a flow of cold stream water to the middle of a small, open pool in the center of town. At sundown the candles were lit in our dorm room of slatted beds and heavy mattresses. At a long wooden table outside we were served heaping platters of excellent chicken-potato curry, chicken with vegetables, and a spicy vegetable dish, all over rice. All was prepared over open fire (resting on a concrete base) inside the bamboo kitchen/family room. For dessert we were served fresh-roasted peanuts around the campfire. Lying under the mosquito nets on the hard beds, the nearby bubbling stream lulled us to sleep.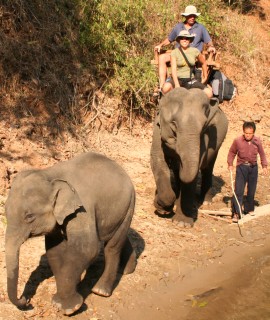 The mahout carried a stick, but directed
the elephants with hums and grunts.
Jon and Amanda rode the mom.
Crowing roosters awakened us the next morning and we braved the cold walk to the outhouse then sipped hot tea while greeting the village women heading to the fields with scythes, babies wrapped on their backs, some herding water buffalo or cattle. We trekked over 4 hours that second day, up to ridge-tops over 1,250 meters (4,000 feet) high and down into fertile valleys and bamboo forests, but we passed no more villages. After fording the same river 3 times we arrived at a Lahu hill-tribe village, Pang Ngean, that maintains the tradition of elephant care.
After much needed swims in the swift river and another fine fried rice and veggie lunch we climbed onto the elephants that took us two hours down the river to our next destination. Split up 2-by-2, with a single mahout walking beside us, we set off. Chris and Amanda rode the seats of honor, on the elephants' necks, their legs tucked nicely behind the soft, flapping gray and spotted ears. Jon and Sue rode behind them on teak box seats that creaked with each step. Going downhill into the river initiated either 4 letter words or quick prayers, depending on your inclination, but the elephants were actually remarkably stable. Staying in the shade of the river-banks, under towering teak forest and stands of bamboo, we sloshed our way south on the Mae Taeng River. Amanda and Jon rode the lead elephant, mother to a still-nursing youngster who stopped to show its prowess at snapping branches and rolling logs along the way. We got a bit of a sand bath at one point, and at another the mahout and our elephant had a difference of opinion that led to mama elephant trumpeting! - loud and a bit awe inspiring when you're sitting on the elephant's back.


Sue got to shoot her family shooting the rapids!
We slept again at a bamboo village, one that was slightly more interested in our baht (for massages and trinkets) than the first, but still welcoming. After another delicious dinner of soup, sweet and sour chicken, pumpkin curry, and veggies, we all congregated around the campfire and the guitar came out. Our guide was quite good and the Thai songs were fun to listen to, but we always enjoy singing to Amanda's guitar playing, and the locals seemed to enjoy it as well.

Built by WW2 POW's, the bridge on the river Kwai is
a reminder of the horrors of the "death railway".
The center section was rebuilt by Japan in 1946.
In the morning after an interesting breakfast featuring hard-boiled eggs, we were called to the river's edge where we boarded 2 10―meter (30') rafts, constructed that morning, expressly for us. Each was comprised of 17 bamboo logs lashed together with bamboo fibers twisted around the logs. These traditional craft have ferried people and goods down the rivers of SE Asia for centuries. For us, it was a fun ride and a way to avoid a 10 km (6 mile) walk. Our packs and cameras were tied to a tripod of bamboo sticks near the bow, behind which 6 of us stood in a line, balancing on the wet wood. One pole-wielding guide took the bow, doing samurai sword moves as he pushed against rocks, guiding us through passes between rocks and down small rapids. Jon and Chris poled from the stern. Our craft was only nominally floating, and we frequently found water halfway up our calves as we shot through the rapids. With much hilarity (and a few moments of concern for our fragile craft and its expensive digital cargo) we arrived, some two hours later, at Sob Kai village. There we had lunch and boarded our pickup truck for the return to Chiang Mai.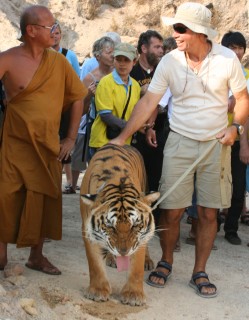 Jon and a monk walk a tiger
out of the canyon
After flying back to Bangkok, we took a bus west to the Province of Kanchanaburi, location of the infamous Bridge over the River Kwai and the WW II camps that housed thousands of mostly British and Australian POW's who were forced to build the railroad that connected Thailand with Burma. What took us there, though, was not the sad history of the place, but a Buddhist monastery that offers a new kind of hope in this land of disappearing forest: a sanctuary for wild animals, and in particular, Thailand's wild tigers.
In the hot dry canyon where the tigers rest each afternoon we queued up with 20 or so other visitors awaiting our turns to get close to the animals. Orange-robed monks watched over the proceedings, while young Thai volunteers took our cameras and led us, 1-by-1, to the tigers. These 12 beautiful animals -- some brought to the monastery as orphaned cubs, others born here to wild mothers -- lay in the shade and sun, calm, patient, sleeping or rolling over when prodded gently. We knelt or sat by the magnificent tigers, petting them while the volunteers handled our digital camera with expertise to take our pictures. The tigers' gold, white and black coats were soft like the finest silk, or wet and matted where they'd been sprayed with cooling water.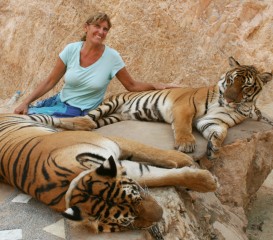 Sue sits with 2 tigers at the Temple.
We relinquished our turns to others, then wandered the monastery grounds to stroll among non-enclosed, free-roaming wild boars, cattle, deer, birds, and water buffalo who come to the monastery to be fed. Returning to the canyon at 4 pm we watched the tigers stretching, yawning, being bottle-fed (the first hint of the youth of some), and pacing. No longer allowed near the animals, we now stood back as monks and volunteers led (or in some cases, pushed -- it's hard to herd cats!) the majestic tigers to their nighttime enclosure where they are fed up to 5 kg (11 lbs) of bloodless chicken per day. Again, in Buddhist simplicity and quiet, 1-by-1 we were invited to take a leash and walk with the last tiger. It was an amazing experience, something we will always treasure.
Two days, 4 taxi rides, 3 bus rides, a plane flight, and 2 ferry rides brought us back to Ocelot at the marina in Malaysia. As we set sail for Sri Lanka our heads were full of sights, sounds, scents, and memories of wildlife, wats, WW II history and overall the memory of the gentle, sincere smiles of the Thai people.
Fair winds and calm seas -- Sue, Jon, Chris and Amanda Hacking
Thailand Letters: Up | Terrific Thailand | Thai Interior | Changing Direction | Bay of Bengal 1 | Bay of Bengal 2 | Wet and Fuelish | Andaman Arrival | Andaman Sea | Thai Arrival | 2011 Veg Festival | Phang Nga Bay
Related Pages: Thailand Home | Thai Newsletters | Thai Diving | Thai Cruising Info | Thai Services | SE Asia Flora/Fauna
Indian Ocean: Laos Letters | Vietnam Letters | India Letters | Nepal Letters | Indonesia Letters | Malaysia Letters | Thailand Letters | Sri Lanka Letters | Maldives Letters | Chagos Letters | Seychelles Letters | Madagascar Letters | Mayotte Letters | Africa Letters
Top Level: Home | Destinations | Cruising Info | Underwater | Boat Guests | Ocelot | Sue | Jon | Amanda | Chris | Site Map | Make a Comment
---
Lifetime
Commodores
of the
Seven Seas
Cruising
Association

If our information is useful,
you can help by making a donation
Copyright © 2000‑ Contact: Jon and Sue Hacking -- HackingFamily.com, svOcelot.com. All rights reserved.