Andaman Arrival
26 April 2011, Hut Bay, Little Andaman Island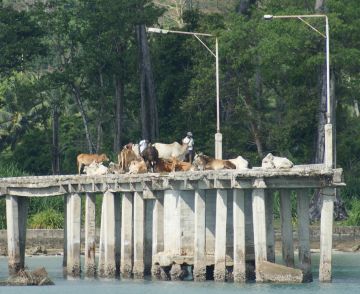 Sacred cows on the dock, Hut Bay, Little Andaman
Dear Friends and Family,
Making landfall is strange. We've now been out sailing for over a week, with nothing to look at except water, water, and more water (OK, some clouds, stars, and the odd dolphin, but you get what I mean). With a bit of sleep deprivation you begin to wonder if there's anything else in the world besides water, because that's all you see, day after day, night after night. Emails and voices on the radio come from a different world...
And then, suddenly, somebody puts an island in front of you (or even a whole continent!) It all seems so unlikely. Why would there be an island HERE? OK, perhaps we all need some sleep...

The night passed smoothly with only minor dodges around the more angry-looking clouds. At 9:45 this morning we rounded the breakwater (which does not show on our charts) and dropped our anchor in 30' (10m) of clear water in Hut Bay, on the east side of Little Andaman Island, southernmost of the Andaman Islands. The islands just south of us are also owned by India but they're called the Nicobar Islands, and foreigners aren't allowed there at all.
We're still dealing with Indian bureaucracy. Port Control didn't even have the authority to let us anchor until we'd phoned the harbor-master. But we can't get off Ocelot until the Navy and Coast Guard say it's OK, and that has to come from somewhere far away. Luckily, our friends in Chennai are pulling strings to ease us through the bureaucracy. Unfortunately, there's no Navy ship in port right now, or we're told that they'd have GIVEN us the diesel. Oh well...
Our current anchorage is at 10°35.6'N 92°33.4'E. Since Chennai we've traveled 920nm in 210 hours (8.75 days) for a very slow average speed of 4.4 knots. It seems we were pure sailing for only 2 days, and motor-sailing for 6.75 days (burning 424 liters of diesel, which we're trying to replace now). We'll probably be here for the night, but if we can get our diesel this afternoon then we'll probably push off for Thailand tomorrow.
Fair Winds and Calm Seas -- Jon and Sue Hacking
Thailand Letters: Up | Terrific Thailand | Thai Interior | Changing Direction | Bay of Bengal 1 | Bay of Bengal 2 | Wet and Fuelish | Andaman Arrival | Andaman Sea | Thai Arrival | 2011 Veg Festival | Phang Nga Bay
Related Pages: Thailand Home | Thai Newsletters | Thai Diving | Thai Cruising Info | Thai Services | SE Asia Flora/Fauna
Indian Ocean: Laos Letters | Vietnam Letters | India Letters | Nepal Letters | Indonesia Letters | Malaysia Letters | Thailand Letters | Sri Lanka Letters | Maldives Letters | Chagos Letters | Seychelles Letters | Madagascar Letters | Mayotte Letters | Africa Letters
Top Level: Home | Destinations | Cruising Info | Underwater | Boat Guests | Ocelot | Sue | Jon | Amanda | Chris | Site Map | Make a Comment
---
Lifetime
Commodores
of the
Seven Seas
Cruising
Association

If our information is useful,
you can help by making a donation
Copyright © 2000‑ Contact: Jon and Sue Hacking -- HackingFamily.com, svOcelot.com. All rights reserved.