Wet and Fuelish
24 April 2011, Bay of Bengal
Dear Friends and Family,
Bit of a stressful afternoon. The night was peaceful enough with lots of stars to identify but the sun rose behind a squall so it didn't give much of a show. It's often difficult to know which direction squalls are moving, especially from a moving boat, as the squalls often do not go with the prevailing winds that we're feeling. But we now know that most of them seem to move slowly NW, if they move at all, so we dodged south around that squall.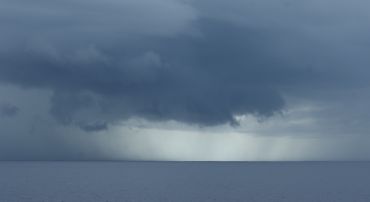 A monster squall overtakes us in the Bay of Bengal
The day did include no fewer than 4 sets of dolphin visits! Some of them were dwarf spinners that leap out of the water and spin around on their long axis as they fall back into the water. Not sure why they do this but it's quite a show. Sue and Shantha also saw some birds, including a swallow! It constantly amazes us how far birds can get from land.
But the day got hot and sultry, with clouds building up overhead. At 3pm we were overtaken by a HUGE squall - actually more of a squall line, that completely enveloped us. We took 2 reefs and rolled up the jib when we saw the squall approaching, and put all the computers in the oven to protect them from lightning damage as much as we could. Since the squall was moving NE(!) and we're moving basically east, it took a good hour to pass over us. We saw true winds of 40 knots briefly, but mostly it was in the low 30s, with less apparent wind as we were running before it. Ocelot splashed along comfortably. But the clouds have remained overhead.
We heard from our friends on Vamp - they finally got to the Maldives but they had a miserable trip. Apparently they caught several fishing nets and had to cut them off their propeller, and at one point they were chased by the Sri Lankan coast guard (haven't heard details on that yet). They also had lots of bad weather, with lightning all around them. But Vamp is a sailing machine and goes to weather like a freight-train. If they had a miserable trip, it would have been much worse for us. I think we made the right decision, even if it meant we gave up a lot.
At noon today we were near 9°13'N 89°21'E, or 540nm from Phuket, having sailed 690nm from Chennai (see a Google map of our positions here). Last night we passed our nominal half way point during dinner.
Fair Winds and Calm Seas -- Jon and Sue Hacking
---
25 April 2011, Heading for the Andamans
Dear Friends and Family,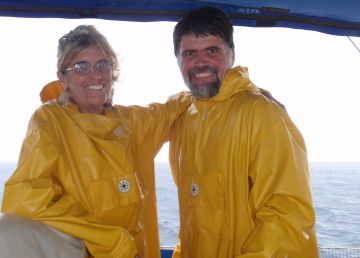 Wet and wild ride on Ocelot!
Heading for the Andamans!?! Well, yes. We're feeling a bit fuelish.

We could probably have made it to Phuket with the fuel we had on board, but it would have been pretty close. The prudent thing to do is to get some more. Little Andaman, the southernmost of the chain, is only 100nm from us as I write this and supposedly has everything we need. So this morning we turned from east to northeast - we should get there tomorrow (Tuesday).
Unfortunately, the Andaman's also have Indian bureaucracy. In theory, we're allowed 3 days (anywhere) for emergency fuel, water, or repairs, but this rule is up for considerable interpretation. Although our Indian visas are still nominally valid, since we've already been to the Andamans, we're not really supposed to go back. Luckily, we have some friends in Chennai who are trying to smooth things over for us, as well as Shantha, an Indian national. With a bit of luck, nobody will care about us. All we want is to get to an ATM, fill some fuel jugs, and leave. We Shall See...
Folks who download our tracks (we post them on our website) often comment that they like the nice, straight track lines (because we usually put in a waypoint and tell the autopilot to head for that waypoint, so it compensates for all wind shifts, currents, etc). Not so this time. Our track is going all over the Bay of Bengal!

It's been a lovely day. Yesterday's clouds slowly dissipated last night. We had hazy stars at 8pm and they were pretty clear by midnight when the moon rose. We dodged one squall this morning and caught a lovely cooling shower a bit later. We've even had about 10 knots of wind to help us along.
At noon today we were near 9°20'N 90°54'E, or 120nm from Hut Bay, the main anchorage on Little Andaman, having sailed almost 800nm from Chennai (see a Google map of our positions here).
Fair Winds and Calm Seas -- Jon, Sue and Shantha
Thailand Letters: Up | Terrific Thailand | Thai Interior | Changing Direction | Bay of Bengal 1 | Bay of Bengal 2 | Wet and Fuelish | Andaman Arrival | Andaman Sea | Thai Arrival | 2011 Veg Festival | Phang Nga Bay
Related Pages: Thailand Home | Thai Newsletters | Thai Diving | Thai Cruising Info | Thai Services | SE Asia Flora/Fauna
Indian Ocean: Laos Letters | Vietnam Letters | India Letters | Nepal Letters | Indonesia Letters | Malaysia Letters | Thailand Letters | Sri Lanka Letters | Maldives Letters | Chagos Letters | Seychelles Letters | Madagascar Letters | Mayotte Letters | Africa Letters
Top Level: Home | Destinations | Cruising Info | Underwater | Boat Guests | Ocelot | Sue | Jon | Amanda | Chris | Site Map | Make a Comment
---
Lifetime
Commodores
of the
Seven Seas
Cruising
Association

If our information is useful,
you can help by making a donation
Copyright © 2000‑ Contact: Jon and Sue Hacking -- HackingFamily.com, svOcelot.com. All rights reserved.