Phang Nga Bay
March 3-21, 2014, Ao Po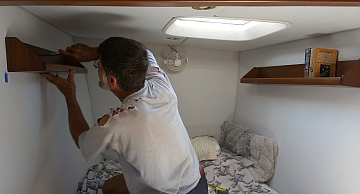 Installing bookshelves in our forward cabin
Since we launched on March 3, we've been working pretty flat out, trying to get Ocelot operational and ready for our friends. We managed to get 2 (of our 4) toilets working, all but 3 of our 25 storage boxes unpacked and stowed, the VHF antenna and radar cables run, the VHF radio installed and tested, the wind instruments repaired and installed, the depth sounder repaired and installed, all the lights and switches working, the stereo installed (although it won't eject the CD that's in there), the roller gear and headsail installed, the helm instruments installed and connected to the data network, 9 bookshelves mounted, etc., etc. The list is endless, but we managed to hit most of the high priority tasks.
Unfortunately, our watermaker is still giving us fits. We've taken it to the Spectra repair agents twice, but all they do is replace the seals and o‑rings. They're not expert enough to do an in‑depth diagnosis or repair. The result is that the watermaker is working (sort of) but it's also clearly sick, and will need more attention soon.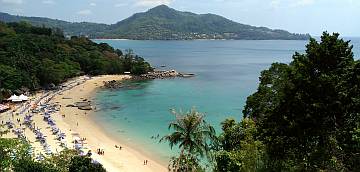 Typical (small) western Phuket beach
Dave and Gail arrived March 18 to a reasonably habitable Ocelot. Luckily, they're also cruisers, so they understand. We haven't seen them since Bonaire, in the Caribbean in 2002, but we've kept in touch. Their catamaran, 5th Season II, is in Japan as they're getting ready to cross the north Pacific to the Aleutian Islands of Alaska, but Japan makes visitors leave the country every 3 months, so Dave and Gail decided to visit us on their visa run.
After picking them up at the Phuket airport, we drove south on the island to show them some of the sights: the beautiful west coast beaches (with a gazillion tourists!) and the Big Buddha on the hills above Chalong. We did some major provisioning and ran a few final errands at the chandleries along the way.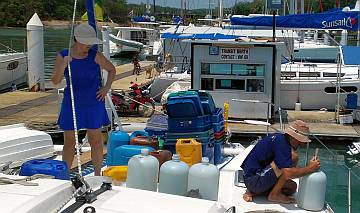 Gail helps Jon siphon water into our starboard tank
Life was a blur of activity for the last few days moored in Ao Po. With the watermaker acting up we decided to buy jugs of drinking water from the little restaurant near the marina. They charged 50¢/20 liter jug, and they were good enough to deliver the 20 jugs all the way down the Ao Po marina to the fuel dock. We did make time to visit the Gibbon Rehabilitation center so that Dave and Gail could hear the gibbons sing (Dave now has gibbon song as the ring tone for his phone!), and to visit a local festival which seemed to specialize in dried bug delicacies: crickets, larva and bigger larva. Gail braved a small crunchy larva, but balked at the big thumb‑sized ones. We bought something that looked like Rice Krispy balls but turned out to be larva and fried rice. We made an awesome fried rice with them, soaking the balls in coconut milk then re‑frying it with veggies. A real Thai treat!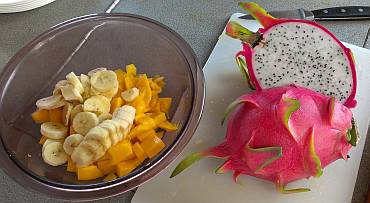 Fresh banana, mango, & Dragon Fruit salad
Knowing that our friends Bruce and Alene are missing the water while their trimaran is being worked on, we hosted them for dinner several times. We so enjoyed it when cruisers did this for us.
---
Over the past few days we've done a ton of laundry at Bruce and Alene's Sumptuous Vila, swam in their pool, and shared several meals together. How sad to be leaving good friends behind. We finally threw off the mooring lines at about 4pm and motored north, deeper into Phang Nga Bay. Giant karst hills rose like sentinels above the blue‑green water, and Brahminy Kites soared overhead. This bay is truly magical.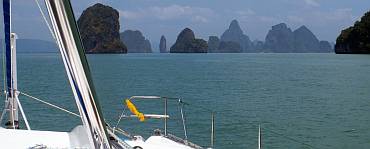 Heading north into Phang Nga Bay, just east of Phuket
We anchored on the west side of towering Ko Phanak, just outside the famous Bat Cave, but the tide was too high to go inside. We were met by several local long‑tail boats wanting to sell us squid or fish, but we were all provisioned up from the local markets ashore. At sunset the last tour boats left and we had a quiet evening afloat, with a short rain squall (just to keep us on our toes) and then a quiet night rocking gently on the bay, mosquito‑free and cool. Ahhhh. Cruising again!
---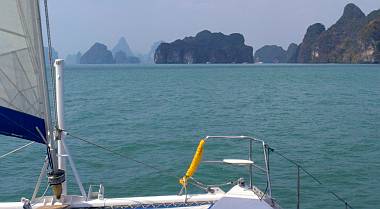 Sailing up to the Ko Hong anchorage
In the morning we went into the Bat Cave, hoping to beat most of the tour boats, but it was impossible to get in at low tide, so we had to wait until about 10am. We took Tomcat to the cave entrance, but we only paddled while we were inside the cave, so as not to disturb the many bats living in there. The tide was coming in so there was a pretty good current sweeping us into the cave.
The cave is over 100m long, with several twists and turns, so it quickly gets very black. Each of us had small LED lights, but nothing that was bright enough to light up the whole cave. After drifting along on the current for quite a while we saw a light up ahead and soon emerged into a huge water‑filled hong, perhaps 650' (200m) across, with sheer, vine‑covered rock sides. It was very other‑worldly, like something out of a prehistoric movie.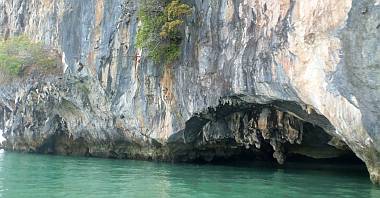 Entrance to the main hong at Ko Hong
The trip back was a bit more exciting. Although we'd had the cave to ourselves on the way in, the tourist boats had arrived and there was a constant stream of inflatable kayaks coming at us. The current was stronger and against us now so we had to paddle hard to make headway. Although Tomcat is wonderful with her big motor pushing her along, she handles like a hog on ice when paddled...
Unfortunately, Dave had not been able to find his camera. After searching Ocelot, we called yesterday's car rental company, and they found the camera in the car. So we had to motor 7 miles back to Ao Po, drop the dinghy (or be charged $15 to go to the fuel dock) and retrieve the camera from Bruce, who'd picked it up from the car rental company. But the pickup went quickly and we were soon on our way north again, past Ko Phanak and up to Ko Hong, about 10nm north of Ao Po.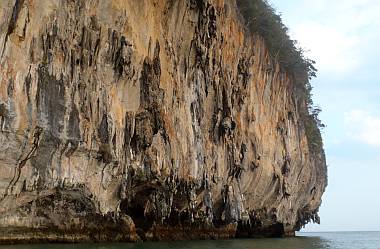 Interesting limestone formations around Ko Hong Island
Today was the first day that we actually got to sail! A nice breeze came up so we set full sail, shut down the engines, and had a nice reach up Phang Nga Bay. It may be our imaginations, but Ocelot seemed very happy to finally be sailing again.
Ko Hong is part of a cluster of several limestone islands, and we anchored south of the main group. Slowly we're re‑experiencing all the joys and tribulations of cruising, things we've not done for 2.5 years. Today's re‑lesson: anchoring, and anchoring again, and again until the hook sets. On our first attempt we found a big muddy fishing net wrapped around our anchor, so the bottom is obviously fouled. With the anchor mounted further aft than it was, Sue was not sure how attaching and dis‑attaching the bridle was going to work, but Jon had planned things out. Slowly, slowly the old habits return and we are learning some new tricks with the new anchor position. The new Kiwi Props have a very high angle in reverse, so when we try to set the anchor we sometimes pull too hard and it pulls out.
Taking the dinghy through Ko Hong was fun, with all the many open caves and limestone structures around. We timed it to avoid the masses of tourists that get ferried there so we had it pretty much to ourselves. We ended up circumnavigating Ko Hong so we could enjoy all the flow‑stone formations around the outside.
---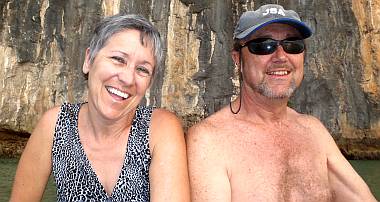 Our friends Gail and Dave from Fifth Season II
We took another quick tour of the hongs in the morning, just to experience them at low tide. The formations are really fascinating, and we could have spent longer exploring them, but we have more hongs to explore.
We lifted the anchor and motored slowly north through the island chain, marveling once again at the strange formations. Once clear of the islands we turned east to go across the top of Phang Nga Bay. The bay here is very shallow, like 12‑15' (4‑5m) but we've sailed this area several times before. The autopilot is still being obstreperous and refusing to steer Ocelot properly, but hand steering through the many islands at the top of the bay was actually kind of fun. Once we turned SE a breeze came up and we set full sail. Ocelot effortlessly romped past 2 friends of ours who were sailing in the same direction. It seemed like we were sailing faster with less effort, but maybe we were just so thrilled to be sailing at all!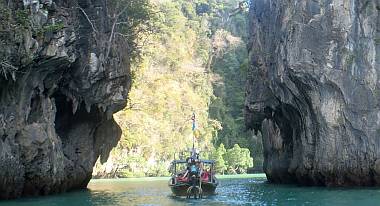 A longtail enters the hong at Ko Hong Krabi
We picked up a mooring on the north side of Ko Hong Krabi but the anchorage was a bit exposed, with a short chop coming in. Rather than exploring right away, we decided to stay on board to see if conditions would improve. A bit of chop didn't keep the intrepid swimmers from the water, though, and Sue and Dave set out for the beach, and Sue got to do her first bit of beach combing in years. Not much of note, but fun anyway.
A few long tail tourist boats zoomed in and out of the hong, and once all were gone we had the anchorage to ourselves and enjoyed a quiet night all alone, just us and the swallows, with nary a mossie in sight.
---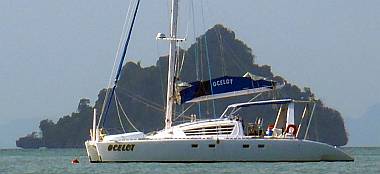 Ocelot's longer, sleeker profile
The hong of Ko Hong Krabi is less cave and more big open lagoon inside the island, so at half tide it was easy to motor in and motor around under the towering walls of vines and limestone. Back on board we picked up Ocelot and headed south for the 12 mile sail to Railay Beach, near the town of Krabi. Again, Ocelot pleased us greatly with her ability to make 6‑7 knots in 11‑13 knots of apparent wind at 60 degrees. YES! Way to go, Ocelot! With the breeze increasing from almost nil to over 16 knots we had almost no chop, so we really romped along.
Railay Beach (West) is a lovely long white sand beach bordered by massive pinnacles of jutting limestone, with a background of more jungle‑clad peaks. We have been there many times, but always are in awe of the beauty! Of course we're not the only ones to find it appealing, as evidenced by the large tour boats that disgorge the tourists right in our anchorage, transferring them to countless longtails which make the anchorage sound like you're at the Grand Prix. Putting in our mental ear plugs, we set out for shore, determined to have a nice walk and then lunch at some small Thai restaurant on the beach.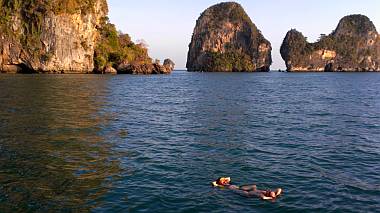 Dave and Gail take a relaxing swim at Railay Beach
The strip of land between Railay West and Railay East is fast becoming wall to wall resorts which means the bits of natural jungle remaining are few and far between. We did pass a large troop of crab‑eating macaques (monkeys) with a dozen or more tiny infants. Unlike macaques in other parts of Asia, these were amazingly docile and complacent even when the tourists got right up to nursing mothers to take videos. We hiked out to the southern end of the peninsula to cheer on some hearty rock climbers, then had a lovely Thai lunch (although not very hot even by our standards) in the shade, with a breeze blowing in from the east. We explored the Emerald Cave, communed with the bats, and kept our eyes out for the troop of langurs that used to live on the peninsula, but there was no sign of them. Only more and more little restaurants and souvenir shops. It may be that Railay is being turned into another Ko Phi Phi, which would be a shame.
We had a real cruisers' evening with visits from 2 other boats to share desserts. Lots of lively conversation with the young sailors (9 and 11) on Nalukai, and yacht talk amongst the adults.
---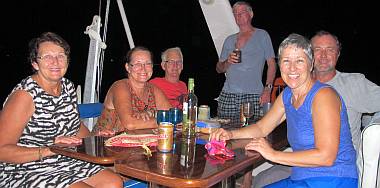 Ocelot in party mode, with 4 from Vamp, & Gail & Dave
We were originally planning to sail to Ko Rok today, but last night we got a call from our dear friends on Vamp, saying that they were already at the south end of Ko Lanta and would be heading for Ko Phi Phi and Phuket next. So we made a plan to meet them in Ko Lanta and have dinner together.
We hoisted the mainsail and picked up the anchor at about 8:30, just after breakfast. Although there was little wind when we started, a nice breeze soon filled in from the east and we had a delightful sail south, reaching at 6‑7 knots. But when we got abreast of Ko Lanta, the winds started going around in circles, so the sails required constant attention. We seem to have gotten wind from just about every direction...
The wind died about when we got to the bottom of Ko Lanta, so we doused the sails and motored around the southern end of this long island. It's apparently a favorite tourist haunt, but not nearly so over‑run as Phi Phi or Railay despite the ferries and the bridge that joins it to the mainland.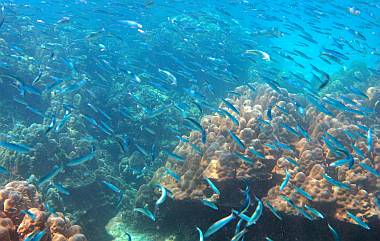 Schooling fish and bright coral abound at Ko Rok
Sue cooked up a huge pot of rice and created her first Tom Kha Kai (chicken with mushrooms, galangal and lemon grass in coconut soup) which was a hit. It was fantastic to catch up with Kim and Carmel on Vamp, and we hope to still be in Langkawi when they sail back south in a few weeks after picking up their (hopefully repaired) Johnson outboard in Phuket.
---
Woke up this morning to the strangest sound, like hundreds of small things tapping the hull repeatedly. Turns out that a school of small fish hiding from the sun under Ocelot were being attacked by bigger fish, and many were jumping out of the water and hitting our hulls and bridge deck. Some even landed on the swim platforms, but they eventually flopped their way back into the ocean.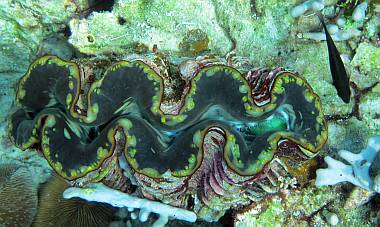 Young giant clams are colorful splashes on the coral
Our dear friends on Vamp left the anchorage as we were having breakfast. We waved goodbye, and Jon gave them a farewell blast on his conch horn. There was little wind so we hoisted the mainsail before lifting the anchor and motored south out of the bay. But once we cleared the 2 little islands at the south end of Ko Lanta, a nice little breeze sprang up, just aft of the beam. So we set all plain sail and had a glorious sail almost due south to Ko Rok.
Ocelot must really like being back on the water, as she's never sailed this well. We usually sail at about half the apparent wind speed, but she was actually doing better than that! We were doing a fairly constant (and wonderfully flat) 7 knots in 12 knots of wind, and even when the wind died down to 9 we were still doing better than 5. Not sure if this is due to the newly painted bottom (although we usually keep the bottom pretty clean) or the longer transom extensions (longer waterline usually equates to more speed) or the fact that we now have 2 feathering Kiwi propellers. Whatever the cause, we'll take it!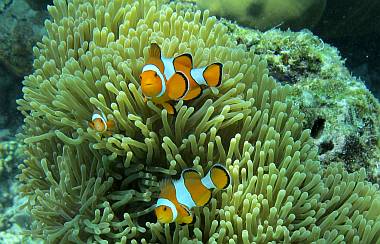 Clown fish guarding their Magnificent Anemone
Along the way we scored a major victory. Although the autopilot worked from Ao Chalong to Ao Po on the day we launched, it has refused to work since. It tries to steer, but soon gets into huge oscillations, steering all over the ocean. We also noticed there was no indicator of rudder angle, and yesterday Jon had spent an hour or so re‑soldering the connection between the rudder sensor and its wire, to no avail. But today Jon started working on the sensor itself and found that it wasn't pushed down all the way. After playing with it for several minutes we started getting an indication of rudder angle, and some more fiddling finally produced the correct rudder reading! So Dave punched the autopilot button and Ocelot steered herself into Ko Rok! With 4 people on board, it hasn't been a tremendous hardship to steer Ocelot, but it will be nice not to be tied to the helm.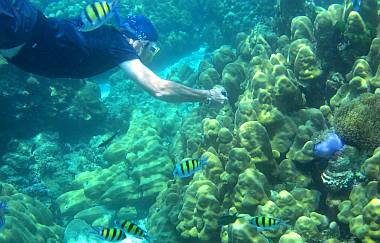 Dave shooting photos underwater at Ko Rok
Ko Rok is actually a pair of islands, with lots of coral reefs around them. They're 20 miles from the coast (and 50 miles SE of Phuket) so they're far enough from land that the water is gloriously clear. We picked up a mooring (don't want to damage the coral) about lunchtime, had a quick sandwich, and all dived in the water to explore the nearby reef.
THIS is one reason we go cruising! Diving down and swimming through the colorful coral heads, watching the colorful fish (and even a moray eel) swimming in and out of the reef, floating in the warm waters just at the surface or diving down into the cooler waters below. Glorious!
Sue did a short recon swim, then returned to Ocelot to set up the new underwater camera, bought 2 years ago and never used yet! It's a Canon Powershot G12 with all the bells and whistles of a big SLR, but at 1/2 the size. It goes into a dedicated underwater housing. We didn't need the strobe for shots at Ko Rok as most of the good stuff was close to the surface and there was plenty of light. The "auto correct" post processing with Irfanview (our preferred photo editing program) gave us awesome results. The other great thing about the G12 is that it focuses FAST and accurately even on moving fish, then recycles for the nest shot fast enough that even Sue, with her underutilized lung capacity could sometime gets off a couple shots with one breath of air.
---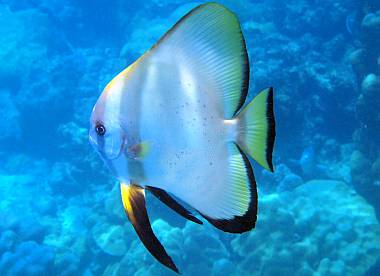 Circular Spade fish like to hang around for food scraps
We decided to take an extra day here in Ko Rok, rather than rush down to Langkawi. Ko Rok mostly epitomizes what we've been looking for and working towards for these last 2+ years. Long, white, sandy beaches, clear water, vibrant coral, lots of tropical fish, and excellent snorkeling. We've even got limited internet access!
The day started with Sue cooking up some of her justly famous pancakes for breakfast, served with strawberry or chocolate syrup, yogurt, and fresh fruit, with juice and coffee as required. Then we suited up for the day's first snorkel.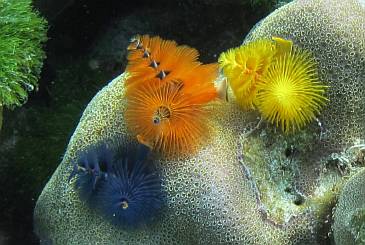 Brilliant Christmas Tree worms on coral at Ko Rok
How to describe this, when we haven't been snorkeling in so long... The bay between the 2 islands of Ko Rok is quite deep, but it shoals quickly to a broad shelf of coral in the shallows. Lots of browns and grays, with sprinklings of bright blue and green corals. There are signs of dead coral, probably from the water getting too warm, but most of it's growing vigorously, with bright blue, brown and silver tips to the coral. Many of the coral heads have fallen over, presumably in storms, but the coral keeps growing.
Swimming along with us are many of our old friends: brightly colored parrot fish gnawing at the coral, several types of butterfly and angel fish, wrasse, elegant Moorish Idols with their ridiculously long dorsal fins, striped scissor‑tail sergeants swimming in formation with us hoping for scraps of food, many others that we still have to identify. It's been so long for us that we've forgotten the names of some of them.


Raccoon Butterfly fish swim in the coral at Ko Rok
We all took a long morning snorkel accompanied by a lone spade fish that seemed to peer at Gail as though to ask, "Are you my mother?" After lunch, while others relaxed Sue returned for another 2 hours of lone prowling amongst the bommies. Most interesting was a baby moray eel and pockets of fish feeding stations where the angel and butterfly fish mingled with the voracious parrot fish (chomp chomping on the coral) and skittish soldier fish who peered out from under the coral heads.
Ocelot herself is now very snorkeler‑friendly with her long swim platforms and new ladders aft.
---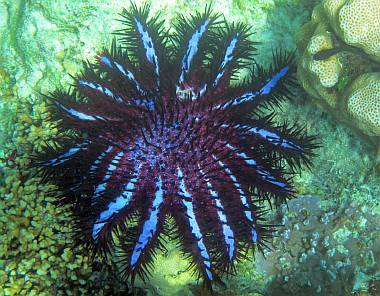 Crown of Thorns Starfish have poisonous spines
29 March, Sail to Telaga, Langkawi
Dave got up as it was getting light and blew Jon's conch horn to wake everyone else. We quickly fired up the engines, hoisted the main while they warmed up, and dropped the mooring. Our destination was Telaga Harbor on the NW corner of Langkawi Island, 65nm (120km) away. Langkawi is a Malaysian duty free island right on the border with Thailand. Although parts of it are quite touristy, most of Langkawi is jungle, with lots of Sea Eagles overhead.
Our sail was a bit disappointing, in that the wind was from the SE and not very strong. With 65nm to go, we had to average 6 knots if we wanted to arrive before dark, so port engine was on all day. In the afternoon the wind actually died and then sprang up from the SW, strong enough to give us a nice boost, but not really enough to sail.


Fishing boats cross our path as we head for Langkawi
Our other disappointment was that the autopilot died. The motor spins and the magnetic clutch is getting power, but either the clutch has a problem or one of the gears inside has broken. Either way, it will have to be stripped down and repaired, a job that can't easily be done underway.
Telaga is one of our favorite anchorages, and there are customs and immigration offices right there, so we were able to clear immigration before they went home.
---
30 March, Drive around Langkawi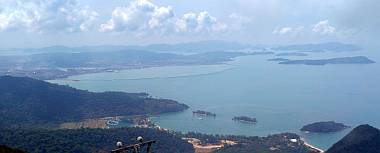 Telaga anchorage & surrounds from the top of the tram
Unfortunately, Dave was unable to cancel their Kuala Lumpur hotel reservation for tonight (we were out of cell tower range while sailing yesterday), so they had to make a quick getaway or lose their money on the hotel. We found a rental car at the Telaga marina office and drove to the Langkawi airport for them to buy tickets on the 6pm flight to Kuala Lumpur. Then we headed for the cable car lift just up the road from Telaga. This "ski lift" rises in 2 stages to the top of the mountains at the north end of Langkawi. Each car holds 6 passengers and sways gently far above the green leafy jungle, with great views of the Telaga harbor and marina, the airport, and the granite slope of the "Seven Wells" (Telaga Tujuh) waterfall which is one of our favorite walks.
From the top we got birds' eye views to the south, but low clouds obscured the view to the nearest Thai island of Tarutao, just 4 miles north. Sadly, the skywalk, which is an engineering marvel of suspended walkways at the top of the cable lift was closed indefinitely for repairs. Not that we saw any repairs going on!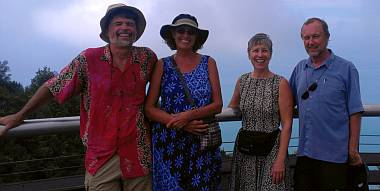 Jon, Sue, Gail, and Dave on top of the Langkawi tram
From the cable lift we drove inland in a long loop over the north and east sides of Langkawi, through lush jungles and along nice (and deserted) beaches. On the way we managing to locate the dinghy repair factory that hides out several miles from Kuah town. There we made arrangements with the owner to have Tomcat picked up and the tubes re-glued to the aluminum hull. This will be about a 1 week job -- just 2 days for the repair, but then about 4 more days for the glue to really set. We still aren't sure where we'll want to wait out those "dinghyless" days.
We found lunch at a small Indian restaurant on the back streets of old Kuah, and enjoyed "set plates" of chicken korma, chicken sag, butter tikka mutton with papadam, garlic naan, fresh veggies, a veggie curry, and refreshing yogurt condiments. Tall glasses of fresh lemonade and a mango lassi topped it off.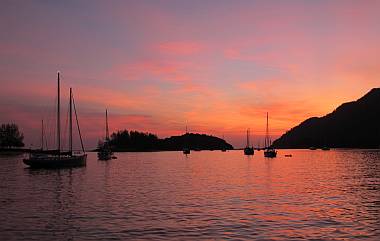 Sunset from Ocelot in our Telaga, Langkawi anchorage
Gail offered to replenish our wine supply that we had happily depleted on our week‑long sail south, so we visited our favorite small shop, Langkawi Trading, and choose some nice South African and Chilean wines, sold at half the price of what we could get in Phuket. Jon and Dave picked up new SIM cards for the phones and we were able to drop Dave and Gail at the airport by 5pm. We were sure sad to see them go, and wish them fair winds on their journey across the north Pacific to Alaska in June.
Now we're on our own again, cruising. Hanging out in Telaga, visiting with sailing buddies new and old. Ahhhh. It's a good life.
Thailand Letters: Up | Terrific Thailand | Thai Interior | Changing Direction | Bay of Bengal 1 | Bay of Bengal 2 | Wet and Fuelish | Andaman Arrival | Andaman Sea | Thai Arrival | 2011 Veg Festival | Phang Nga Bay
Related Pages: Thailand Home | Thai Newsletters | Thai Diving | Thai Cruising Info | Thai Services | SE Asia Flora/Fauna
Indian Ocean: Laos Letters | Vietnam Letters | India Letters | Nepal Letters | Indonesia Letters | Malaysia Letters | Thailand Letters | Sri Lanka Letters | Maldives Letters | Chagos Letters | Seychelles Letters | Madagascar Letters | Mayotte Letters | Africa Letters
Top Level: Home | Destinations | Cruising Info | Underwater | Boat Guests | Ocelot | Sue | Jon | Amanda | Chris | Site Map | Make a Comment
---
Lifetime
Commodores
of the
Seven Seas
Cruising
Association

If our information is useful,
you can help by making a donation
Copyright © 2000‑ Contact: Jon and Sue Hacking -- HackingFamily.com, svOcelot.com. All rights reserved.