Terrific Thailand
31 January 2007, Phuket, Thailand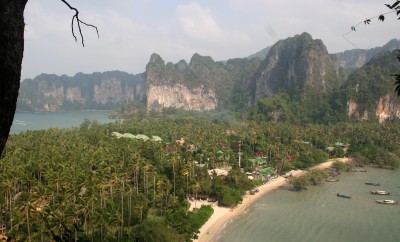 Fabulous cliffs around Krabi, Phang Nga Bay, Thailand.
Ocelot was anchored in the bay on the left side.
Dear Friends and Family,
For the last few days we've been sitting in a magnificent anchorage about 30nm east of Phuket (8°01'N 98°37'E, the closest town is Krabi) facing a semi-circle of towering red and yellow limestone cliffs and white sand beaches. Throughout this part of Thailand limestone cliffs jut up dramatically, straight out of the ocean. Since limestone is relatively soluble (especially if the water is slightly acidic) the cliffs often have a slightly melted look. They're dripping in grotesquely shaped stalactites and shot through with lots of elaborate caves and sink-holes ("hongs") to explore.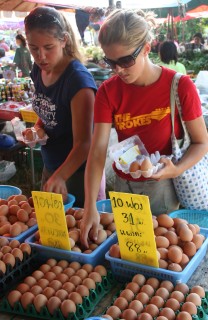 Amanda & Rachel shop at the
market in Ao Chalong, Phuket.
Legend has it that an ancient boat carrying a beloved princess sank off this point and the spirit of the princess now inhabits the area. A cave to our right has a shrine to her and the local fishermen have carved and painted hundreds of "lingam" (phallic carvings, some over 1m long) and left them for her. Yesterday we hiked up a "trail" steep enough to require several fixed ropes and then down the other side (which was even steeper) to get to Princess Lagoon, a round sea-water pool perhaps 500' (150m) across. The walls went straight up for hundreds of feet, festooned with clinging vegetation, the ubiquitous stalactites, and a cave on the far side. The day before we hiked through another cave that required several ladders until we arrived at a window high above the anchorage with a fantastic view of our bay.
We're here with 3 other cruising boats, most of whom have teens (10 total!) so the kids are having lots of fun. In the evenings we all meet on the beach for sun-downers (often including a dance and/or fire show by the kids) before heading to one of the excellent and cheap beach-front restaurants for some delicious Thai curry and/or seafood followed by ice cream (banana splits are only ~$2.50). Then the kids go looking for some fun night-life at the backpacker "resorts" while the adults solve the world's problems and plot the best possible routes across the Indian Ocean.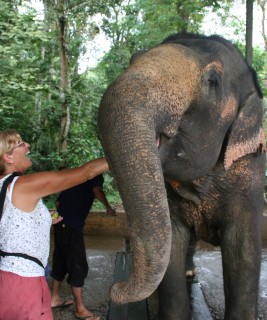 Sue hand feeds an elephant at Kuala
Gandah Sanctuary, Malaysia
We last wrote you in December from the Straits of Malacca (2°29'N 101°51'E). We've provided positions (all North latitude and East longitude) so you can follow us with Google Earth. We hugged the Malaysian side of the straits to pretty Pangkor Island (4°13'N 100°33'E) and the first water clear enough to swim in for a long time. The next day at Penang (5°25'N 100°21'E) we dove into shopping in the hustle of a Chinese/Malaysian city. In the afternoon we took the unique cable-car to the top of the mountain to have dinner overlooking all of the city as the colorful lights came on.
At the duty-free island of Langkawi (6°19'N 99°51'E) near the Thai border, we left Ocelot in the capable hands of our friends on Scud while we traveled inland to Kuala Lumpur to pick up Christopher, who has taken 3 months off from university to cruise with us. While in Kuala Lumpur we stayed with a lovely Malaysian family (friends of friends) and toured both the old and new parts of the city, from the skyscrapers of the twin Petronas towers (highest in the world) and the Menara radio tower (which actually has a better view) to the constantly buzzing warrens of the Indian Quarter and Chinatown. We rented a car to drive through the mountainous jungles NE of Kuala Lumpur to an elephant refuge where we watched the elephants being washed, got to feed them (putting food either in their trunks or right on their tongues!) and ride them bareback! We even got to swim with them in the local river. The ones we rode and swam with are working elephants used to help relocate wild elephants whose habitat is being destroyed (usually due to expanding palm-oil plantations). The wild ones (some only a few months old) are cared for at the refuge center then freed into Malaysia's largest national park.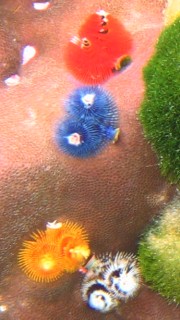 Christmas Tree Worms
brighten the corals
We got back to Ocelot in time to celebrate Christmas with Scud and their 2 sons before sailing to Rebak Marina (6°18'N 99°42'E) to haul Ocelot out of the water for routine antifouling, which we completed in the record time of 43 hours. Then we continued to Telaga (6°22'N 99°41'E) for a beach BBQ with friends and New Year's Eve parties before jumping north for Thai islands. At Koh Tarutao (6°42'N 99°34E) we took the dinghy up a long mangrove lined river to a water-filled cave with a floating platform we could use for exploration. At Ko Rok Nok (7°12'N 99°04'E) we did some delightful snorkeling over magnificent coral in the clear water, and visited another fisherman's shrine bulging with huge lingam.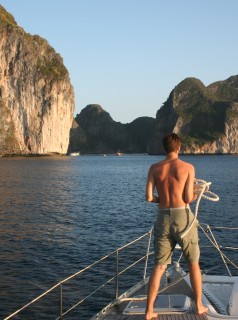 Chris preps the mooring lines as we
approach Ko Phi Phi Le, Thailand
Phi Phi Don (7°44'N 98°46'E) is a bustling backpacker island that was decimated in the December 2004 tsunami but has been hurriedly rebuilt to service the thousands of backpackers who come there. We didn't find the commercialism or tour boat chaos much fun so we sailed to neighboring Phi Phi Le (7°41'N 98°46'E) where the fairly dark film "The Beach" was shot. Phi Phi Le is quite picturesque (we moored just off The Beach) and is deserted at night but is overrun every day by tourists in "long-tails" - the ubiquitous Thai water transport. These are long, skinny boats with high bows and a unique drive system - an engine with a long drive-shaft and prop, all mounted on a frame and balanced on a pivot at the back of the boat. Fishermen typically use only a single cylinder engine, but big tourist versions can have huge 6-cylinder truck engines, all pushed around by a single Thai driver. Cooling systems are a testament to Thai ingenuity (no 2 seem alike) and mufflers are rare (although turbo-chargers help cut the noise on some).
After checking into Thailand at Phuket, we sailed up the west side of Phuket island and out to the Similan Islands (8°40'N 97°38'E), renowned for their clear water, coral, and diving. Rachel, Amanda's buddy from Australia who's been with us since Singapore, had just gotten her open-water diving qualification so we did a little "real" diving. It was here that we finally met Mahi-Mahi, a Leopard 47' catamaran that we'd heard good things about for over a year. Joao and Ligia have 2 great kids and since they've cruised the Seychelles and South Africa before (they're actually from Mozambique) they have a wealth of good information. They're also heading south around Africa with us and Estrela.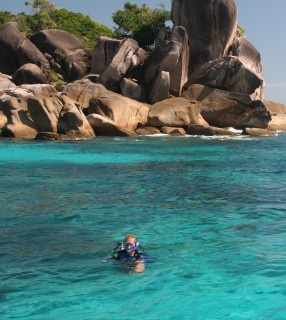 Rachel prepares to descend on a dive
at Koh Bangu, Similan Islands
After several days of exploring, swimming, diving and reveling in the Similans, we headed back to Nai Harn (7°47'N 98°18'E) a delightful bay at the south end of Phuket island. Here, Amanda and Rachel (and the Scud boys) got their advanced diving certificates.
For Rachel's last week we've been touring Phang Nga Bay (north and east of Phuket Island), an area renowned for its scenery of craggy limestone cliffs, Muslim fishing villages all on stilts, caves, hongs, interesting islands to explore, and emerald green water. The seas are flat and very shallow so the swimming isn't very good, but we've been thoroughly enjoying "gunk-holing" from small anchorage to anchorage along with Scud and Mahi-Mahi. At Ko Phanak (8°11'N 98°29'E) we took dinghies down a long cave-tunnel with bats hanging from the ceiling to a magnificently huge sink-hole in the center of the island. Ko Hong (8°13'N 98°30'E) just 2 miles north also has a gorgeous hong to explore by dinghy, as well as several other interesting islands nearby to check-out. At 8°18'N 90°30E we anchored off the island where they shot the island scenes of the James Bond classic "Man with the Golden Gun".
We're now off to a marina on Phuket to get a few days of boat work done. Sometime in the next month we'll be taking off for the Great Indian Ocean Crossing. We're not sure of our exact route, but we're looking at Sri Lanka, the Maldives, Chagos (near Diego Garcia), the Seychelles, Tanzania, Madagascar, Mozambique, and South Africa. We'll keep you posted.
Fair winds and calm seas -- Jon, Sue, Chris and Amanda Hacking
Thailand Letters: Up | Terrific Thailand | Thai Interior | Changing Direction | Bay of Bengal 1 | Bay of Bengal 2 | Wet and Fuelish | Andaman Arrival | Andaman Sea | Thai Arrival | 2011 Veg Festival | Phang Nga Bay
Related Pages: Thailand Home | Thai Newsletters | Thai Diving | Thai Cruising Info | Thai Services | SE Asia Flora/Fauna
Indian Ocean: Laos Letters | Vietnam Letters | India Letters | Nepal Letters | Indonesia Letters | Malaysia Letters | Thailand Letters | Sri Lanka Letters | Maldives Letters | Chagos Letters | Seychelles Letters | Madagascar Letters | Mayotte Letters | Africa Letters
Top Level: Home | Destinations | Cruising Info | Underwater | Boat Guests | Ocelot | Sue | Jon | Amanda | Chris | Site Map | Make a Comment
---
Lifetime
Commodores
of the
Seven Seas
Cruising
Association

If our information is useful,
you can help by making a donation
Copyright © 2000‑ Contact: Jon and Sue Hacking -- HackingFamily.com, svOcelot.com. All rights reserved.