Straits of Malacca
11 December 2006, Malacca Straits, Malaysia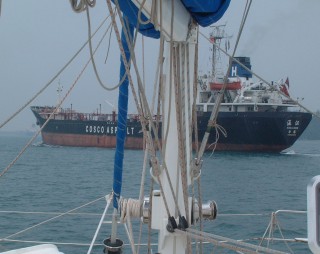 Ships in the Singapore Straits were
often too close for comfort.
Dear Friends and Family,
A mauve and grey sea rippled beneath us as we motored off our anchor at 6am today. The sky was quilted with cloud layers, some rain showers, but with the promise of blue skies to come. More than 50 fishing boats dotted the sea, some laying nets, others trawling, others bustling off for unknown fishing grounds. Best of all was the scent of warm, wet forest as we motor-sailed northeast between Sumatra and Malaysia. This is our 5th day of sailing since entering Malaysian waters, and the country has both pleased and surprised us with its profusion of sea birds, forested islands, mangrove and beach shoreline, an upscale marina at Port Dickson, and welcoming people.
After leaving the Jungles of Borneo in late October we day-sailed through northern Indonesia to clear out from delightful Nongsa Point Marina (1°11.8'N 104°05.8'E) on the island of Batam. There we reveled in their free internet access, pool, restaurant, and cheap rates, all just 12 miles from Singapore. With much trepidation we planned our crossing of the world's busiest shipping lanes, anxiety heightened by having only 1 mile of visibility: The illegal burning of the rainforest by the palm-oil plantations of Kalimantan (Indonesian Borneo) created dense smoke that darkened the skies for over 1,000 miles (1,600 km), all the way to Singapore.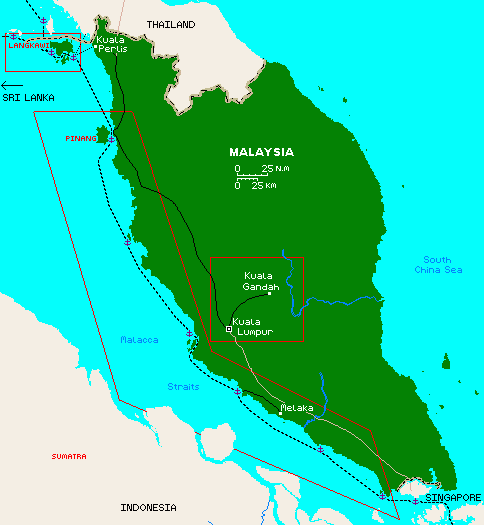 All shipping from the Mediterranean and the Middle East to and from the Far East passes through these congested waters - it's what has made Singapore so prosperous. We crossed 6 lanes of shipping traffic, alternately speeding up, slowing down, and changing course to move Ocelot past the massive container ships, car carriers, and tankers. Inside the shipping lanes we yachts have essentially no rights but even outside the lanes we had to dodge the tugs, barges and coastal freighters that, like us, prefer to skirt the main shipping channels. We also had to stay wary of the high-speed ferries that darted from Singapore to Indonesia and back. Both radio and radar proved of limited usefulness; by the time we could read a ship's name it was past us, and there were so many ships that the radar screen appeared to have an advanced case of chicken pox.
Entering Singapore from Indonesia was like stepping from a quiet backwater into a high-tech alien society. Modern cars move along elevated, complex streets lined with trees and high-rise glass buildings. Shopping malls abound and many of the 4 million residents seem to spend a lot of time inside their air conditioned comfort (Singapore has 20,000 people/square mile, the second highest national population density in the world). We frequented the clean, efficient Mass Rapid Transit system which links all corners of the city-state.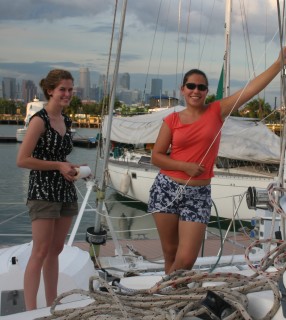 Rachel & Amanda on board in Singapore
With Ocelot secured at the new docks in One°15' Marina, we flew to the USA for a month of much-needed family time. The western states gave us a taste of fall colors, early snow, and crisp cold days in the mountains of northern California. We drove from Seattle to San Francisco and back, enjoying a full Hacking family Thanksgiving at Jon's sister's new ranch on the Klamath River.
Back in Singapore we were joined by Amanda's Australian friend and fellow cruiser Rachel, who sailed with us for 10 weeks. Not having had time to explore Singapore before we flew out, we spent several fun days playing tourist. Highlights include: Chinatown with its narrow streets, crowded shops, and street-side restaurants; Little India for its temples and fruit and veggie stalls; and the historical museums on Sentosa Island. At Fort Siloso we spent hours amidst the tunnels and re-constructed buildings where Singapore fought to stave off the Japanese invasion during WW II. Both there and at the history museum they have done a great job with wax figures and dioramas that depict the lifestyles and struggles of this corner of Asia where Eurasians, Chinese, Indians and Malays all live together.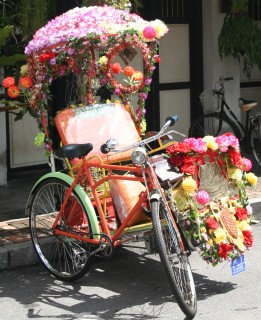 A colorful Melakan Tri-shaw
Two days up the Malacca Straits we pulled into the upscale Admiral Marina (2°28.6'N 101°50.7'E) on the coast of Malaysia. From there we traveled by taxi to the the colorful, historical city of Melaka (Malacca). Fallen into disrepair and disrepute over the past fifty years, the city is now reclaiming its place as the cradle of Malaysian society, a trading center of the 1500s. In the center of this river-cut town the crumbling walls of 18th century St. Paul's Church, with its Dutch tombstones, stand above the original main gate of the Portuguese fortress that guarded this city as early as 1512. Beneath the hill are museums of Islamic history, early Melakan sultans, political history, and an early Dutch governor's residence. A sudden afternoon thunderstorm chased the 4 of us into a multi-roofed, multi-tiered wooden replica of a 15th century sultan's palace, built true to written records, using not one nail in the construction. Here, with the boom of thunder and flash of lightning, we walked barefoot and alone through the long dark halls where wax figures transported us into ancient times when Islam was first brought to this coast by traders from the Near East, and Sultans established strict policies for trade, taxation, weights and measures.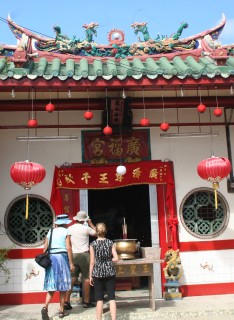 Outside one of Melaka's temples
On the side streets of Melaka's Chinatown we poked into boutiques selling modern clothing and handicraft boutiques as well as hand-beaded shoes, 4" (10cm) long shoes for women with bound feet, some of whom still live in Malaysia, 95 years after the practice was banned in China. We left our shoes outside mosques, temples and shrines which side-by-side serve the spiritual needs of Melaka's Muslims, Hindus, Taoists and Buddhists. In the Indian-named Hotel Puri with its Chinese antiques, paintings and a somewhat incongruous 15' (5m) Christmas tree, we slept in soft, cool, un-moving beds. All night we inhaled the soft fragrance of incense, frangipani flowers, and the warm wet greenery that bespeaks the mélange of SE Asia at its best.
We're now sailing north along the coast, with flat seas and blue sky dotted with clouds. There's not much wind so we're often having to motor-sail. We want to reach Langkawi with plenty of time to get settled before heading inland to Kuala Lumpur on December 20th to pick our son Christopher up from the airport.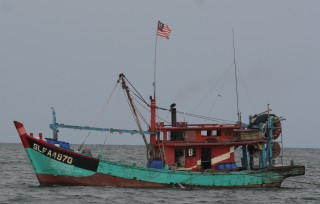 Malaysian trawlers abound in the Straits
Wishing you all a joyful holiday season, and a stress-free, peaceful and prosperous New Year!
Fair Winds and Calm Seas -- Sue, Jon, Amanda and Rachel
Malaysia Letters: Up | Leaving Borneo | Kinabatangan River | Top of Borneo | South China Sea | Malaysian Interior | On the S China Sea | Brunei to Kuching | Mt. Kinabalu | Heading East | Singapore to Borneo | Malaysia Arrival | Weh Island | Perfect Day | Bountiful Sea | Half Weh | Crossing the Indian | Return to SE Asia | Straits of Malacca
Related Pages: Malaysia Home | Malay Newsletters | SE Asia Flora/Fauna | Cruising Malaysia
Indian Ocean: Laos Letters | Vietnam Letters | India Letters | Nepal Letters | Indonesia Letters | Malaysia Letters | Thailand Letters | Sri Lanka Letters | Maldives Letters | Chagos Letters | Seychelles Letters | Madagascar Letters | Mayotte Letters | Africa Letters
Top Level: Home | Destinations | Cruising Info | Underwater | Boat Guests | Ocelot | Sue | Jon | Amanda | Chris | Site Map | Make a Comment
---
Lifetime
Commodores
of the
Seven Seas
Cruising
Association

If our information is useful,
you can help by making a donation
Copyright © 2000‑ Contact: Jon and Sue Hacking -- HackingFamily.com, svOcelot.com. All rights reserved.