Weh Island
Sunday, 11 October 2009, Pulau Weh!
Dear Friends and Family,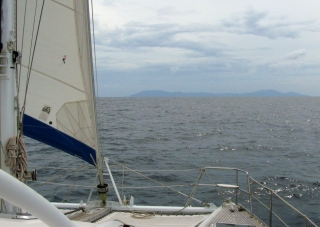 Land HO! We see Sumatra in the early morning
We had a busy night last night. The Malacca Straits is a 500 nautical mile ocean channel bordered by the Malay Peninsula and Singapore to the east and Indonesian Sumatra to the west. ALL shipping between the Mediterranean or the Middle East, and the Far East, goes around the bottom of Sri Lanka, over the top of Sumatra, and down the Malacca Straits. I think they average a ship every 10 minutes, so it gets pretty crowded.
As we approached the north end of Sumatra, all those ships were coming together - and getting close to us. Large ships are now required to carry transmitters (called AIS) so we can see them on our navigation computer, which also calculates how close they'll get to us and when that will occur. If it looks like they'll come closer than about 2 miles, we call them on the radio and they're usually happy to give us a wider berth. (We carry an AIS receiver, but not a transmitter, so ships can't see us with their AIS, only with radar or by eye).
But fishing boats aren't required to carry AIS and now that we're approaching land we're seeing a lot more of them ... and most of them don't even speak English! Finally, the winds running into Sumatra generate clouds and rain, so we've also been dodging squalls. Luckily, the rain shows up on our radar, but the squalls often don't move in the direction we think they will, as the winds on the surface (that we feel) are often different from the winds aloft (that are driving the squalls). Fun and Games...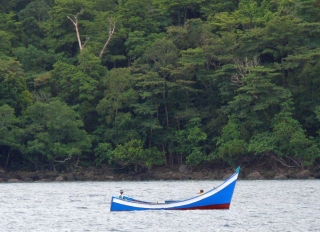 Indonesian fishing boat, Weh Island, Sumatra
So we've been dodging ships, fishing boats, and squalls, and that's kept us busy all night. Only 1 squall caught us, and thankfully it had no wind in it, just some rain. And after it left, the wind picked up from just off the beam so we've been able to turn off the engine and sail all morning!
At 4am we could make out the loom of Banda Ache, the town at the northern end of Sumatra that was so devastated in the 2004 boxing‑day tsunami. About 5:30, in the loom of the approaching sunrise, we made out Pulau Brench (Pulau means Island in Indonesian) - the first of the islands off the northern tip of Sumatra. Land HO!
About noon we rounded the top of Pulau Weh, brought in our fishing lines, and for the first time in 10 days, dropped our sails. We motored in behind Pulau Rubaih and a young guy came out and directed us to a mooring. The local dive shop here is trying to bring back the coral. They don't like boats anchoring so they provide free moorings for us. Our position is 5°52.6'N 95°15.5'E, and this time Google Earth should show you something more interesting than open ocean!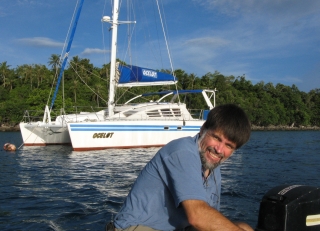 At mooring off Rubiah Island, Weh
There's not much on P Rubaih to the east of us, but P Weh (or We) has several small and slightly funky resorts facing our little bay. The whole island is very lush, with palms, bamboo, takamaka, huge hardwoods and lots of other vegetation all growing prolifically. We'll be going ashore to explore as soon as we can get Tomcat untied.
Our stats for this passage are: 1,400 nautical miles sailed in exactly 10 days, for an average speed of 5.8 knots (and a maximum speed of 14!) This passage is exactly as long as our 2nd longest passage to date (French Polynesia to Tonga in May 2004) but we had Chris and Amanda helping for that one.
Since July 18, in less than 3 months, we've sailed over 4,800 nautical miles (5,500 statute miles, or 8,700 km), almost all of it ocean passages. But now that we've arrived in SE Asia, we hope to be here through the end of 2010, meeting the boats coming up with the Darwin-Indonesia Rally, trekking in the Himalayas, exploring, and meeting friends.
We'll probably stay here for a few days, catching our breath and reveling in the earth-smells. Then we'll make the relatively short 275nm hop to Malaysia, dodging all the shipping as we cross the Malacca Straits. So this will be our last "Passage Note" for a while.
Thanks again to all of you who wrote to us! When we're all alone on the huge open ocean, it's nice to know someone else is keeping track of us.
Fair Winds and Calm Seas -- Jon and Sue Hacking
---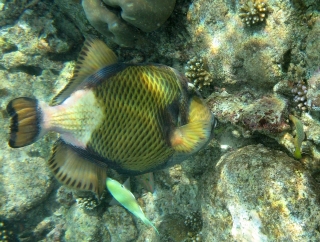 Titan triggerfish feeding on coral, Rubiah Island
Moto-cross Madness. Friday, 16 October 2009, at sea
Dear Friends and Family,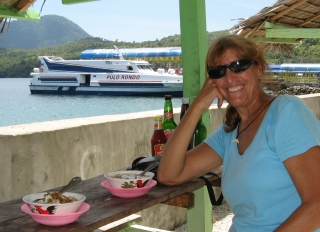 Noodle lunch at the ferry terminal, Weh
Yesterday we rented a little motor-scooter and did a tour of Weh Island. But it seemed that none of the available scooters had a working rearview mirror, and only 1 had a working gear‑indicator - necessary here as there are LOTS of hills, so lots of shifting. They came up with 2 helmets for us but the visor wasn't really transparent - it was so scratched up that 'translucent' is the most charitable description. So we went with sunglasses and no visors. TALLY HO!
Weh Island is amazingly lush, with thick tropical vegetation growing everywhere it's not chopped down. Even the sticks they use for fences usually turn into living fences, sprouting roots at one end and foliage at the other.
Weh Island is basically U shaped, with the bottom facing south and Ocelot nestled against the inside edge of the left (western) arm. (You can see this on Google Earth if you plug in our mooring location: 5°53'N 95°15'E) As a general rule, the roads were very new and in excellent condition. The exception to this was the road we took across the island to the south coast. It was being worked on and was largely gravel - quite a challenge for newbies 2‑up on a little scooter, but we managed with only a few hairy moments.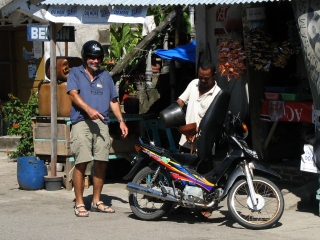 Fueling up at a "Benzin" shop, Weh
The beaches on the south side were delightful and mostly deserted except for the odd local fishing boat or fisherman tending his nets. We walked a few beaches but Sue couldn't find any new shells. Lunch was noodles and shredded chicken for $3 each at a cafe overlooking the water with a delightful cooling breeze blowing over us and Sumatra in the distance.
The roads along the coast were beautiful - sandy beaches interspersed with rocky out-croppings, surrounded by lush vegetation. Colorful fishing boats with high prows either sitting at anchor or motoring along the coast. Small villages now and then for cool drinks and different scenery.
But we did have a bit of excitement. Weh is mountainous enough that the roads get steep as they go over the many ridges. As we got near the top of one of these, we saw some monkeys lounging in the middle of the road. So we slowed down, thinking maybe we could get some photos. But the monkeys turned aggressive and started coming after us! So Jon gunned the engine to get away. Unfortunately, he gunned it too hard and the front wheel came up and the whole bike wheelied out from under us, dumping us both on the pavement ... with a troop of angry monkeys coming after us!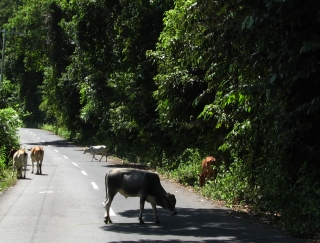 Navigational hazards are on land, too!
About then a small van came up behind us. Jon got the bike up and started riding up the road while Sue ran alongside. The car started running interference against the monkeys until Sue could hop on the back of the bike and we could escape with only 1 scraped elbow. Whew! Not at all like the friendly Vervet monkeys of Africa.
We ended up having dinner at one of the backpacker restaurants near Ocelot with a pair of 30‑ish women travelers. One's a teacher from Texas, working at an International School in Singapore. Amy lives to travel so we helped her with her Africa plans. The other woman's from India, with 2 graduate degrees from Pennsylvania. She calls herself a Muslim/Quaker, and she's working for peace in Cambodia. An interesting evening.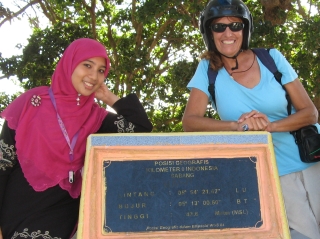 Sue & Arifa, who "rescued" us from the monkeys
This morning we decided that the winds across the top of the Malacca Straits weren't going to get much better, so we fired up Ocelot's engines, dropped our mooring, and motored away from Weh Island. We encountered strong currents (up to 2.5 knots!) and little wind, but that was expected.
So we're currently motor-sailing due east towards Langkawi Island, on the Thai/Malay border. At local noon we were at 5°56'N 95°32'E with 250 nautical miles to go to Langkawi. Unfortunately, we're bucking a good half knot of current, and that will probably continue for much of our passage. We've already had 1 ship come within half a mile of us, but he was only little. The AIS is on, the fishing lines are out, the sails are trying to help the engine, the sea is flat, and Malaysia is getting closer, so life is good.
Fair Winds and Calm Seas -- Jon and Sue Hacking
Malaysia Letters: Up | Leaving Borneo | Kinabatangan River | Top of Borneo | South China Sea | Malaysian Interior | On the S China Sea | Brunei to Kuching | Mt. Kinabalu | Heading East | Singapore to Borneo | Malaysia Arrival | Weh Island | Perfect Day | Bountiful Sea | Half Weh | Crossing the Indian | Return to SE Asia | Straits of Malacca
Related Pages: Malaysia Home | Malay Newsletters | SE Asia Flora/Fauna | Cruising Malaysia
Indian Ocean: Laos Letters | Vietnam Letters | India Letters | Nepal Letters | Indonesia Letters | Malaysia Letters | Thailand Letters | Sri Lanka Letters | Maldives Letters | Chagos Letters | Seychelles Letters | Madagascar Letters | Mayotte Letters | Africa Letters
Top Level: Home | Destinations | Cruising Info | Underwater | Boat Guests | Ocelot | Sue | Jon | Amanda | Chris | Site Map | Make a Comment
---
Lifetime
Commodores
of the
Seven Seas
Cruising
Association

If our information is useful,
you can help by making a donation
Copyright © 2000‑ Contact: Jon and Sue Hacking -- HackingFamily.com, svOcelot.com. All rights reserved.