Malaysia Arrival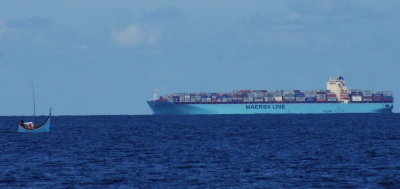 Indonesian fisherman meets Maersk, in Malacca Straits.
And we thought WE were small!
Saturday, 17 October 2009, in the Malacca Straits
Dear Friends and Family,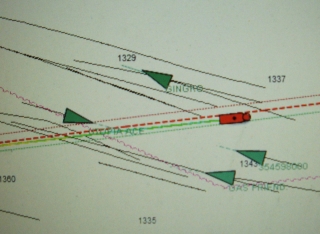 AIS snap shot over 2 hours. Green are ships.
Black lines are ship tracks. We're in red.
Last night, in the near-dark of the moon, we had a busy night on the Malacca Straits. We felt very fortunate to have a flat sea, light breezes, and no "Sumatra" thunderstorms so the motor-sailing was pretty brainless (though we did have a lightning show way to the south of us). What made it busy was the shipping traffic: more than 40 ships passed within a few miles of us in the hours of darkness. Luckily our trusty AIS instruments showed all but one of them, graphically, as they approached and departed. Besides those 40 or so, we spotted dozens more ships as tiny lights on the horizon. The dark of the moon actually helped us, as there was no ambient light from a bright moon to hide those pin-pricks with their telling red, green and white lights. We had to call about 8 of the ships on the radio to be sure they saw us, and in several cases they altered course to avoid coming too close. When a 1,000 foot (300 meter) tanker is bearing down on you, anything less than 2 miles feels too close! It was not a dangerous night, just one that pumped enough adrenalin into our systems that we stayed well awake!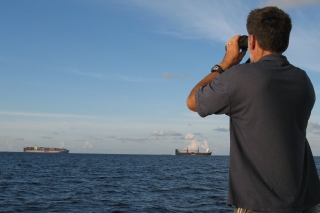 Jon checks out 2 passing ships
As of dawn this morning we seemed to be past the thickest of the shipping, and have had only an occasional freighter, tanker, cargo vessel or "Ro‑Ro" (roll on, roll off) slide silently by on this calm blue sea. We've taken turns catching up on much-needed sleep.
All night we paralleled the northern coast of Sumatra, which meant we had Indonesian fishing vessels around us at times. We had forgotten how the VHF radio is used by fishermen here as a sort of "karaoke-at-sea". The discordant yodeling that came through would have been funny if it hadn't felt so intrusive on our quiet passage. Luckily they did not intrude on our vital VHF conversations with the passing ships.
Paralleling the coast also meant we had all the water of the Strait flowing past us, trying to work its way out of the narrow space between Malaysia and Indonesia, creating a 1‑2 knot current against us all night. Ah well, you wins some you lose some. As we write this at 4pm we're at 6°09'N 97°49'E or 110 nautical miles from the island of Langkawi, Malaysia, having passed our half-way point at noon.
Fair Winds and Calm Seas -- Sue and Jon Hacking
---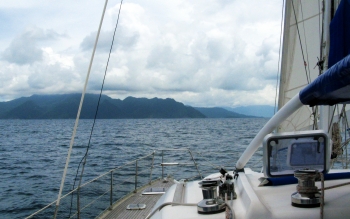 Langkawi, Malaysia at last! After 5000 miles!
Sunday, 18 October 2009, Ocelot arrives in Langkawi, Malaysia!
Dear Friends and Family,
We've arrived! At 1pm local time (GMT+7) we dropped our anchor in the shallow bay off Telaga Marina and sat down for lunch and a long siesta. You can see the anchorage if you plug our position into Google Earth: 6°21.8'N 99°40.8'E. We're anchored right off the building where "The King and I" was filmed so long ago.
Wow, what a trip. In the last 3 months since leaving Richards Bay, we've sailed over 5,000 nautical miles (5,750 statute miles, or 9,200 km) as we crossed the Indian Ocean to Mayotte (9 days), Madagascar (2 days), Seychelles (4 days), Maldives (9 days), Indonesia (11 days), and finally to Malaysia (3 days). A total of 38 days at sea on passage.

Hey! Ships everywhere, but we're almost home safe!
So, what now? Our plans are still coming together, but here's today's rough outline.

We'll probably hop down to Penang fairly soon (a 60nm long day-sail south of Langkawi) for some medical work - Jon's eye is doing fine, but it needs to be checked. Apparently they have excellent medical facilities in Penang. This year's Darwin-Indonesia Rally will be arriving here soon and we have several friends in it, so we're looking forward to reconnecting with them. There's a possibility that we'll go up to Phuket, Thailand, to join the racing and partying associated with the Kings Cup in December.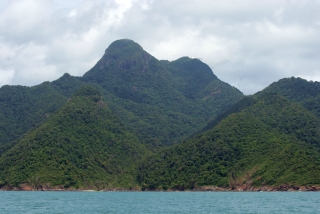 The hills above Telaga Harbor, Langkawi
But our big plans are to go to Nepal to trek in the Himalayas for April‑June. Both Chris and Amanda are planning to take Spring quarter off to join us. Sue's father got us interested in the area. During World War 2 he was stationed in China as a weatherman for Claire Chenault's Flying Tigers. (If you don't know the story, the Chinese were being attacked by the Japanese so they hired a flying circus as mercenaries. Although badly outnumbered and never having enough parts or pilots, they racked up a 10:1 kill ratio. The book "God is my Copilot" tells much of the story.) Sue took Jon to the Himalayas in 1980 so this would be a 30 year reunion for us - our first wedding anniversary was 1 days hike out of Everest Base Camp.
Although Fall has better weather in the Himalayas, we prefer to go in the Spring, when all the Rhododendrons are in bloom. Rhodies are the main forest vegetation there, growing up to 65' (20m) tall and whole hillsides can be covered in their red and yellow flowers. As the season progresses the band of blooming flowers moves higher, until even the dwarf-rhododendrons at 15,000' (4,500m) cover the ground with their purple flowers.
We'll probably take a trip back home to see friends and family, but we're not sure if we want to go in the winter or in the summer. Finally, we've got good friends coming up from Brisbane towards the end of 2010, and we'd like to cruise west with them.
Fair Winds and Calm Seas -- Jon and Sue Hacking
Malaysia Letters: Up | Leaving Borneo | Kinabatangan River | Top of Borneo | South China Sea | Malaysian Interior | On the S China Sea | Brunei to Kuching | Mt. Kinabalu | Heading East | Singapore to Borneo | Malaysia Arrival | Weh Island | Perfect Day | Bountiful Sea | Half Weh | Crossing the Indian | Return to SE Asia | Straits of Malacca
Related Pages: Malaysia Home | Malay Newsletters | SE Asia Flora/Fauna | Cruising Malaysia
Indian Ocean: Laos Letters | Vietnam Letters | India Letters | Nepal Letters | Indonesia Letters | Malaysia Letters | Thailand Letters | Sri Lanka Letters | Maldives Letters | Chagos Letters | Seychelles Letters | Madagascar Letters | Mayotte Letters | Africa Letters
Top Level: Home | Destinations | Cruising Info | Underwater | Boat Guests | Ocelot | Sue | Jon | Amanda | Chris | Site Map | Make a Comment
---
Lifetime
Commodores
of the
Seven Seas
Cruising
Association

If our information is useful,
you can help by making a donation
Copyright © 2000‑ Contact: Jon and Sue Hacking -- HackingFamily.com, svOcelot.com. All rights reserved.