Malaysian Interior
23 July 2011, Langkawi, Malaysia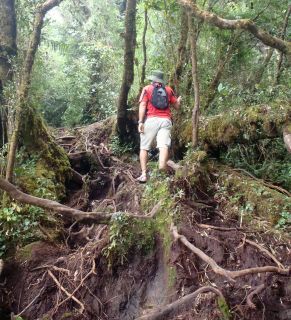 Jon climbs the rough trail up Mt. Brinchang
Dear Friends and Family,
We've been having too much fun traipsing around the Malaysia interior - first to the highlands for some refreshing cool and then down to the hot and humid Malaysian Jungle. This was sort of a birthday trip for Sue, as in, Jon asked what she wanted and she said, "Let's go somewhere! You never take me ANYWHERE".

We started out by going up to the Cameron Highlands at 4,300' (1,300m), where it's nice and cool and they grow strawberries year-round! Most of them are not grown in the ground. They fill a 4' (1.3m) long by 5" (13cm) diameter plastic tube with soil, punch 4 holes in it for the seedlings, and stick a drip or small sprayer in each hole. These tubes are then set on A‑frame racks of either 3 or 5 tubes, with associated drip irrigation paraphernalia. Since the tubes are close to waist height, they're easy to harvest, and since the berries are not lying on the ground, they're cleaner. They don't care what sort of soil the stands are on so you can do it anywhere the climate is appropriate. Presumably the soil in the tubes (and perhaps the irrigation liquid) have special chemical properties. Plant density seems as high or higher than if they were buried in the soil. The fresh strawberries were yumlicious!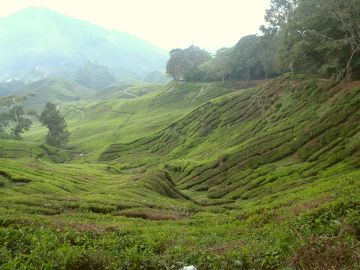 Beautiful Boh Tea Plantation, Cameron Highlands
We found a lovely little guest-house just out of town but still within easy walking distance. Did a nice hike up Mt. Brinchang to 6,300' (2,000m). We probably went up 1,500' (500m) or so to see the view but the last bit was pretty steep and muddy. It was more of a thick forest experience with interesting bird calls and other sounds. As we walked down the hill (via the road) Norman, a local Malaysian, picked us up and took us under wing, as he had time to kill while his wife was at a conference. First he took us to a tea plantation where we had delicious tea and scones with jam and whipped cream, while overlooking the estate. Then we went to a strawberry place for fresh strawberries and ice cream. And then another nice walk through the forest past a waterfall and back to the guest house.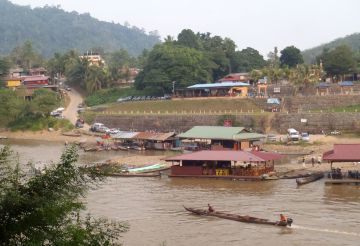 Kuala Tahan village on the Tembeling River
Norman is, like the majority of Malaysians, Muslim, so we asked lots of questions and had some interesting conversations. He thought all US presidents were controlled by Jews behind the scenes! I suspect Bush was controlled by the oil interests but it just goes to show that we need better global communication and understanding.
After a few days in the highlands we took a minibus west, down to the lowland jungles, and then a fun 3‑hour boat trip in a long, narrow "Perahu" with a 40hp outboard. The river was chocolate brown with thick jungle on both sides and apparently had many shallows as the driver wound around quite a bit as we traveled almost 50 miles (70km) up the Tembeling River. Where we stopped we had the Taman Negara National Park on the north side of the river and the small village of Kuala Tahan on the south, with lots of floating restaurants on the river to cater to the backpackers. Tamen Negara is reputedly the oldest tropical rainforest in the world, at some 130 million years old. Before entering the park, Sue needed a birthday treat, so we had fresh mango "shakes" (more like milky icies) twice as tall as the parfait glasses, and so cold that it took half an hour to eat them.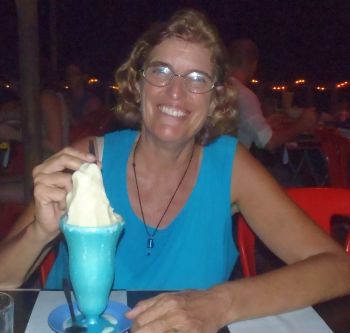 Mango shake: better than a cake, any day!!
We found another guest-house - rather basic but with fan, bed, and our own squatty-toilet and shower. Got some info on the National Park and decided to go spend a night in one of their game-hides. We were rather unprepared for this, but rented thin sleeping mats and bought some food and lots of drink (they sell a lovely isotonic in Malaysia called 100+ that we've become a bit addicted to). We chose a hide that was far from what passes for civilization, to maximize our chances of seeing wildlife. Decided to take another Perahu about 45 minutes up the river so we'd only have to hike in about 45 minutes with all our food weight. Luckily we found a pair of young British women (22) to share the $40 boat trip with.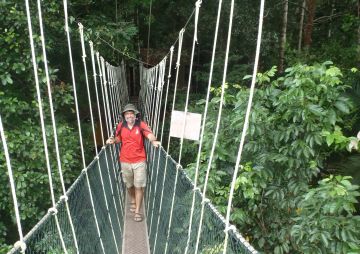 Jon balances on the canopy walk, Taman Negara
The boat wouldn't leave until 3:30 so we spent the morning walking through the National Park. They have a fun "Canopy Walk" along a narrow plank suspended 130' (40m!) above the forest floor so we could see the upper canopy of the forest. It goes from tree to tree for more than 1/4 mile (500m) and, while quite safe (you couldn't fall off) it's not for the faint of heart. We've been on other canopy walks before, but never one so high or so long.
The boat trip was a hoot, as we ran UP about 5 sets of rapids, each going up about 3‑4' (1m). We had a total of 10 folks in the hide, all 20‑something except us. The hide was a concrete structure about 20' (6m) off the ground above a clearing with a salt-lick. The toilet was plugged and the shower tap was broken, but a contortionist could shower under the tap (and we desperately needed showers after the sweaty hike through the humid forest). Accommodation was on wooden bunks, no electricity, but a nice bench and viewing slot out to the jungle and salt-lick. We took turns shining torches (flashlights) out the slot to look for animals most of the night.
Unfortunately, we had a huge thunderstorm for several hours that night so we didn't see much game. There were some long-tailed Macaques (monkeys) in the trees and we heard some lovely Gibbon-song the next morning. On the hike out we were followed by a wild pig for a while, and we saw lots of signs of pigs digging up the forest floor. The hike out (12 km or 7 miles) took 7 hours due to the wet, slippery and often obstructed trail. It was especially challenging as the rain had brought out the leeches. Ten got past Jon's defenses and 14 got past Sue's, and we flicked off several dozen more that tried to climb up our legs. Leech bites don't hurt (indeed, you can't feel them at all) but the leeches hadn't brushed their teeth so a couple days later we still had swollen little itchy-bites. The Brit girls, Sophie and Katie, hiked out with us and Katie was frantic about "blood-sucking monsters" and more or less danced all the way back (in long pants!) earning herself the nickname Twinkle-Toes. We were absolutely drenched in sweat when we got back but our new guest-house, overlooking the river, had much nicer shower facilities.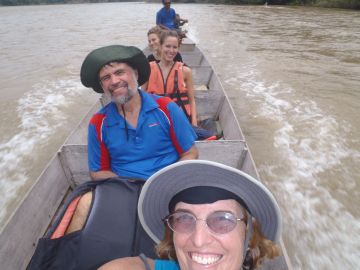 Going up river in a perahu: Sue, Jon, Katie, Sophie
To treat ourselves we took a Jeep Safari that night, but it was nothing like Africa. We sat on the top of a twin-cab 4x4 pickup ("ute" to the Aussies, "bakkie" to the S Africans). The game spotter sat up with us, waving a powerful spotlight around, but the other 8 folks sat in the bed at the back, and didn't get our rooftop experience. We couldn't drive into the National Park so we went into a palm-oil plantation, where we saw one Civet Cat with a nice, ringed tail, a long striped snake curled around a reed in a pond, a white-throated Kingfisher (and several other birds) and 3 cute little leopard cats, full grown with big ears but only just larger than a domestic cat.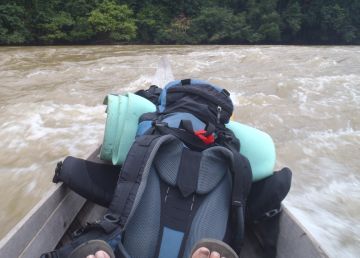 Yee hah! Gotta hope the engine doesn't cut out!
The leeches cured us of walking through Jungles for a while, so we decided to take the "Jungle Train" NE to Kota Bharu on the coast. But this was Sunday (17 July) so the train was pretty full. Then we found that they don't bother to turn the cars around so the seats face forward! They just put half the seats facing forward and half backwards! And, of course, we had backwards facing seats that prevented us from enjoying the jungle view. Typical of Malaysian public transport, we were also subjected to a violent Chinese kung-fun movie. So we got off at the next station (about an hour) and decided to just burn a day and take the next train. Found guest house and a nice al‑fresco Chinese restaurant where we had an excellent dinner of "wild-boar" and lemon chicken over rice, with nice cold Tiger beer to wash it down. No problem getting train tickets (they even gave us a partial refund for the unused portion from the previous day) and they assured us these would be forward facing seats. What they didn't bother telling us was that a landslide had blocked the tracks so the express train (with assigned seating) wasn't running at all and the slow (open seating) Jungle Train was only going part way!
OK, we got a fun few hours' ride on the Jungle Train and along the river in air conditioned comfort but this was our 2nd bad train experience in SE Asia (the tracks from Bangkok to Chiang-Mai in 2007 were so poor that we felt we were in a washing machine). The town we ended up at (Gua Musang) had very few tourist facilities but we found a shabby, dirty hotel, booked in, left our gear to go explore a bit, found a much nicer hotel (for $13 with air conditioning and our own shower), went back to our first hotel, asked for and received a refund, and schlepped our gear to the nicer hotel, all in broiling heat and oppressive humidity. The town's one claim to fame is the scenery: massive karst (limestone) cliffs tower above the buildings, and swallows and swifts vie for the best bug-dinner!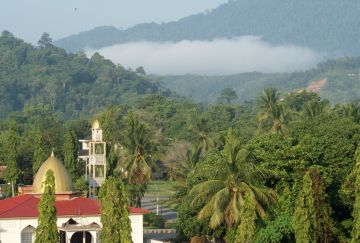 Beautiful Gua Musang, near Tamara Negara
The next morning our hotel owner gave us a ride to the bus station. We had lovely seats at the front of the upper deck of a (full!) double-decker air-conditioned bus. The view was great, but unfortunately most of this corner of Malaysia has burned down the jungle to put in palm oil plantations. So we did finally get to our coastal city of Kota Bharu, just a couple of days late. This is where the Japanese came ashore (on 7 Dec 1941, a few hours ahead of the attack on Pearl Harbor) so we spent most of our time in museums. Jon decided that the Brit in charge of the defense of Malaysia was a blithering idiot. But we didn't realize that the Japanese only had a year or so of victories before they had to go on the defensive. Apparently the US cracking the Japanese codes was largely responsible. The US knew about the attack on Midway Island and sent a fleet to intercept the Japanese, and were eventually able to sink 3 of their 4 aircraft carriers, which was something of a turning point in the war. The Japanese eventually made back the losses from that one battle but it took several years, while the only carrier the US lost was the Yorktown, and the US built about 15 more aircraft carriers during the war.
The bus trip back to Penang was long but uneventful, except for a few exciting moments passing heavily laden logging trucks on the winding road. There were only about 4 people on the huge, air-conditioned bus, so we got excellent seats right up front, where we could watch the mountains and lush second-growth forest slide by.
Fair Winds and Calm Seas -- Jon and Sue Hacking
Malaysia Letters: Up | Leaving Borneo | Kinabatangan River | Top of Borneo | South China Sea | Malaysian Interior | On the S China Sea | Brunei to Kuching | Mt. Kinabalu | Heading East | Singapore to Borneo | Malaysia Arrival | Weh Island | Perfect Day | Bountiful Sea | Half Weh | Crossing the Indian | Return to SE Asia | Straits of Malacca
Related Pages: Malaysia Home | Malay Newsletters | SE Asia Flora/Fauna | Cruising Malaysia
Indian Ocean: Laos Letters | Vietnam Letters | India Letters | Nepal Letters | Indonesia Letters | Malaysia Letters | Thailand Letters | Sri Lanka Letters | Maldives Letters | Chagos Letters | Seychelles Letters | Madagascar Letters | Mayotte Letters | Africa Letters
Top Level: Home | Destinations | Cruising Info | Underwater | Boat Guests | Ocelot | Sue | Jon | Amanda | Chris | Site Map | Make a Comment
---
Lifetime
Commodores
of the
Seven Seas
Cruising
Association

If our information is useful,
you can help by making a donation
Copyright © 2000‑ Contact: Jon and Sue Hacking -- HackingFamily.com, svOcelot.com. All rights reserved.