Return to SE Asia
Thursday, 1 October 2009, at sea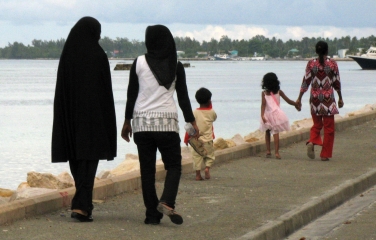 Women & children on the lagoon promenade, Addu Atoll
Dear Friends and Family,
At 10am we fired up Ocelot's newly refueled engines and motored out of the delightful anchorage off Gan Island in Addu Atoll of the Maldives. We set full sail, crossed the lagoon, and turned Ocelot towards northern Sumatra (which we have to go around before heading for Langkawi, Malaysia). Our Sumatra waypoint is 1,400 nautical miles away, and Langkawi another 270nm past that.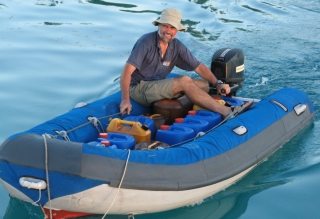 Jon brings in the diesel in 12 jerry jugs
We've had a couple busy days in peaceful, quiet Addu Atoll. Ocelot sat happily in the protected anchorage by a causeway between Gan and Feydhoo islands while we did our chores. On Tuesday Sue did another snorkel in the crystal clear water and a quick scrub on the bottom of the hulls. The water is warm and teaming with colorful fish, but the "reef" rimming the anchorage is pretty dead. Ah well.
For $8 we hired a small truck to transport Jon and 10 jerry jugs to the petrol station and back. Nice surprise -- diesel is only $0.62/liter, about half the price of Seychelles. (Gasoline is about $0.78) Much schlepping, lifting, and grunting later we had Ocelot all re-stocked with diesel. After a cooling shower we met our Maldivian friends, Mulla, his wife Arifa, and their son Rafu for dinner.
I think all the little restaurants in Addu have the same menu and same prices. For $2‑3 you could have some sort of pizza, burger, or curried or grilled tuna, beef or chicken. We tried the curries and found them not as hot as we expected given that the Maldives bases its curries on Sri Lankan cuisine which is HOT. No alcohol, of course, being a Muslim country, but nice fresh lemonade, fruit juices or sodas.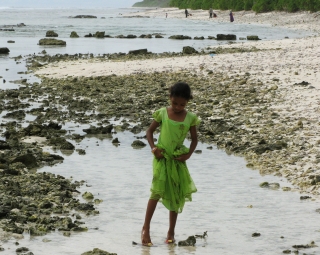 Maldivian girl on the beach, Hithadhoo
Yesterday we spent the morning avoiding rain showers. Jon found a dry time to climb our 65' (20m) mast to "talk firmly but lovingly" to our wind instruments and to check the rigging. Then we hired a motor‑scooter to go 5 miles north to Hithadhoo where one has to go to clear out. The main road up the atoll (the islands are connected by causeways built by the British) is paved and delightful, skirting up the inside of the islands, next to the lagoon. We got our business done and then went to explore Hithadhoo town and to find something cool to drink.
Hithadhoo has over 13,000 people and is the second largest town in the whole country, but that's not saying much. One coral-walled street or alley leads into another, all looking much the same to those of us who can't read the street signs. After 20 minutes of exploring the narrow alleys which hide small concrete homes and their neat gardens we gave up on the cool drinks. We couldn't find a single restaurant, which seemed odd as there are several at the other end of the atoll near Ocelot.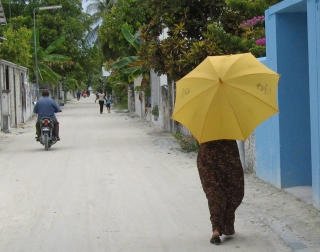 Street in Hithadhoo. Maldives 2nd largest town
Many Maldivians speak English and are very helpful. But since we can't read the street signs, or indeed tell one alley from the next, when we asked for the petrol station we were instructed to follow a guy on a scooter. The "petrol station" was a tiny room on the sandy main street with one pump in the doorway. We had to wait a while for the proprietor as everything is closed from 3‑4pm for prayer. So, thirsty, but enjoying the breeze afforded by the scooter we headed back towards the islands of Feydhoo and Gan where we knew we could get fresh lemonade and ice cream!
We had requested a (free) weather forecast from the airport meteorological office, so we picked that up, then went back to Feydhoo for supper. How could we resist another $4 meal? It was way too hot to cook on Ocelot.
The wind is again predicted to be light initially but should fill in (and get a bit wetter) towards the end of our passage.
Fair Winds and Calm Seas -- Sue and Jon Hacking
---
Ocelot Crosses the Equator! Friday, 2 October 2009, at sea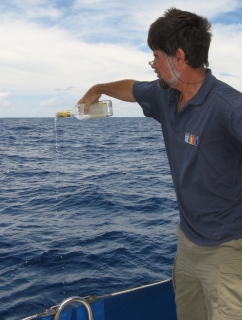 Jon offers Neptune a libation of gin
Dear Friends and Family,
First of all, thanks to everyone who wrote about the earthquakes and tsunamis. We're a bit out of the news here (it always seems so ... depressing) so we found the news interesting.
The tsunami in Samoa didn't affect us, of course. We're more than 1/4 the way around the world from Samoa (more than 6,200 nautical miles) with all of Australia, Papua New Guinea, and Indonesia blocking off any nastiness. Still, we have several friends in the Pacific so we're interested. (Nobody that we know was hurt, but 1 cruiser was apparently killed on the dock in Pago Pago)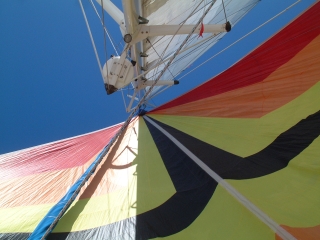 Under full main and spinnaker. Love it!
The earthquake off Pedang, western Sumatra, in Indonesia is much more relevant to us. Tsunamis from that area have reached 2‑3000 miles across the Indian Ocean to wreak havoc in places like the Seychelles. However, we didn't feel anything in Addu Atoll (about 1,500 miles from Pedang) and certainly not while we were sailing. Tsunamis can have a devastating effect when they get into shallow water but they're rarely felt at sea as it's just another gentle rise of a few feet, like the swells which we're going over constantly.
We've had delightful but gentle sailing conditions since we left. The winds are well aft and only 6‑12 knots, so we're not going very quickly. About 2am the winds died entirely and we had to motor until the wind came up again about 8am. The clouds built up a bit last night but we had an almost full moon, which is always delightful. This morning the clouds have largely dissipated so we've got blue sky to go with our rich dark blue sparkling ocean.
Our big news (big being very relative here) is that just before noon we crossed the equator! (No, there was no white line painted on the ocean!

) This marks the 4th crossing for us on this cruise: The first was sailing from Panama to Ecuador in March 2003, then coming up through Indonesia in October 2006, then coming down from Sri Lanka to Addu Atoll in March 2007. As usual, we made an offering to Neptune and asked for a safe passage to Langkawi.
At noon we were less than a mile north of the equator, having traveled 142nm east-northeast from Gan. Winds have been very light so we've put up our spinnaker! (Had to work out how to do that with only 2 of us now.) We've been following our colorful red, yellow, orange and black 'chute now for several hours.
Fair Winds and Calm Seas -- Jon and Sue Hacking
Malaysia Letters: Up | Leaving Borneo | Kinabatangan River | Top of Borneo | South China Sea | Malaysian Interior | On the S China Sea | Brunei to Kuching | Mt. Kinabalu | Heading East | Singapore to Borneo | Malaysia Arrival | Weh Island | Perfect Day | Bountiful Sea | Half Weh | Crossing the Indian | Return to SE Asia | Straits of Malacca
Related Pages: Malaysia Home | Malay Newsletters | SE Asia Flora/Fauna | Cruising Malaysia
Indian Ocean: Laos Letters | Vietnam Letters | India Letters | Nepal Letters | Indonesia Letters | Malaysia Letters | Thailand Letters | Sri Lanka Letters | Maldives Letters | Chagos Letters | Seychelles Letters | Madagascar Letters | Mayotte Letters | Africa Letters
Top Level: Home | Destinations | Cruising Info | Underwater | Boat Guests | Ocelot | Sue | Jon | Amanda | Chris | Site Map | Make a Comment
---
Lifetime
Commodores
of the
Seven Seas
Cruising
Association

If our information is useful,
you can help by making a donation
Copyright © 2000‑ Contact: Jon and Sue Hacking -- HackingFamily.com, svOcelot.com. All rights reserved.