On the S China Sea
23 November 2010, on the South China Sea

"Oh, delicious leaf," said the Silver Langur at Bako Park
Dear Friends and Family,
We've had fun in Kuching, exploring the old part of town with our friends on Vamp and eating delicious curry meals at some of the many excellent restaurants. We've even got a favorite coffee shop where they serve yum-licious hot or cold Borneo coffee for less than $2 for a fancy iced latte. Sue's kind of place!
We had a lovely second visit to the orangutans at Semenggoh Nature Reserve on Rachel's 22nd birthday. It's fruiting time, which means the semi-wild orangutans are less likely to appear at the feeding stations, but we were lucky to have Delima (aka Hot Mama) and baby on the walkway just 10' (3m) away, hanging gracefully by one long, muscled arm from an overhead tree while she ate bananas. Her baby climbed all over her, using mom as a jungle gym, snatching bananas from her, then hanging upside down to smile at all of us with our cameras. They are so amazing!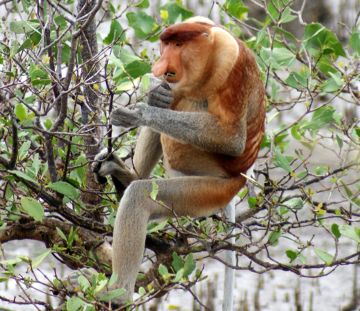 Alpha Male Proboscis Monkey. Yummy mangrove!
While Jon finished off some boat chores, Sue visited Bako National Park with Rachel and had some fun encounters with troops of Silver Langurs, eating all the new leaves they could reach. They also found a troop of Proboscis Monkeys and spent half an hour watching the alpha male with his huge, pendulous red nose bobbing up and down as he scraped leaves from the mangrove branches while the younger monkeys played all around him, also searching for the perfect breakfast leaves.
Back at headquarters Sue came face to face with one of creation's ugliest land creatures: the Borneo bearded pig. It liked to rummage in the mud with its almost meter-long snout, covered in a thick brown mop of bristles that all but hid his piggy little eyes.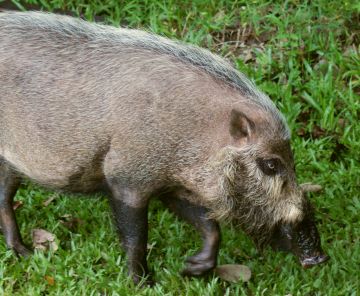 Borneo's bearded pig. Need a shave, mate?
On Sunday we dropped our lines at the tiny Kuching Marina and were promptly shot down the river by the strong currents associated with the full moon and spring tides. The marina is 7 miles up the Sarawak River so we had lots of fun watching the various marine activities on shore as we sailed past.
We're headed back towards Singapore and Peninsular Malaysia. We'd like to have Thanksgiving (this Thursday) with cruising friends who are now in Danga Bay Marina, Jahor Baru, just north of Singapore. This is where we left Ocelot while we came back to the USA for July and August 2010.
In theory, the NE monsoon should be in force now so we should be getting NE winds, but reality is that there's little to no wind out here. Danga Bay Marina is about 450nm from Kuching and we're expecting to have to motor all of it. Unfortunately, we're finding strong currents against us, up to 1.5 knots at times, so it will be a bit of a push to get to Danga Bay in time. At least the fuel is relatively cheap here in Malaysia...
Last night, just as the sun went down we passed our mid-point - always a good feeling. Now (noon Tuesday) we're at 1°42'N 106°05'E or about 100nm from the outer shipping lanes. We're hoping that one more night out here will get us to land, but it will take a whole day to get around Singapore and up to the marina. That's a trip that has to be done in daylight because of all the shipping traffic there. Wish us luck...

Fair Winds and Calm Seas -- Jon and Sue Hacking
Malaysia Letters: Up | Leaving Borneo | Kinabatangan River | Top of Borneo | South China Sea | Malaysian Interior | On the S China Sea | Brunei to Kuching | Mt. Kinabalu | Heading East | Singapore to Borneo | Malaysia Arrival | Weh Island | Perfect Day | Bountiful Sea | Half Weh | Crossing the Indian | Return to SE Asia | Straits of Malacca
Related Pages: Malaysia Home | Malay Newsletters | SE Asia Flora/Fauna | Cruising Malaysia
Indian Ocean: Laos Letters | Vietnam Letters | India Letters | Nepal Letters | Indonesia Letters | Malaysia Letters | Thailand Letters | Sri Lanka Letters | Maldives Letters | Chagos Letters | Seychelles Letters | Madagascar Letters | Mayotte Letters | Africa Letters
Top Level: Home | Destinations | Cruising Info | Underwater | Boat Guests | Ocelot | Sue | Jon | Amanda | Chris | Site Map | Make a Comment
---
Lifetime
Commodores
of the
Seven Seas
Cruising
Association

If our information is useful,
you can help by making a donation
Copyright © 2000‑ Contact: Jon and Sue Hacking -- HackingFamily.com, svOcelot.com. All rights reserved.