South China Sea
21 June 2014, Tioman Island, Malaysia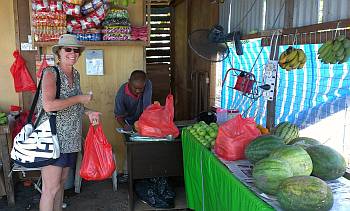 Crew Deborah helps provision on Tioman.
Dear Friends and Family,
Just a quick note to say we're jumping off today from Tioman Island, off the east coast of Malaysia, and heading for Miri, on the north coast of Borneo. This is a trip of 600 nautical miles and the winds are forecast to be very light, so it may be a slow trip. But we have a friend on board, Deborah, who has to be in Miri on the 28th, so we're hoping to arrive before then.
Unfortunately, our SSB (long distance) radio never woke up after the refit, so we have no way to send or receive emails while we're at sea. We're hoping to get the radio replaced, but it hasn't happened yet.
We've recently repaired our "Where's Ocelot" map at the bottom of our home page that shows where we are. We won't be able to update that while we're at sea, but it shows where we've been recently and we'll update it once we arrive.
Where we've been recently ... Our trip to northern Laos and northern Vietnam was WONDERFUL. We've now published illustrated versions (with over 100 photos!) the newsletters that we sent from Laos and Vietnam.
Fair Winds and Calm Seas -- Jon, Sue and Deborah
---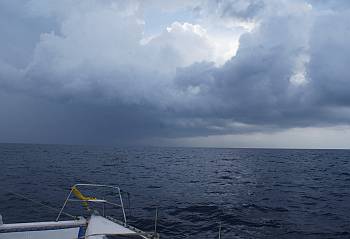 Morning squall on the South China Sea
6 July 2014, Labuan Marina, Malaysian Borneo
Dear Friends and Family,
Just a quick note to let you know that we arrived safely in Miri, northern Malaysian Borneo. We're also trying to get our SSB radio fixed so we can send out our "passage notes" in real time instead of after the fact like this.

Not that we're planning any overnight passages again in the near future - we should be able to day‑hop for several weeks now, which we much prefer.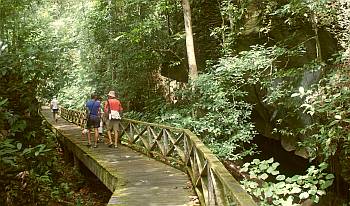 Beautiful long hike into the rainforest at Niah Caves
We left from the top of Tioman Island and found ourselves facing unexpected ESE winds, so we couldn't lay our easterly course. But the general wind pattern for this time of year is southerly winds from Indonesia, coming up from between Borneo and Singapore and spreading out into the South China Sea, so we figured that the winds would clock around behind us as we moved further east and sure enough, that's what they did. We only had 2 squalls that required reefing the sails, and they luckily both hit in daylight (which really just broke up the monotony a bit

)
Winds were light so the trip was a bit slow (605nm in 4 days and 20 hours for an average speed of only 5.2 knots) but we have no problem with uneventful passages and we had a friend on board who did much of the cooking and livened things up. Bountiful stars, colorful sunrises and sunsets, a couple pods of dolphins, good food, good company, and Ocelot scooting along happily. We were very pleased with Ocelot's performance of 5‑6 knots in true winds of only 10 knots. Yay! A good passage, even with lots of tankers and tugs and fishing boats (up to 30 at a time) and big floating logs to keep us on our toes!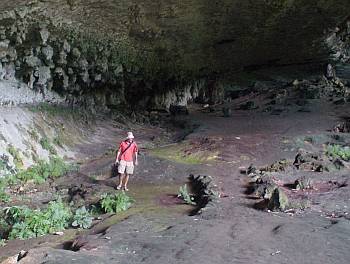 Jon explores the ancient Trader's Cave, Niah Caves
Once in Miri, Deborah had only 1 free day before flying home to Kolkata (the new name for Calcutta, India) so we took a trip to Niah Caves National Park. We did a 6 mile (10km) hike through awesome rain forest and multiple huge caves (hmm, smell that bat guano!) where archaeologists have discovered skulls and pots from 40,000 years ago.
After a few days in Miri we continued along the Borneo coast into the Sultanate of Brunei, mainly to get some cheap diesel. We took on 476 liters (130 gal) of diesel at less than $0.20/L ($0.70/gal) as well as 46 liters (12 gal) of fuel for the dinghy. Poor Ocelot is down a bit on her lines, but diesel doesn't get much cheaper than this. The yacht club in Brunei Bay is very nice, with a lovely pool, showers, and a delightful restaurant overlooking the water (and Ocelot, out at anchor).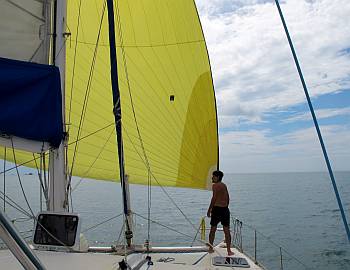 Making 5.5 knots in an 8 knot breeze off Brunei.
Today we sailed 20nm across to the marina at Labuan, a duty‑free Malaysian island. Winds were behind us so we got to fly our spinnaker again - always a treat! At Labuan we met up with old cruising friends from South Africa, and also picked up our new "screecher" sail. Once Jon rigs up some bobstays to hold our prod down, we'll be able to put the screecher up and test it. The bobstays will be made from Spectra, an aramid rope fiber as strong as steel, but it requires special splices in each end, which were supposed to be done by our knotspert, Amanda.
We couldn't get our SSB radio repaired in Miri, so we've contacted a well recommended repair shop here in Labuan. Sue also needs to get some dental work done. After that we'll continue over the top of Borneo to join a rally to Raja Ampat in eastern Indonesia for some nice scuba diving.
We've posted a set of passage photos on Ocelot's Facebook page.
Fair Winds and Calm Seas -- Jon and Sue
Malaysia Letters: Up | Leaving Borneo | Kinabatangan River | Top of Borneo | South China Sea | Malaysian Interior | On the S China Sea | Brunei to Kuching | Mt. Kinabalu | Heading East | Singapore to Borneo | Malaysia Arrival | Weh Island | Perfect Day | Bountiful Sea | Half Weh | Crossing the Indian | Return to SE Asia | Straits of Malacca
Related Pages: Malaysia Home | Malay Newsletters | SE Asia Flora/Fauna | Cruising Malaysia
Indian Ocean: Laos Letters | Vietnam Letters | India Letters | Nepal Letters | Indonesia Letters | Malaysia Letters | Thailand Letters | Sri Lanka Letters | Maldives Letters | Chagos Letters | Seychelles Letters | Madagascar Letters | Mayotte Letters | Africa Letters
Top Level: Home | Destinations | Cruising Info | Underwater | Boat Guests | Ocelot | Sue | Jon | Amanda | Chris | Site Map | Make a Comment
---
Lifetime
Commodores
of the
Seven Seas
Cruising
Association

If our information is useful,
you can help by making a donation
Copyright © 2000‑ Contact: Jon and Sue Hacking -- HackingFamily.com, svOcelot.com. All rights reserved.