Jungles of Borneo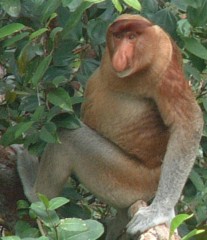 Proboscis Monkey peers at us
16 October 2006, Java Sea, Indonesia
Dear Friends and Family,
We're having one of those glorious, perfect sails with a warm wind astern, the bright spinnaker up, making 6 knots on a fairly flat sea under blue skies. This is some of the best Indonesian sailing we've had in our 2+ months here, and we're making the most of it, planning on several overnighters as we make our way north and west towards Singapore. Whitecaps play on the sun-sparkled water around us, Boston and Te-Vaka are playing on the stereo, Amanda just baked a delicious cheese herb-bread to go with Sue's mint iced-tea for lunch, and life is good.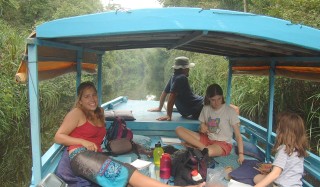 Relaxing in the narrow streams of Borneo
Yes, our last newsletter was sent only recently, but we've been having way too much fun not to share it. Our 500 mile (800 km) sail from Bali up to Kalimantan (Indonesian Borneo) was blissfully peaceful and we were able to break the trip up at Bawean Island (5°44'S 112°40'E).
As we approached the town of Kumai (2°44'S 111°44'E) in southern Kalimantan we caught the tides just right and were swept 15 miles up the river to our anchorage opposite Herry's Borneo Wilderness Eco-Tours. Herry runs a small fleet of 45' (14m) wooden "klotok" boats, so named for the sound of their unmuffled 1 cylinder diesel engines. He runs tours up the Sekonyer River to the Tanjung Puting National Park and Orangutan Preserve, and we'd booked a trip earlier by email.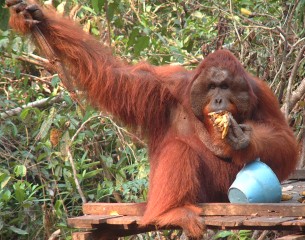 Win, a mature male orangutan, dominates
the feeding platform. The bucket held milk.
Our 4-day/3-night trip into the orangutan sanctuaries was fantastic, and went well beyond our imagination. It was a truly amazing riding up the river, through the Borneo Jungle, with our friends from s/v Estrela. The river started off lined by salt-tolerant Nipa palms with tall mangrove trees behind. These gave way to Pandanus-lined banks and huge forest vegetation of sandalwood, iron-wood, and other tropical rainforest species. We saw several brilliant blue, red and yellow Stork-billed Kingfishers (bigger than kookaburras) perched on low branches by the river. Amanda and the Estrela family spotted a Buffy fish owl in the low brush by the river but we couldn't tell the guides fast enough to s low the boat down for a photo. We watched Black kites and White-bellied sea eagles soaring overhead, and several times we caught glimpses of huge black hornbills (probably the Oriental Pied) high in the forest canopy. In the trees fringing the river were troops of red-brown Proboscis monkeys, tails hanging down and huge noses drooping on the males. Playful troops of gray, long-tailed macaque monkeys cavorted overhead. We also saw several crocodiles and the rarer gharials, canceling our thoughts of a swim in favor of the aft-deck shower. As we approached the park the stream narrowed, often not much wider than the boat, but now with clear tannin-colored water.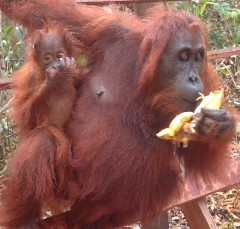 Mom gets to eat first, then
the clinging baby orangutan.
After docking the klotok at Camp Leaky we followed an orangutan mother carrying her infant along a forest path as she made her way to the reserve's feeding station. There, over 10 other orangutans - some adolescents and several mothers with clinging infants - clambered on the wooden platform for milk and bananas and generally gamboled about. They all scattered when the huge orange bulk of Tom, the 22 year old dominant male, swung in from the trees. We saw 3 such feedings while we were in the park. Near the ranger station we spent time with a family of graceful, long-armed gibbons as they cavorted in the trees and rolled on the ground at our feet. The feeding stations are part of the on-going orangutan rehabilitation efforts. In the early 70s, Dr. Leaky sponsored 3 great-ape studies, one each for Jane Goodall (chimpanzees), Diane Fosse (gorillas), and this one for orangutans run by Dr. Birute Galdikas. Poachers sell baby orangutans illegally (yes, even today!) and those that are recovered have to be rehabilitated before they can survive in the wild. The centers are doing a fantastic job.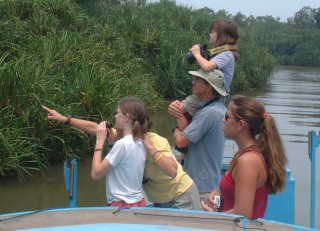 Wildlife viewing was great from the klotok
We also visited the reforestation project where over 40 tropical species are being grown from seedlings and planted in the burned fields. Palm-oil plantations are the big culprits in this ecological disaster, corporations clearing the forest by burning and not caring that the fires burn much more than their own land. In fact, they're trying to take over the land from the park. Since the plantations provide jobs, politicians are hesitant to come down on them (or perhaps they're just paid off). Indonesia doesn't have the resources to fight these fires so they just keep burning, making smoke and air pollution a major hazard all the way from Borneo to Singapore in bad years. Because of this lack of concern for the environment, we are boycotting products containing palm-oil.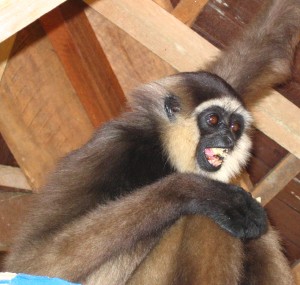 Long-armed Gibbons are very fast thru trees
After spending 3 days and 2 nights out on our klotok, we decided to splurge a little. Friends on our rally have parents who own 3 Eco-lodges in Indonesia, including the Rimba Eco-Lodge just across the river from the Tanjung Puting park headquarters. Folks from the rally were offered a discount ($42 for an air-conditioned room) so a party developed with 4 boats represented. The owners of the lodge, Alan and Merrill Wilson, were fascinating to talk to and we learned a lot about the jungle, the local butterflies and birds, and the efforts to preserve it all. A glorious trip we'll long remember.
We're now heading fairly quickly for Singapore, 700 nautical miles northwest, as our Indonesian visas are about to run out. Last night we stopped at the deserted but reef enclosed little island of Karangraya (2°35'S 108°43'E) just as the sun went down. The anchorage was very deep (75' or 23m, about 3 times our normal anchoring depth) so we were worried about the anchor holding. But this morning we found we couldn't get it to come up as it had gotten stuck under a (dead) coral head! So Jon had to put on the scuba gear and follow the chain down to pull the anchor out of the crack it had jammed itself into. We'll do a couple more overnight sails to make some distance, then day-hop the last few days up to Singapore.
Fair winds and calm seas -- Jon, Sue and Amanda Hacking
Indonesia Letters: Up | Triton Bay 2017 | Baliem Valley | Raja Ampat & Kofiau | Through South Indo | Yacht Wreck! | To Dili, East Timor | Triton Bay 2015 | Whale Sharks! | Banda | Ambon | Raja to Balbulol | Xmas in Raja Ampat | Raja Underwater | Raja Ampat | Crossing the Equator | Arrive Raja Ampat | To Morotai | To Sulawesi | Jungles of Borneo | Beautiful Bali | Dancing & Diving | Venting Volcanos | Indonesia Arrival | 24 July 06 | 22 July 06
Related Pages: Indonesia Home | Diving Indonesia | Cruising N&E Indo | Cruising S&W Indo | Indonesia Letters | SE Asia Flora/Fauna
Indian Ocean: Laos Letters | Vietnam Letters | India Letters | Nepal Letters | Indonesia Letters | Malaysia Letters | Thailand Letters | Sri Lanka Letters | Maldives Letters | Chagos Letters | Seychelles Letters | Madagascar Letters | Mayotte Letters | Africa Letters
Top Level: Home | Destinations | Cruising Info | Underwater | Boat Guests | Ocelot | Sue | Jon | Amanda | Chris | Site Map | Make a Comment
---
Lifetime
Commodores
of the
Seven Seas
Cruising
Association

If our information is useful,
you can help by making a donation
Copyright © 2000‑ Contact: Jon and Sue Hacking -- HackingFamily.com, svOcelot.com. All rights reserved.