22 July 06
Sailing to Indonesia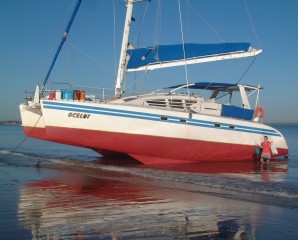 Amanda in the rising tide beside newly
painted Ocelot, careened on the beach.
Dear Friends and Family,
At 2pm today we finally jumped off from Australia, headed for Kupang, West Timor, Indonesia. Almost 100 boats left today, part of the Darwin-Kupang rally. Although we were still provisioning and left 3 hours late, we have about 12 boats in sight.
Our week in Darwin was a mad rush of preparations, including Sue flying down to Adelaide for 3 days to have some loose cartilage arthroscopically removed from her knee. She'd been complaining of knee pain since Brisbane but it took a sports-medicine doctor to get the diagnosis right. Now her knee is a bit swollen, but no longer painful and we're hopeful for a full recovery.


A glorious sunset at Fanny Bay, Darwin
on our last evening on the Australian coast,
showing a few of the 102 Rally boats.
No sooner had Sue returned than we beached (careened) Ocelot to clean and paint the bottom. The 25' (8m) tides are a pain for anchoring, but they saved us from having to pay someone to haul Ocelot out of the water.
So Ocelot is now full (to the brim!) of meat, beer-kits, cheese, powdered milk, dairy products, bread-making supplies, and anything else we can think of that might be difficult to get in Indonesia.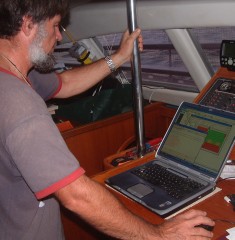 Sending email, usually Jon's job,
is a daily event on Ocelot.
At present, we have an interesting north(?!) wind of 12 knots off the beam and we're making 6-7 knots. Winds are forecast to be pretty light (and from the SE) so we won't be breaking any records. At 5pm Indonesia time (GMT+8) we're at S12°16', E130°22'. We're all happy and healthy and wishing you all the best.
BTW, our Australian phone number no longer works - our thanks to everyone who called us in Oz. We'll try to get coverage in Indonesia and we'll send out the number if we do. Unfortunately, we were unable to update the website before we left Darwin, and internet in Indonesia is spotty at best.
Fair winds and calm seas -- Jon, Sue and Amanda Hacking
Indonesia Letters: Up | Triton Bay 2017 | Baliem Valley | Raja Ampat & Kofiau | Through South Indo | Yacht Wreck! | To Dili, East Timor | Triton Bay 2015 | Whale Sharks! | Banda | Ambon | Raja to Balbulol | Xmas in Raja Ampat | Raja Underwater | Raja Ampat | Crossing the Equator | Arrive Raja Ampat | To Morotai | To Sulawesi | Jungles of Borneo | Beautiful Bali | Dancing & Diving | Venting Volcanos | Indonesia Arrival | 24 July 06 | 22 July 06
Related Pages: Indonesia Home | Diving Indonesia | Cruising N&E Indo | Cruising S&W Indo | Indonesia Letters | SE Asia Flora/Fauna
Indian Ocean: Laos Letters | Vietnam Letters | India Letters | Nepal Letters | Indonesia Letters | Malaysia Letters | Thailand Letters | Sri Lanka Letters | Maldives Letters | Chagos Letters | Seychelles Letters | Madagascar Letters | Mayotte Letters | Africa Letters
Top Level: Home | Destinations | Cruising Info | Underwater | Boat Guests | Ocelot | Sue | Jon | Amanda | Chris | Site Map | Make a Comment
---
Lifetime
Commodores
of the
Seven Seas
Cruising
Association

If our information is useful,
you can help by making a donation
Copyright © 2000‑ Contact: Jon and Sue Hacking -- HackingFamily.com, svOcelot.com. All rights reserved.