To Sulawesi
29 August 2014, at sea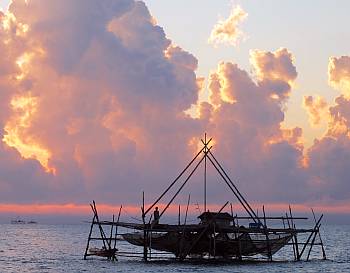 Fishing platform off the Kalimantan coast at dawn
Dear Friends and Family,
We left you last as we approached Tarakan. It was apparently an oil‑town in the 1940s, as it was taken over by the Japanese during World War 2. There are still several old oil‑pumps and derricks around, but they appear to be unused, and the area has become more of a coal exporter. The main tourist attractions appear to be the old WW2 fortifications, and the small museum made a big deal of how the Allies (mostly Australians) freed them from the Japanese.
From Tarakan we worked our way south down the coast to the resort island of Derawan, and our first clear water since the Tun Sakaran Marine Park. We went for a lovely snorkel and cleaned the bottom and generally reveled in the delightful surroundings.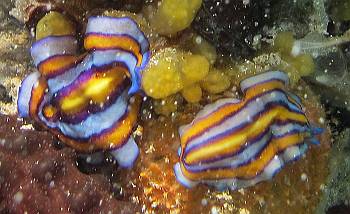 Brilliant flatworms in the silty jellyfish lake waters
The festivities for this area were held at Tanjung Batu, 10nm west on the Kalimantan mainland. Getting there was quite tricky, as our charts are hopelessly inaccurate, and even Google Earth has insufficient coverage of the extensive offshore reefs. But other boats had come out from there and we could follow them back in. The festivities included a boat ride to swim in a lake filled with stingless jellyfish(!), a snorkel along that island's coast, and some relaxing time at a resort on yet another island.
Arriving back at Tanjung Batu in the early afternoon, we were greeted with a nice cultural show (music and dancing), too many speeches, and a nice dinner. The food was tasty, but most folks in the rally (including Jon) came down with a tummy‑bug afterwards, which prompted Jon to write an email to the rally organizers about how our constitutions aren't as rugged as the locals, and we need a higher level of hygiene and sanitation.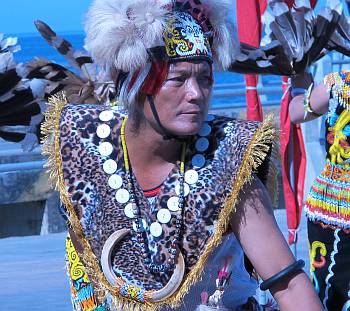 A hunter/warrior dance was performed on the dock
For the last few days we've been hanging out in Maratua, an atoll about 35nm off the coast. Getting in was a dodgy affair, but Google had an adequate (if fuzzy) satellite photo of the narrow entrance through the reef. See the map at the bottom of our homepage for the satellite view of the narrow channel. We arrived at dead low tide, which meant we had to fight against a 5 knot current, with big whirlpools just next to us. We had both engines at about 3/4 power, and were only making 1+ knots, much slower than an average walk (about 2.5 knots).
Sue had picked up a case of swimmers‑ear at the Jellyfish lake, so we mostly worked on the website and tried to get better. The currents at our anchorage inside the Maratua lagoon made snorkeling difficult anyway.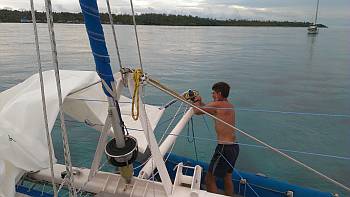 Jon sets up the new screecher on the prod
But yesterday afternoon we felt good enough to do some work on Ocelot. So we swapped 2 of our halyards around, gathered up several bits of hardware we've been slowly accumulating, and ... put up our new Screecher sail on our new prod! A screecher is a light‑air sail that our Aussi friends have been raving about for ages. We'd bought the sail from a sailmaker friend in Langkawi in April and had it shipped to us in Labuan (off the coast of Brunei). It needs a roller furler at the bottom (which we'd bought in Phuket) and a 2:1 halyard. We haven't tried it out yet, but we will if we get appropriate winds!
This morning we jumped off from Maratua, heading for the NW corner of Sulawesi, a large and very strangely shaped island in northern Indonesia. The trip is only 150nm, so we hope to arrive sometime tomorrow. The object is to get to more rally events at Sangihe, an island about 100nm north of the northern tip of Sulawesi. We're sailing in company with a US boat named Zorana, nice folks who've been cruising even longer than we have!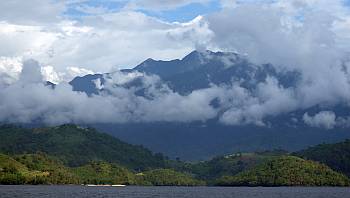 Beautiful mountainous landfall in Sulawesi
At noon today we were at 2°07'N 119°01'E, or 26nm from Maratua, with 125nm to go to the NW corner of Sulawesi. We've got 7‑8 knots of breeze from the SW, well behind us. The sky is blue with fluffy clouds, the water is a much deeper blue with the sun sparkling off it, the horizon is razor sharp all around us, and life is good.
Fair winds and calm seas -- Jon and Sue Hacking
---
30 Aug 2014, NW coast of Sulawesi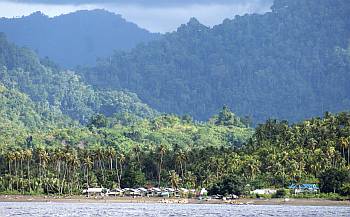 Small village under forested mountains, Sulawesi
Dear Friends and Family,
Just a quick note to say we've arrived safely! A rather wet night, with about 6 squalls going over us. No high winds, but lots of rain. We encountered several ships in the channel but had no close encounters with them, and the few fishermen we encountered quickly got out of our way. When it wasn't raining, the skies were magnificent, with no moon but lots of brilliant stars. We sighted the lighthouse on the corner of Sulawesi while it was still dark, and we sighted land at first light.
Sulawesi is remarkably rugged, with small fishing villages spotted along the coast. We're hoping to day‑sail along the north coast of Sulawesi, which will take the better part of a week, and then sail up to Sangihe, about 100nm north of the NE tip of Sulawesi. So instead of anchoring at the first anchorage we came to, we decided to sail along the north coast as far as we could and anchor in the afternoon.
We're sailing in company with another US boat, Zorana, which is always fun.
Fair Winds and Calm Seas -- Jon and Sue
Indonesia Letters: Up | Triton Bay 2017 | Baliem Valley | Raja Ampat & Kofiau | Through South Indo | Yacht Wreck! | To Dili, East Timor | Triton Bay 2015 | Whale Sharks! | Banda | Ambon | Raja to Balbulol | Xmas in Raja Ampat | Raja Underwater | Raja Ampat | Crossing the Equator | Arrive Raja Ampat | To Morotai | To Sulawesi | Jungles of Borneo | Beautiful Bali | Dancing & Diving | Venting Volcanos | Indonesia Arrival | 24 July 06 | 22 July 06
Related Pages: Indonesia Home | Diving Indonesia | Cruising N&E Indo | Cruising S&W Indo | Indonesia Letters | SE Asia Flora/Fauna
Indian Ocean: Laos Letters | Vietnam Letters | India Letters | Nepal Letters | Indonesia Letters | Malaysia Letters | Thailand Letters | Sri Lanka Letters | Maldives Letters | Chagos Letters | Seychelles Letters | Madagascar Letters | Mayotte Letters | Africa Letters
Top Level: Home | Destinations | Cruising Info | Underwater | Boat Guests | Ocelot | Sue | Jon | Amanda | Chris | Site Map | Make a Comment
---
Lifetime
Commodores
of the
Seven Seas
Cruising
Association

If our information is useful,
you can help by making a donation
Copyright © 2000‑ Contact: Jon and Sue Hacking -- HackingFamily.com, svOcelot.com. All rights reserved.