Venting Volcanos
11 August 2006, North Coast of Flores Island, Indonesia
Our path and anchorages through East Nusa Tenggara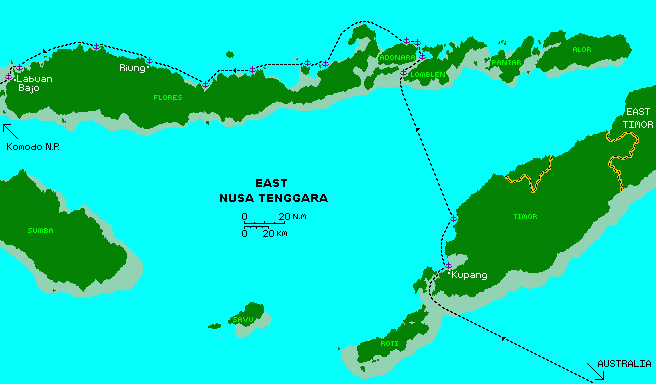 Dear Friends and Family,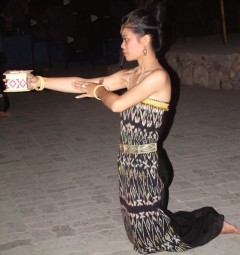 Timorese dancers wore woven
ikat for the Welcome Dance
After all the many Rally festivities in Kupang, we spent one day doing yachty things: laundry, internet cafe, shopping for food and fuel, etc. The university English students were so helpful showing us around town and helping us do things that in thanks to them and to the people of Kupang, the cruisers put together over US$1,500 to sponsor high-achieving needy students in the sciences and English at the local university. This year's contributions will fund all 4 years for two students, and we're hoping the Darwin-Indonesia Rally will continue this in future years.
From the hustle and bustle of Kupang we set off with some trimaran friends along the north coast of Timor to a beautiful long white sandy beach where we spent a couple nights savoring the quiet. There was no village ashore, but a few small thatched shelters and a fresh-water stream where the people came to do laundry, all set under steep, verdant cliffs.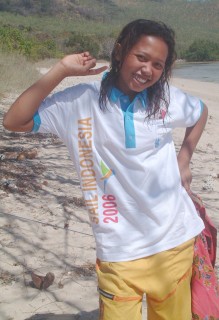 Dewi, a spunky Lembata teen
About 40 Rally boats headed northeast to the island of Alor but we were feeling a bit rallied out, so we headed due north for Lomblem Island. We did an overnight crossing of the Savu Sea, arriving at first light to the sight of volcanic shores. We anchored (S8°30.5' E123°13.6') with several cruising boats, some of which had (little) kids, and a 21 year old niece, so Amanda and Katherine have been enjoying each other's company.
Sue went ashore with the women off two other boats to meet the 3-generation family who live on the beach front. We sat on a grass mat in the shade and tried our very rudimentary Bahasa Indonesia, asking and answering questions: What is your name? My name is xx. Where do you come from? Where is the captain? Do you have children? How old are you? Where do you go to school? There was lots of laughter and patience needed as we looked up words in the dictionary. We're finding the language less of a problem than anticipated, probably because Bahasa Indonesia is the second language for most of the people in these isolated islands so they speak slowly and clearly.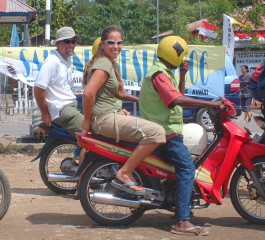 Jon & Amanda in the Rally parade
Since the festivities on Lomblem didn't start for a few days, we sailed up Boleng Strait (which should be called Boiling Strait for the currents and whirlpools) with 3 other kid-boats. It was a beautiful clear day, with at least 9 volcanoes around us (1 venting smoke). No wonder they have problems with earthquakes and tsunamis here! We found a narrow channel behind some coral islands and tucked up in a delightful anchorage (S8°14.6' E123°19.5') for a couple days of swimming, snorkeling, island exploring, shelling, and in the evenings pot-lucks, sun-downers, fresh brownies, and camaraderie in company with good friends on the kid-boats Vagabond Heart, Estrela, and Kindara.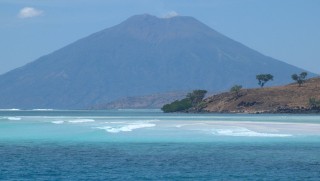 Gunung Api venting ash over our clear
water anchorage, NE Lomblem Island
On Monday, August 7 we backtracked to the village of Lewoleba (S8°22.15' E123°24.6') where more Rally festivities were planned. The first event was a riot: all 100 or so participants were greeted with offerings of beetle nut and lime (as in the mineral, not the fruit) and then loaded onto bejaks (bicycle rickshaws) and motorbikes for a parade through town, headed by 10 beautiful small ponies bedecked in ikat (woven cloth) and wild looking riders. We were followed, of course, by a hoard of local motorbikes plus the omnipresent police force! Then came speeches, too numerous to count, and handshakes with the top local officials. There were evening events as well - more speeches, a gala dinner under newly constructed shelters on the beach, more speeches, then a couple hours of fabulous dances by the many different tribal groups of the Regency of Lembata.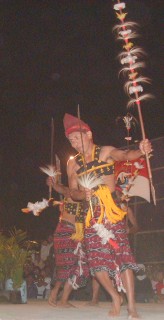 Sword dancer, Lomblem
The dancing here is beautiful with elaborate costumes and head dresses but nothing as stirring as French Polynesia. This part of Indonesia is well off the beaten track and is not really a tourist destination, so the arts are a bit rustic. They use big drums, metal gongs and some interesting stringed instruments. An effective percussion instrument was made with 2 metal spoons protruding from the top of a 1 liter beer bottle banged on a knee. The dancing was not the graceful Balinese dancing, but tended to tell a story, usually about typical household chores: spinning thread and weaving cloth, sowing seeds and harvesting, etc.
We did 2 island tours out of Lewoleba, one being small and personal with walks through the market, views from high ridges, and walks through a family rice paddy and agricultural fields. The other tour was a big event at a traditional village with a local-style meal (rice in banana leaves, grilled fish, cassava leaves in coconut milk, etc.) and more dances. Long tours are very tiring as the roads are incredibly crude. Yesterday morning we did our necessary market visit (Amanda and Sue could barely carry $5 worth of fruits and vegetables) and an Internet visit to download tons of email that we'd been unable to receive for several days.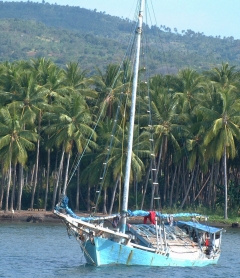 Local fishing boat off Adonara Is.
After leaving Lewoleba, we spent last night on Adonara Island (S8°14.4' E123°13.5') which is locally called Murder Island. Apparently there are several competing tribes who want each other's land. Not to worry though - the most recent successful headhunting excursion was, um, just last week! Anyway, all the little kids who paddled their leaking dugout canoes around our 5 yachts were very friendly, curious, and smiling as they tried out their English: Hello Mister! How are you? What's your name? Do you have bread? Do you have money? Give me xxx. Sue tries to answer them in Bahasa Indonesia hoping it will make them realize that she does understand them, and no, we don't have things to just give away. We're saving our "tradeables" for more personal interactions, and we don't like to set a bad precedent. This feels like the Caribbean in the early 80's, where yachts were still a bit of a rarity and were seen as floating alien spaceships full of goodies. The kids have been very polite though, and letting go of the boat when we ask them. It's the old fishermen who aren't so polite: hanging about outside the hull at first light when we're still asleep, or paddling past when we want some privacy to swim/shower (in bathing suits!) off the aft deck.
We're now heading west along the north coast of the island of Flores, looking forward to a week or more of real cruising, snorkeling, and hiking. (And yes, Sue's knee is healing nicely and she walks without limp or pain. YAY!) The next set of organized festivities start August 19 at Riung, about 100 miles further west along the coast. I'm sure we'll find more fun stuff to do between here and there.
Fair winds and calm seas -- Jon, Sue and Amanda Hacking
Indonesia Letters: Up | Triton Bay 2017 | Baliem Valley | Raja Ampat & Kofiau | Through South Indo | Yacht Wreck! | To Dili, East Timor | Triton Bay 2015 | Whale Sharks! | Banda | Ambon | Raja to Balbulol | Xmas in Raja Ampat | Raja Underwater | Raja Ampat | Crossing the Equator | Arrive Raja Ampat | To Morotai | To Sulawesi | Jungles of Borneo | Beautiful Bali | Dancing & Diving | Venting Volcanos | Indonesia Arrival | 24 July 06 | 22 July 06
Related Pages: Indonesia Home | Diving Indonesia | Cruising N&E Indo | Cruising S&W Indo | Indonesia Letters | SE Asia Flora/Fauna
Indian Ocean: Laos Letters | Vietnam Letters | India Letters | Nepal Letters | Indonesia Letters | Malaysia Letters | Thailand Letters | Sri Lanka Letters | Maldives Letters | Chagos Letters | Seychelles Letters | Madagascar Letters | Mayotte Letters | Africa Letters
Top Level: Home | Destinations | Cruising Info | Underwater | Boat Guests | Ocelot | Sue | Jon | Amanda | Chris | Site Map | Make a Comment
---
Lifetime
Commodores
of the
Seven Seas
Cruising
Association

If our information is useful,
you can help by making a donation
Copyright © 2000‑ Contact: Jon and Sue Hacking -- HackingFamily.com, svOcelot.com. All rights reserved.