To Morotai
18 September 2014, Doruba, Morotai, Maluku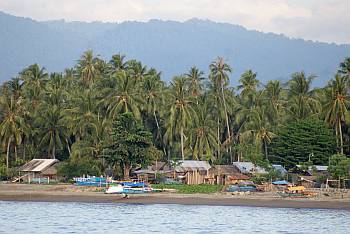 A typical small village on the coast of Sulawesi
Dear Friends and Family,
Lots of water has passed beneath Ocelot's hulls in the past couple weeks. We separated from our American sailing friends on Zorana when they jumped off the Sulawesi coast to head directly to the island of Sangihe, the next Rally stop. We continued alone, day sailing east and then north along the coast. Towering volcanoes rose to the south of us, some spewing smoke, and small villages dotted the rugged coastline.
We found shelter from the winds and swell each night, using 2 sets of electronic charts and a new navigation aid -- satellite images from Google Earth. Our (many) charts are not very accurate, but Google is spot on - it just doesn't have depths (although the satellite can often see through the clear water). With the Google images we were able to guestimate water depths in various coves and bays to see if there was anywhere appropriate for anchoring. Given that much of this coast is very deep, it was very helpful (and a relief!) to see the pale color of shallower water near some of the beaches.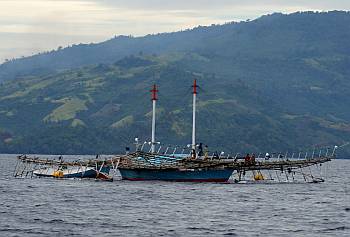 Big fishing platforms are a hazard on the coast
Just northwest of the city of Manado, on the NE tip of Sulawesi, we anchored off a small resort that allowed us to use their dinghy dock, WiFi and swimming pool. It was here that we decided to wait for our son, Chris's arrival. The weather reports were showing tropical storms brewing far to the northeast of us, but they caused our southerly winds to become quite strong. We knew we'd have a fabulous sail north to Sangihe, but a right bear of a sail back to the SE to get to Morotai, the following Rally stop.
So we rented a scooter for one day and explored the crazy busy seaside city of Manado. When Chris flew in we organized (with Sue's increasing Bahasa language skills) a small "mikrolet" (mini bus) to pick us up at the resort at 10pm, take us to the airport, and return with all 3 of us. We don't think Chris expected, after 32 hours en route, to be met in a rattle‑trap bus with wobbly seats, cracked floorboards, and 2 young men friends of the driver squeezed into one front seat. But the air was cool, the moon was bright, and we could see the stately coconut palms, hills, and even the volcano.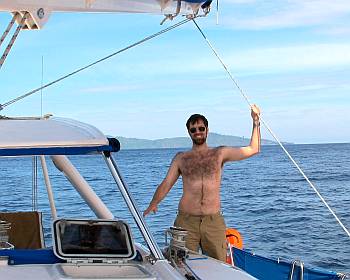 Great to have Chris back aboard after 9 years!
We had hoped to do some snorkeling and diving in this world‑class area (right near famous Bunaken island) but with 3 days of heavy winds and rains squalls, the water was not clear. Instead, Sue and Chris took public transport into Manado for some grocery shopping, an all‑day adventure.
To break up our passage to Morotai, we spent 1 night on the island of Bangga, just off the NE tip of Sulawesi. We set sail east for Morotai on 12 September, expecting to have light southerly winds on the beam, but our forecasts lied and our 160 mile passage turned into quite an exciting trip. A storm approaching the Philippines, far to the northeast of us, was sucking our winds and strengthening them. The winds rose to well over 25 knots and stayed there. We began reefing (reducing) the sails until we had all 3 reefs in the main and most of the jib rolled up and we were still making 7‑9 knots.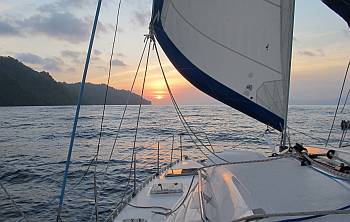 Glorious sunrise at the north end of Halmahera
After several waves splashed into the cockpit, we deployed our new dodger and starboard side curtain, which limited our visibility but kept everyone dry and relatively comfortable. The good news was that we caught a nice young Dorado (mahi‑mahi) in the late afternoon, probably the best tasting tropical fish out here. Jon quickly filleted it and we eventually got 4 good meals out of that fish!
With a strong current with us (sometimes as much as 2.4 knots!) we sailed between the northern most islands off Halmahera (Maluku) in the early morning. Since none of us had had much sleep, we explored some anchorages on the northern tip of Halmahera as we passed it, but we decided to push on to Morotai and found a well protected anchorage behind a small island.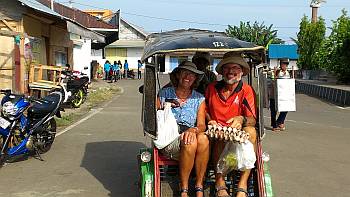 Morotai's public transport is an ojek, a cycle trishaw
The rally boats coming from Sangihe, somewhat to the north of where we left from, were having a very difficult sail, and so the festivities in Morotai were postponed to allow them time to arrive. This allowed us to do some exploring, and we anchored in clear water over white sand off several small islands near the town of Doruba, Morotai.
Finally, when all 16 Rally boats had arrived, we joined the throng of sailors to begin our festivities in this historical island of Morotai. So far this has consisted mostly of a bus tour around the island, as well as lunches and dances put on just for us, but rally events will continue for a few days. After that we'll start heading southeast towards Raja Ampat.
Fair winds and calm seas -- Jon, Sue and Chris Hacking
Indonesia Letters: Up | Triton Bay 2017 | Baliem Valley | Raja Ampat & Kofiau | Through South Indo | Yacht Wreck! | To Dili, East Timor | Triton Bay 2015 | Whale Sharks! | Banda | Ambon | Raja to Balbulol | Xmas in Raja Ampat | Raja Underwater | Raja Ampat | Crossing the Equator | Arrive Raja Ampat | To Morotai | To Sulawesi | Jungles of Borneo | Beautiful Bali | Dancing & Diving | Venting Volcanos | Indonesia Arrival | 24 July 06 | 22 July 06
Related Pages: Indonesia Home | Diving Indonesia | Cruising N&E Indo | Cruising S&W Indo | Indonesia Letters | SE Asia Flora/Fauna
Indian Ocean: Laos Letters | Vietnam Letters | India Letters | Nepal Letters | Indonesia Letters | Malaysia Letters | Thailand Letters | Sri Lanka Letters | Maldives Letters | Chagos Letters | Seychelles Letters | Madagascar Letters | Mayotte Letters | Africa Letters
Top Level: Home | Destinations | Cruising Info | Underwater | Boat Guests | Ocelot | Sue | Jon | Amanda | Chris | Site Map | Make a Comment
---
Lifetime
Commodores
of the
Seven Seas
Cruising
Association

If our information is useful,
you can help by making a donation
Copyright © 2000‑ Contact: Jon and Sue Hacking -- HackingFamily.com, svOcelot.com. All rights reserved.