Triton Bay 2015
3 March 2015, Triton Bay, Papua, East Indonesia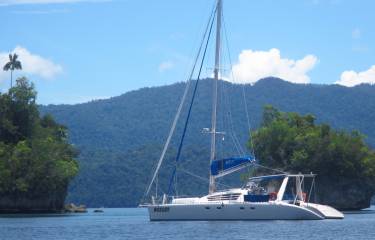 Ocelot anchored off Triton Bay Divers outer rocks
Dear Friends and Family,
Ocelot floats on the still waters of a bay cut 1 mile into the verdant mountains of Papua. High forest surrounds us, and a granite‑faced cliff rises above the others to the south. Bird song echoes from shore to shore, and the deep cooing of a Papuan dove underscores the chorus. A lone Blythe's Hornbill has just passed high overhead, his wing strokes beating a feathery rhythm in the surprisingly cool morning air.
Triton Bay, located in Indonesia's Kaimana Regency, on the west side of the island that forms Papua New Guinea, is one of Indonesia's least populated areas, so the forest and ocean are pristine. It was here, just 9 years ago, that marine biologists from Papua and Australia observed more than 330 fish species in one dive site, breaking the record set previously from a dive in Raja Ampat. They also discovered over 20 species of marine life never seen before. This is truly a cradle of life. And we are so lucky to be cruising here! Very few cruising boats come here (according to the authorities, we're only the 3rd).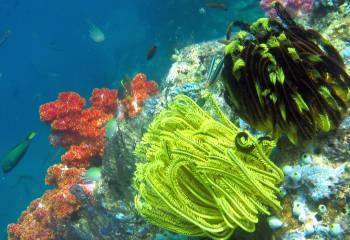 Crinoids are animals, not plants, with many species
It was 1 year ago yesterday that we launched the New Ocelot from Coconuts Boat Yard in Phuket. We promised ourselves some great cruising in tropical islands, and we've certainly made good use of that year! To celebrate our 1 year old New Ocelot we hosted a potluck with the only 2 other cruising boats in Triton Bay -- Villa G, an American couple, and Per Ardua, a Kiwi family of 5. We have 10 more days together before Villa G sets off for Darwin, and we and Per Ardua make our way to the next island group south where we need to check in with immigration in mid‑March.
Our days are spent exploring, doing small boat chores, maybe sailing a few miles to another anchorage, and of course, snorkeling these colorful reefs. With the Per Ardua kids along, everything is a science moment as we search for anemones hosting (Nemo) anemone fish, locate a colorful nudibranch, or come upon live shells such as a big Ramose Murex and 3 live Egg Cowries with their black mantles enclosing them.
Today we return to the only dive resort in the area, the brand new Triton Bay Divers, where we hope to arrange a few dives in the coming week. Meanwhile, some predators have herded a school of bait fish into a ball which is breaking the surface right beside Ocelot, sounding like boiling water, and a good reminder that it's time for a cup of morning tea.
Fair Winds and Calm Seas -- Sue and Jon
---
21 April 2015, Triton Bay, Papua, Indonesia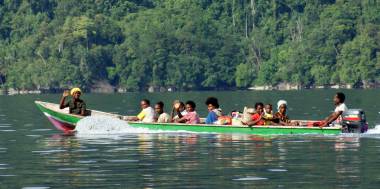 Papuan villagers wave from their long boat
Dear Friends and Family,
Many fish and miles have passed beneath Ocelot's hulls since we last wrote, but we are actually right back in the same blue water under forested cliffs from where we last wrote, on the western coast of New Guinea, in the Indonesian province of Papua.
In mid‑March we had to check in with an immigration office to extend our visas, so we left beautiful Triton Bay and sailed 140nm southwest to the town of Tual in the Kai (KAY) Island group. Being part of Southeastern Maluku, they host a mix of both Christian and Muslim. Off low‑land Tual, one anchors off the many mosques and is awakened by calls to prayer before the sun rises.
The government offices in Tual were MUCH friendlier and more accommodating than those in Sorong, and they granted our request to extend our visas for 2 months instead of just 1, allowing us to cruise the Triton Bay area until mid‑May before having to return to Tual.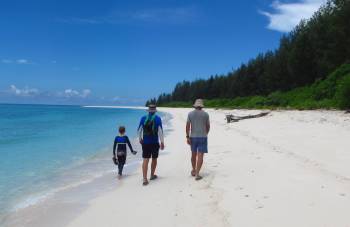 Jon and Per Ardua crew on beautiful Turtle Island
Across a narrow channel from Tual lies the Christian (and more upscale) commercial town of Langgur, with a supermarket, tourism bureau and the airport. With the help of the tourism folks, we (and our cruising friends on Per Ardua) arranged an all day excursion to see the sights. The 7 of us, plus English speaking guide and driver, followed narrow roads out of town into the dense scrub and jungle. There were memorials to Catholic priests murdered by the Japanese in 1942, a Catholic viewpoint hill with a gorgeous view, and a cave of gin‑clear water with limestone stalactites and stalagmites. Our tour ended at the technical high school where students in the tourism trade had prepared a silk‑flower‑bedecked dining room and treated us to a lunch showcasing their culinary skills.
Stocked with fresh fruits and veggies, we sailed once again for Kaimana, the Regency capital of Triton Bay. En route we stopped at Tumbu‑Tumbu Island, where Conservation International has been monitoring the marine turtles. Each month dozens of hawksbill, leatherback and green turtles come ashore at high tide, crawl to the top of the beach, dig a hole in the sand, lay 100 eggs, cover them up, and make their way back into the water.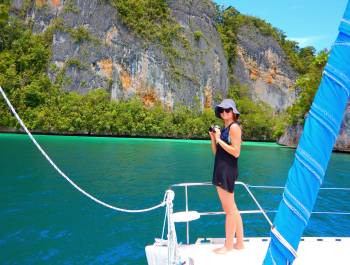 Rachel enjoying Semisaron Passage, Triton Bay
Unfortunately, it seems that we hit the wrong time of the moon/tide cycle, for we spent 4 nights circum‑perambulating the tiny island just after the night high tide, but never came upon a mama turtle. We did see a few fresh turtle tracks, and were fortunate to come upon 10 tiny hawksbill hatchlings that were trying to make their way to the gently lapping shores of the sea.
Lest we forget that cruising means doing boat work in exotic places, we can report on the frustration of having a deflating inflatable dinghy and *both* diesel engines overheating. Jon fixed the port engine off Turtle Island, and spent his 60th birthday in a bit of paradise working on the dinghy, knowing that a successful repair would be cause for great celebration, which indeed it was. The water leak in the starboard diesel was traced to a worn water‑pump O‑ring, but Jon found that one of our spare watermaker(!) O‑rings was a perfect fit!
The best part of the month was when our "other daughter" Rachel (from Oz and the sailboat Vamp) joined us for 2 weeks. Using our second underwater camera, she and Sue spent hours in the life‑rich waters around Triton Bay. The highlight was joining Triton Bay Divers on 9 dives to the best dive sites in the area. Visibility varied from 30‑100+ feet (10‑30m) but each dive found us face to face with brilliant soft corals and wondrous small creatures such as the Graceful Anemone Shrimp, Pygmy Sea Horses, and colorful nudibranchs. We swam with turtles, were surrounded by schools of unicorn fish and snappers, and marveled at the huge groupers and sweetlips that lurked behind purple and pink sea fans. On our way back to Kaimana for Rachel's flight home, we stopped at the mobile night‑fishing platforms (called bagans) and spent almost an hour swimming with a 20' (6m) whale‑shark, the biggest fish in the world, with a cameo appearance by a 2nd gentle giant.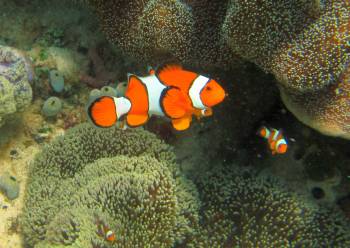 Nemo! Clown anemonefish in Haddon's anemone
On our own once again, we now have about 3 weeks before we need to return to Tual for more bureaucratic fun. We are exploring more corners of Triton Bay and will hang out around the dive resort again, with the chance of doing some exploratory dives with the friendly owners. For folks looking for a fun dive vacation to an exotic and unspoiled corner of the world, check out Triton Bay Divers.
When we get back to Tual we'll probably clear out of Indonesia and make our way SW down a chain of islands to Dili, in East Timor. From there we have several options, but that's for another newsletter.
We're currently anchored at 3°49'S 134°01'E, about 20nm SE of Kaimana and 10nm NW of the Triton Bay Dive Resort.
Fair Winds and Calm Seas -- Jon and Sue
Indonesia Letters: Up | Triton Bay 2017 | Baliem Valley | Raja Ampat & Kofiau | Through South Indo | Yacht Wreck! | To Dili, East Timor | Triton Bay 2015 | Whale Sharks! | Banda | Ambon | Raja to Balbulol | Xmas in Raja Ampat | Raja Underwater | Raja Ampat | Crossing the Equator | Arrive Raja Ampat | To Morotai | To Sulawesi | Jungles of Borneo | Beautiful Bali | Dancing & Diving | Venting Volcanos | Indonesia Arrival | 24 July 06 | 22 July 06
Related Pages: Indonesia Home | Diving Indonesia | Cruising N&E Indo | Cruising S&W Indo | Indonesia Letters | SE Asia Flora/Fauna
Indian Ocean: Laos Letters | Vietnam Letters | India Letters | Nepal Letters | Indonesia Letters | Malaysia Letters | Thailand Letters | Sri Lanka Letters | Maldives Letters | Chagos Letters | Seychelles Letters | Madagascar Letters | Mayotte Letters | Africa Letters
Top Level: Home | Destinations | Cruising Info | Underwater | Boat Guests | Ocelot | Sue | Jon | Amanda | Chris | Site Map | Make a Comment
---
Lifetime
Commodores
of the
Seven Seas
Cruising
Association

If our information is useful,
you can help by making a donation
Copyright © 2000‑ Contact: Jon and Sue Hacking -- HackingFamily.com, svOcelot.com. All rights reserved.