Xmas in Raja Ampat
25 December 2014, Gam Island, Raja Ampat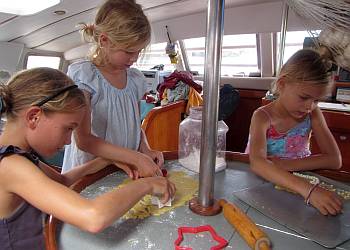 Making Christmas cookies with the Nalukai girls
Dear Friends and Family,
Season's Greetings to one and all!
It is early Christmas morning and Ocelot floats in a mangrove‑rimmed bay with wavelets lapping against our hulls. Overhead the stars wink lazily through the pre‑dawn mist, and beneath us the fish must be stirring for the silence is broken by crisp splashes that create phosphorescent sparkles.
We're surrounded by the bright masthead lights of the 6 other cruising boats in Raja Ampat who have congregated for the holidays. In this international gathering of French, Irish, Kiwi, Aus, and American there are 3 boats of adults and young adults (ages 19‑70+) and 4 family boats with 10 children aged 5‑12. Last night we shared a festive evening of songs and skits and awesome food aboard Sophie, a 50' (15m) Lagoon catamaran from Seattle. We topped the evening with 15 minutes of brilliant fireworks over the water.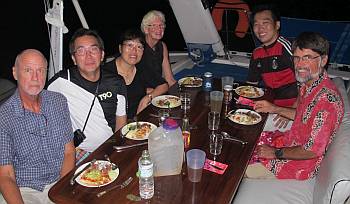 Dinner with Villa G, Victor, & his parents on Ocelot
Our monthly visa extensions in Sorong went smoother than normal, but still took over a week. We filled the time getting the dinghy propeller welded back together, and a new pulley made for the screecher sail which collapsed overboard (we recovered it!) en route to Sorong. We made time to explore more small local restaurants and the countryside with our Singaporean/Indonesian friend, Victor. Jon spent countless hours both at Victor's home and in an internet cafe downloading and caching Google Earth images for our upcoming travels.
Our mornings were heralded by not only the competing calls to prayer from 4 mosques on the waterfront, but by secular Christmas music blasted over the harbor. This region is predominantly Christian, and each church was bedecked in large posters proclaiming "Selamat Natal" together with the smiling face of the pastor. Grocery store cashiers wore red felt Santa hats which looked decidedly uncomfortable in the humid tropical weather and the shelves were unusually full of goods. The biggest change in Sorong, though, was that whole city blocks sprouted makeshift shacks selling thousands of fireworks. Day and night the locals celebrated the season with loud booms and hissing sparkles and flaring light shows. This, apparently, will continue right through New Years when the biggest shows of all will fill the air with smoke.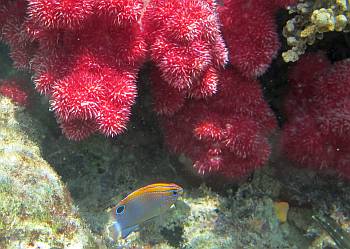 Speckled damselfish beneath a spiky soft coral
We left Sorong Dec 20, motor‑sailing (there's not much wind!) across the roaring Dampier Strait to the protected bays between Gam and Yanggelo. Hilly, forested Yanggelo Island is home to hornbills, cockatoos, herons, kingfishers, parrots and hundreds of birds whose liquid songs serenaded us throughout the day. We and 2 other cruising boats tied ourselves to mangrove trees over 90+ feet of clear warm water. Each day we spent 4‑5 hours snorkeling in 3 distinct marine habitats.
In the fast‑flowing passage between Gam and Yanggelo we drifted above the shadowed shapes of large groupers, snappers and barracudas. Large rays flew beneath us, and on the bottom lurked black crocodile flatheads and moray eels.
The shallow coastal shelf was festooned in green, yellow and blue hard corals garlanded with sea fans and bright red, orange and violet balls of soft corals. Amongst these darted the brilliant reef fish creating an ever‑changing scene of color and motion. We watched 2 reef octopuses change from smooth white to mottled red and spiky black and white as they sought to camouflage themselves against the reef. Between the feathery arms of yellow and red crinoids, spirals of Christmas tree worms bedecked the brain corals, and sometimes we were lucky enough spot patterned shapes of purple, blue, pink and black nudibranchs.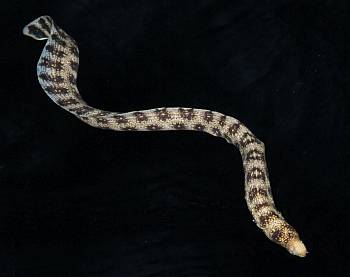 A snowflake eel visits Ocelot on Christmas Eve
At high tide we poked into the amazing world of the blue water mangroves. Red tree roots stabbed into the ocean, and shimmering green leaves made bright reflections overhead. In this sheltered water white goatfish patrolled, while blue‑eyed cardinal‑fish and spiky‑finned gobies lurked between the roots. On the undisturbed silty sea floor upsidedown jellyfish undulated, and shrimp gobies and their commensal shrimp poked cautiously from their burrows. Banded sea kraits nosed into the corals and wrapped themselves gracefully around the mangrove roots.
Sue's daily count of new fish species soared to over 5 per dive and the fish ID books are filled with notations. What a Christmas present!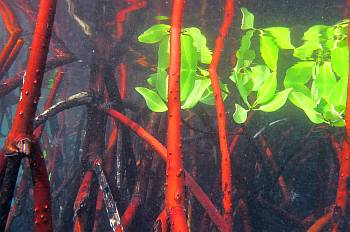 Mangroves shelter orbicular cardinalfish. Find them?
Yesterday we moved 6 miles east to a huge unnamed bay on southern Gam where there is room for the fleet. The next few days will be a time of bittersweet goodbyes and fare thee wells, as the cruisers separate to sail east over PNG, or southwest, deeper into Indonesia with us.
Wishing everyone a healthy, blessed, and joyful New Year.
Fair winds and calm seas -- Jon and Sue Hacking
Indonesia Letters: Up | Triton Bay 2017 | Baliem Valley | Raja Ampat & Kofiau | Through South Indo | Yacht Wreck! | To Dili, East Timor | Triton Bay 2015 | Whale Sharks! | Banda | Ambon | Raja to Balbulol | Xmas in Raja Ampat | Raja Underwater | Raja Ampat | Crossing the Equator | Arrive Raja Ampat | To Morotai | To Sulawesi | Jungles of Borneo | Beautiful Bali | Dancing & Diving | Venting Volcanos | Indonesia Arrival | 24 July 06 | 22 July 06
Related Pages: Indonesia Home | Diving Indonesia | Cruising N&E Indo | Cruising S&W Indo | Indonesia Letters | SE Asia Flora/Fauna
Indian Ocean: Laos Letters | Vietnam Letters | India Letters | Nepal Letters | Indonesia Letters | Malaysia Letters | Thailand Letters | Sri Lanka Letters | Maldives Letters | Chagos Letters | Seychelles Letters | Madagascar Letters | Mayotte Letters | Africa Letters
Top Level: Home | Destinations | Cruising Info | Underwater | Boat Guests | Ocelot | Sue | Jon | Amanda | Chris | Site Map | Make a Comment
---
Lifetime
Commodores
of the
Seven Seas
Cruising
Association

If our information is useful,
you can help by making a donation
Copyright © 2000‑ Contact: Jon and Sue Hacking -- HackingFamily.com, svOcelot.com. All rights reserved.