Whale Sharks!
19 February 2015, Heading to Triton Bay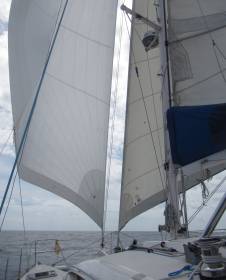 Ocelot sailing wing-&-wing
Dear Friends and Family,
This morning the women did an early shop for fresh fruits and veggies, but there's still very little at the market. By 9:15 we had the engines warming up and at 9:30 we dropped our mooring (which now floats very well after we repaired it yesterday) and followed Per Ardua north out the pass. We're both heading 250nm east towards Triton Bay.
The winds were surprisingly strong, but well behind us. Unfortunately, they were at that difficult angle - too far aft to have both sails on the same side, and too far forward for wing‑and‑wing. Per Ardua tried winging (they carry several poles, which we don't) and we actually flew the screecher to windward for an hour or so, but eventually put it away. About midday the wind clocked around to about 130° apparent and we had a nice sail at over 6 knots, but now (16:00) it's gone aft again. Yesterday's GRIBs say the wind should strengthen and clock around to just aft of the beam by tomorrow. The seas are flatter than we expected, and the sky has only a high haze, so we're hopeful of an uneventful passage.
At noon today we were at 4°28'S 130°06'E, or just 14nm from Banda.
Fair Winds and Calm Seas -- Jon and Sue
---
20 February 2015, Approaching Triton Bay
Dear Friends and Family,
Goodness - a Wet and Wild night!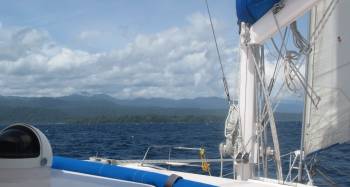 Ocelot roaring towards the Papua mainland
Soon after we wrote last night's missive, the wind clocked around to just aft of the beam, and we had a nice sail for several hours. But at 2am (of course) it strengthened to about 20 knots and Ocelot took off! Jon quickly took 2 reefs in the mainsail, but that's a very fast wind angle for us, and Ocelot flew along at 7‑9 knots. At 1 point the GPS said we hit 12.6 knots!
At noon today we were at 4°11'S 132°34'E, or 164nm from Banda with 28nm to go to our first turning point. The winds were still howling and Ocelot was hurtling along.
This bay we're approaching has many small islands, some of which don't even show up on Google Earth. So instead of sailing through the night in dodgy conditions when we're already tired (and probably arriving at Triton Bay, at the extreme eastern side of this big bay, in the dark) we've decided to find ourselves an anchorage and spend the night, then do the last 45nm tomorrow. This will also allow us to do several loads of laundry, as we now have LOTS of salty gear, courtesy of an improperly dogged hatch.
Per Ardua was about 30nm behind us this AM, sailing at about 5 knots, so this will allow them to catch up. Friends on Villa G and Brick House are waiting for us in Triton Bay so we're looking forward to a nice arrival party tomorrow night.
Fair Winds and Calm Seas -- Jon and Sue
---
22 February 2015, North tip of Namatotte Island
Dear Friends and Family,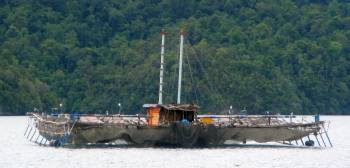 A Triton Bay Bagan - a movable fishing platform
Thought we'd better send this out, in the interests of completeness. After our wet and wild sail from Banda, we spent a quiet night in the lee of Usau Point, at the mouth of Kaimana Bay. The next day we negotiated the shallows with only 1 heart stopping moment (the shallows we thought we were skirting just north of us turned out to be south of us!) and joined our American(!) friends on the cruising boats Villa G and Brick House in beautiful Raf Bay.
Today, after putting Ocelot back together and wiping most of the salt off her, we motored 2 miles to the north tip of Namatotte Island, to 3°43'N 133°53'E. There are 3 "bagans" here, big trimarans that lower nets strung between their hulls to catch bait‑fish attracted to their lights. Whale Sharks, the biggest fish in world, measuring up to 59' or 18m, often come here to catch the fish that spill out of the nets. While they're huge, whale sharks are actually quite docile, and we're hoping to snorkel with them early tomorrow morning. Tonight we'll go negotiate with the bagans to throw some of their catch overboard, chumming to keep the big guys around while we snorkel. Wish us luck...
Fair Winds and Calm Seas -- Jon and Sue
---
23 February 2015, North tip of Namatote Island, Eastern Indonesia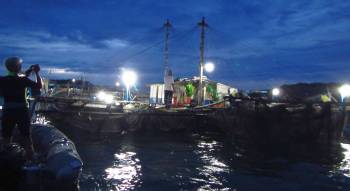 Arriving at a bagan early in the morning
Dear Friends and Family,
There are 4 "bagans" out in the bay just north of us. They're 80' (25m) trimarans with 2 stubby masts that are festooned with ropes to hold up the many bits of wood that go out to the bamboo floats 20' (6m) on each side of the main hull. With a small house on deck for the crew and a small generator, these craft anchor and work at night, lowering nets under each wing-deck and attracting fish with lights on deck. At intervals throughout the night, the nets are raised, the fish removed, and the nets lowered again.
Obviously, some fish escape, and the whale sharks have worked this out. So have we!
So at 5:30am, with the sky to the east just beginning to lighten, we climbed into our wet‑suits, picked up the folks on Per Ardua, and dinghied to the bagan we'd talked to last night. But he said he hadn't seen any whale sharks that night, and he was busy selling his fish to the small boats that take it 10 miles (16km) to the town of Kaimana to sell. The next bagan wasn't so busy, and he threw a few handfulls of fish into the water, but no ikan besar (literally, "fish big") showed up. Our friends gave him a pack of cigarettes for his trouble (a secondary currency here). The story was similar at #3, and we thought it would be the same at #4, as there was nobody on deck when we arrived.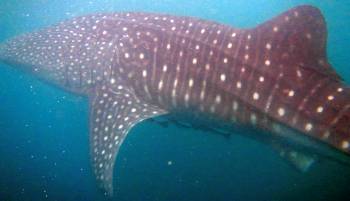 Our first whale-shark, nicknamed Tiny
But a man soon showed up and started throwing small fish into the water without us even asking him to. And just aft of the bagan we saw a huge fin cut the surface. He's HERE! We all put on our gear and jumped in.
He was a mid‑sized whale shark, about 20‑25' (6‑8m) long, with a huge 6' (2m) tail and white spots along his back and sides. His head was big and flattened, perhaps 3' across, with tiny eyes in turrets that are always moving on the sides. Most sharks can't actually pump water through their gills, but this guy could suck in vast quantities of water through his wide horizontal mouth. We tried to avoid touching him, but sometimes it was impossible, and his skin had a sandpaper consistency, about 120 grit.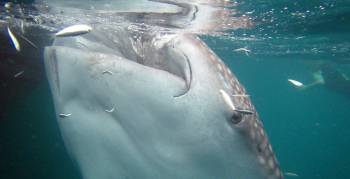 "Tiny" slurping in fish thrown from the bagan
"Tiny" didn't seem to mind us being in the water with him. Usually he swam effortlessly around us, but visibility in the water was only about 30' (10m) and Jon was looking for him to swim out of the gloom when he was suddenly thumped in the back by the dorsal fin and then the tail. Another time Jon made the mistake of getting between Tiny and his fish, and had to swim madly out of the way of his gaping mouth. Sometimes he would appear directly beneath us, and only by fast back paddling could we avoid sitting on his back.
The guys in the bagan were constantly throwing fish in, and Tiny would swim right to the back of the bagan. With his tail down and his broad nose out of the water he'd start hoovering in the tiny fish and pumping the water out his gills. After a minute or so he'd back off and circle around again for another pass.
In all, we swam with Tiny for about an hour. We could get as close as we liked, as he was only interested in the fish, not us. Looking back, it seems crazy that we should swim so close to the world's largest shark. Even though he was only a teenager, he was pretty gynormous. Truly an experience we'll remember for a long time, and an awesome welcome to Triton Bay, Papua!
Fair Winds and Calm Seas -- Jon and Sue
Indonesia Letters: Up | Triton Bay 2017 | Baliem Valley | Raja Ampat & Kofiau | Through South Indo | Yacht Wreck! | To Dili, East Timor | Triton Bay 2015 | Whale Sharks! | Banda | Ambon | Raja to Balbulol | Xmas in Raja Ampat | Raja Underwater | Raja Ampat | Crossing the Equator | Arrive Raja Ampat | To Morotai | To Sulawesi | Jungles of Borneo | Beautiful Bali | Dancing & Diving | Venting Volcanos | Indonesia Arrival | 24 July 06 | 22 July 06
Related Pages: Indonesia Home | Diving Indonesia | Cruising N&E Indo | Cruising S&W Indo | Indonesia Letters | SE Asia Flora/Fauna
Indian Ocean: Laos Letters | Vietnam Letters | India Letters | Nepal Letters | Indonesia Letters | Malaysia Letters | Thailand Letters | Sri Lanka Letters | Maldives Letters | Chagos Letters | Seychelles Letters | Madagascar Letters | Mayotte Letters | Africa Letters
Top Level: Home | Destinations | Cruising Info | Underwater | Boat Guests | Ocelot | Sue | Jon | Amanda | Chris | Site Map | Make a Comment
---
Lifetime
Commodores
of the
Seven Seas
Cruising
Association

If our information is useful,
you can help by making a donation
Copyright © 2000‑ Contact: Jon and Sue Hacking -- HackingFamily.com, svOcelot.com. All rights reserved.