Baliem Valley
8 March 2017, Sorong, East Indonesia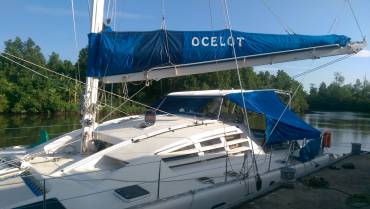 Ocelot tied securely up the river in Sorong
Dear Friends and Family,
Dawn brings a hundred hues of green and shimmer to the mangroves and wild banana plants that line our temporary home up a river south of Sorong in eastern Indonesia. We've had Ocelot happily tied up here at a dock for the past 3 weeks while we get new Indonesian visas ... and go wild.
The first adventure was to fly to Penang, Malaysia where we were joined by Rainer(14), youngest son of Jon's youngest brother, who will be sailing with us for at least 6 months. We were fortunate to have wonderful cruising friends (Peter, Meillia and kids, from Per Ardua) living in Penang while they restock the cruising kitty. Their spacious, airy apartment is on the 15th floor, overlooking the Strait of Penang, the northern bridge, and the mainland.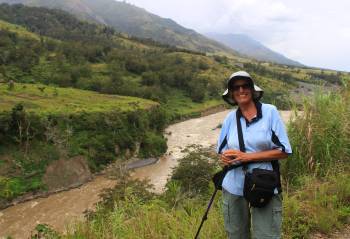 At 6000' the Baliem Valley is like Himalayan foothills
We had a week in vibrant Penang, sampling all those tasty Indian and Chinese dishes, swimming in the apartment pool, walking our feet off in historic Georgetown, and generally enjoying a "first world" life style for a change. We "Uber'd" (is that a verb yet?) everywhere, and met some lovely Penang folks who drive us car‑less folks around.
There's a small new orangutan sanctuary on an island in a lake on the peninsula, and we spent a morning with Peter, his son Sam, and Rainer, literally playing with juvenile orangutans. The animals are free to roam the 40 hectare island while we humans had to stay inside a caged walkway. Two 6‑7 year old males found Rainer's yellow "Uniques" (shoes) quite interesting, and kept poking sticks at them. They enjoyed playing tug of war with sticks, and man, are they strong! To ask for food the youngsters stand upright and put their arms over their heads, sort of like the diving gesture for "all is OK". We told Rainer to start practicing that move if he's hungry!
The new Indo visas (valid for another 6 months) were finished in a day(!) so we had lots of time to tend to other things. The inevitable skin doc and dental visits for check ups, shopping for electronic bits, Indian spices, etc.
---
We returned to Ocelot on Air Asia via Jakarta, with 90kg(!!) of luggage. Most of that was a brand new anchor winch that Rainer brought from the states. The timing was fortuitous, as the old winch had died just 1 day out of Sorong, last month, after we'd been exploring the Kofiau islands. Having to hand pull 260 feet (80 meters) of 3/8" (10mm) chain with a 55lb (20kg) anchor on the end was NOT FUN. Luckily, we only had to do it twice. Rainer's dad was able to overnight a new Lofrans winch to California from eastern Canada in time to get it checked onto the plane with Rainer as luggage!
| | | |
| --- | --- | --- |
| Risky bridge over Baliem River | 300 yr old mummy, Jiweka | Dani warrior poses for camera |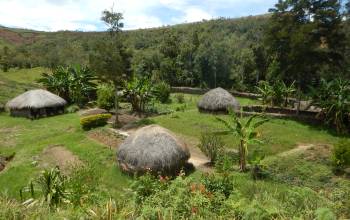 Dani family compound in village north of Wamena
With Ocelot tied up safely, we set off for the interior of Papua, an area we have only dreamed of visiting. Despite it being rainy season we had good flights into and out of the town of Wamena, center of the Baliem Valley, Papua. There are not yet roads connecting the valley to the towns of coastal Papua, so things are expensive, as everything has to be flown in. Roads extend for maybe 20 miles to the south and northwest, and more to the northeast.
From our Wamena hotel base, we took day hikes for each of our 5 days to the far flung corners of the valley. We used public transportation (stuffed into a minivan with 16 folks, on seats set up for 10) or paid $20 for a "charter" which gave us some leg room.
Each day we walked with a local guide to several Dani villages, up and down hills and over rushing rivers, sometimes on rickety swinging bridges and sometimes having to ford them, through stunning countryside. We sheltered from a thunderstorm in a Dani hut with our guide who lit a fire in the center of a thatch floor under a thatch roof! Yikes! And once a lack of communication resulted in us walking 15 miles (24km) and arriving back at the road well after dark, so the police had to give us a ride back to town.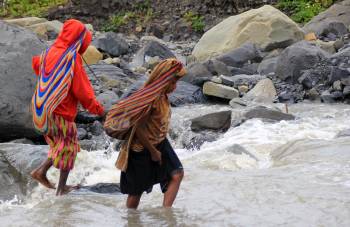 Dani women ford stream in southern Baliem valley
The Dani people have farmed and hunted here for thousands of years and were only "discovered" by westerners in the late 1930's by plane. After WWII the missionaries arrived and much of the culture was lost. But there are still men in "koteka" (penis sheaths) on the streets of Wamena, and topless women in grass skirts in a few villages, traditions probably maintained for the tourist dollars they brings in.
Most of the Dani now dress in western clothes. But they are still polygamous, live in thatch huts with no electricity or TV, and grow the most incredible organic crops: sweet potatoes, carrots, cabbage, corn, taro, pineapples, bananas, and mangoes. We actually filled some of our flight baggage with fresh vegetables from the valley on our return to Ocelot!
We brought our sore feet and aching leg muscles back to Ocelot, and are now preparing to push off to the south towards Triton Bay and more underwater adventures. Stay tuned!
Fair Winds and Calm Seas -- Jon and Sue
Indonesia Letters: Up | Triton Bay 2017 | Baliem Valley | Raja Ampat & Kofiau | Through South Indo | Yacht Wreck! | To Dili, East Timor | Triton Bay 2015 | Whale Sharks! | Banda | Ambon | Raja to Balbulol | Xmas in Raja Ampat | Raja Underwater | Raja Ampat | Crossing the Equator | Arrive Raja Ampat | To Morotai | To Sulawesi | Jungles of Borneo | Beautiful Bali | Dancing & Diving | Venting Volcanos | Indonesia Arrival | 24 July 06 | 22 July 06
Related Pages: Indonesia Home | Diving Indonesia | Cruising N&E Indo | Cruising S&W Indo | Indonesia Letters | SE Asia Flora/Fauna
Indian Ocean: Laos Letters | Vietnam Letters | India Letters | Nepal Letters | Indonesia Letters | Malaysia Letters | Thailand Letters | Sri Lanka Letters | Maldives Letters | Chagos Letters | Seychelles Letters | Madagascar Letters | Mayotte Letters | Africa Letters
Top Level: Home | Destinations | Cruising Info | Underwater | Boat Guests | Ocelot | Sue | Jon | Amanda | Chris | Site Map | Make a Comment
---
Lifetime
Commodores
of the
Seven Seas
Cruising
Association

If our information is useful,
you can help by making a donation
Copyright © 2000‑ Contact: Jon and Sue Hacking -- HackingFamily.com, svOcelot.com. All rights reserved.