Indonesia Arrival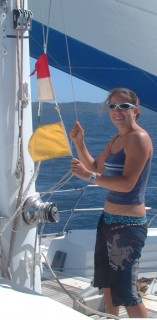 Amanda raises the Q
and Indonesian flags.
29 July 2006, Kupang, Timor, Indonesia, S10°09', E123°35'
Dear Friends and Family,
Selamat Pagi! Good morning from Indonesia!
We arrived on Wednesday afternoon, July 26 after a 470 mile sail from Darwin. The winds strengthened the last 36 hours and we had a lively sail into the pass between Timor and the small islands to the west. We anchored in front of a tiny flag-bedecked beach in the midst of the bustling, concrete-jumble of Kupang city.
For the past 2 days we've had a whirlwind of sights, sounds, tastes and lovely interactions with the Indonesians, who are friendly, helpful and curious. We are awakened by Muslim calls to prayer at 5am (still dark!) The Rally organized a squad of men dressed in matching blue shirts to help us bring our dinghies onto and off the sloping, rocky beach. This has been a god-send with our big dinghy!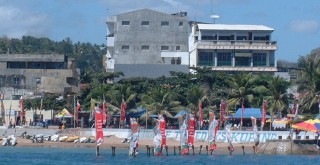 Rally meeting place: Teddy's Bar, Kupang.
Note dinghy beach on left, cleaned up for us.
Teddy's Bar on the beach is the central meeting point for the yachties - sort of a cross between an Indonesian food stall and a yachtie hang-out of shaded tables and bar. There, charming university English students have been employed to be our information assistants and guides through town as needed. Nita, Lidya, and Reny have spend hours and hours with us, riding bemos (mini-van transports) all over town, keeping up lively conversations about people, places and culture, and answering our endless questions. They have been on winter vacation from classes and very appreciative of this chance to improve their English and earn some money.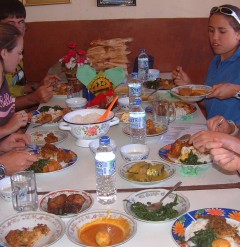 Cruisers tucking into a delicious
$3/per feast in Soe, central Timor.
Timor is predominantly Christian in this, the world's largest Muslim country. We dress modestly ashore, covering knees and shoulders, but most young women wear jeans so Amanda is happy. We hear a combination of western and Indonesian music in shops and bemos, but beyond that we see very little that is of the western world - no McDonalds, no KFC, no 7-11, no Starbucks, no Borders. The food is wonderful -- flavorful, not too spicy, served over sticky rice. We have enjoyed chicken, beef, tofu, tempe, sweet potato, eggplant, and many we couldn't identify -- baked, fried or boiled in curry, peanut, or other tasty sauces. All the sauces in last nights meal were sweet-ish, which surprised us. Meals run about US$1 to $2.50 and can be topped with a $.50 coconut or citrus (fresh) drink or a .75ml Bintang beer for $2.00. Sue guzzles bottled water most of the day which is served everywhere as tap-water is unsafe.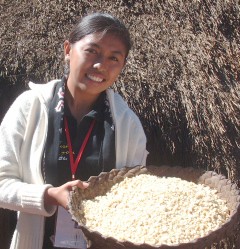 Our guide Nita with drying corn
at her grandmother's home.
Yesterday we took a 10-hour bus ride into the hinterland -- east from Kupang to the town of Soe at 2,500' (750m) elevation. We passed rice paddies, small concrete homes with traditional thatched roofs, often with traditional "lopo" beehive thatched huts behind the government-built concrete structures. We visited a 3-generation family and were shown the inside of the lopo. It's much like the huts in Nepal in the 70s -- no chimney, with grains and fruits smoking and drying over the earthen fire. Families have their own small fields of papaya, plantain, bananas, rice and corn. Sandalwood was the commercial draw for the Dutch and Portuguese traders centuries ago, but it is now almost depleted and the few remaining forests are protected. As in other countries where there is no reliable or affordable fuel source, the people still burn wood, making deforestation a real problem.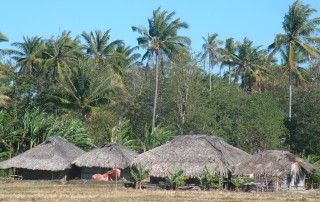 Typical Timorese homes in the countryside
east of Kupang. Dry rice fields in foreground.
The countryside is fairly dry (this being the dry season) but we passed huge riverbeds that must be awesome to see in full flood! Timor has "dormant" volcanoes of up to 2,450m (about 8,000') and the landscape is dotted with volcanic rock and volcanic plugs rising into the cloudless blue sky.
We are happy and well and will be writing more about this fascinating country as we sail west. Thanks for all the emails while we were at sea. We love it, but email has been difficult for us lately!
Fair winds to all -- Sue, Jon and Amanda Hacking
Indonesia Letters: Up | Triton Bay 2017 | Baliem Valley | Raja Ampat & Kofiau | Through South Indo | Yacht Wreck! | To Dili, East Timor | Triton Bay 2015 | Whale Sharks! | Banda | Ambon | Raja to Balbulol | Xmas in Raja Ampat | Raja Underwater | Raja Ampat | Crossing the Equator | Arrive Raja Ampat | To Morotai | To Sulawesi | Jungles of Borneo | Beautiful Bali | Dancing & Diving | Venting Volcanos | Indonesia Arrival | 24 July 06 | 22 July 06
Related Pages: Indonesia Home | Diving Indonesia | Cruising N&E Indo | Cruising S&W Indo | Indonesia Letters | SE Asia Flora/Fauna
Indian Ocean: Laos Letters | Vietnam Letters | India Letters | Nepal Letters | Indonesia Letters | Malaysia Letters | Thailand Letters | Sri Lanka Letters | Maldives Letters | Chagos Letters | Seychelles Letters | Madagascar Letters | Mayotte Letters | Africa Letters
Top Level: Home | Destinations | Cruising Info | Underwater | Boat Guests | Ocelot | Sue | Jon | Amanda | Chris | Site Map | Make a Comment
---
Lifetime
Commodores
of the
Seven Seas
Cruising
Association

If our information is useful,
you can help by making a donation
Copyright © 2000‑ Contact: Jon and Sue Hacking -- HackingFamily.com, svOcelot.com. All rights reserved.