Crossing the Equator
16 October 2014, back in Wayag, Raja Ampat, Indonesia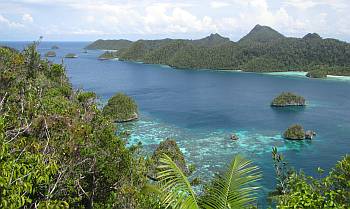 Bird's eye view out the northern entrance, Wayag
Dear Friends and Family,
This corner of Indonesia has given us excitement, challenges, and lots of radio silence. But oh, so beautiful. Remote hardly describes it.
We left you in Wayag, the northern‑western corner of the new state of Raja Ampat where stunning karst hills and undercut "mushrooms" rise from a clear blue ocean. Despite the lack of soil, each small island is covered in palms, pandanus (screw pine), and tall tropical trees draped with trailing lianas. Red parrots squawk in the jungle, and herons hunt for fish along the white sand beaches.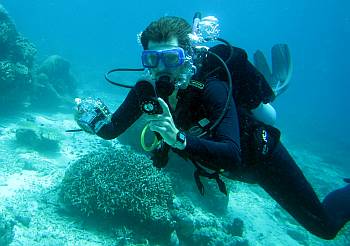 Chris checks his gauges on a dive at Batu Lima
With Chris on board, we spent several days snorkeling, climbing the hills, and exploring Wayag archipelago in the dinghy before bashing south in heavy winds towards the regency capital of Waisai, which is south of the equator. We stopped at coral‑rimmed islands and met the challenge of 4.5 knot currents against us in the roiling Dampier Strait. Finally finding cell‑phone coverage we were able to arrange a day of diving, so Sue and Chris each got a 3‑dive extravaganza of the wonders of Raja Ampat's underwater world. Highlights were the 100' (30m) visibility, schools of barracuda, massive red, orange and yellow sea fans, soft and hard corals of all colors, a gazillion reef fish, and a 6' woebegone shark (looks like a shaggy carpet!) under an overhang.
The southerly winds continued to howl, so we anchored Ocelot in the only protected spot in Waisai while Sue and Chris took the 2 hour fast ferry to Sorong. They spent 3 hours battling to extend Sue and Jon's visas (very corrupt officials) so Chris sprung for a night at the best hotel (3 star) in town.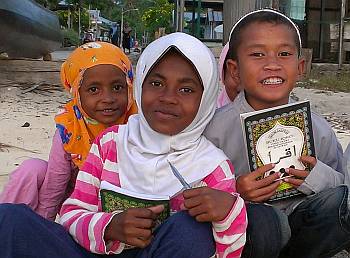 School kids in the Muslim village of Saonek
The next day they arrived at the airport at 06:30 to find that Amanda's flight had landed. The kids had a 5‑minute hug hello, then Chris boarded that same plane to fly out. Kid swap time!
Sue and Amanda stalked the aisles of the best supermarket in Sorong (Waisai had almost nothing), buying about 100 pounds (45 Kg) of food! They hired a big Papuan dock worker to lug the duffel of avos, pineapple, cheese, fruit juice, pasta, olive oil, and brown sugar out to the ferry dock. Jostling porters and local Papuans pushed and shoved along the jetty.
Back on Ocelot, 3 other cruising boats pulled into Waisai and Jon met the local tourist board reps, who laid out the royal carpet. First day was a trek to see the red Birds of Paradise high in the hills. We left at 4am, drove a while, then began hiking up a forest trail in the dark. At dawn the bird calls were filling the air and we spotted our first Bird of Paradise with its long tail plumes. We spent 2 hours looking up into a huge jungle tree where at least 10 males and about 4 females fluffed, flew, danced, hung upside down, mated, and generally did their mating thing right in front of us. As the sun came up we got better pix of the red feathers and bright yellow heads and necks. Hornbills, sea eagles and a bright red cockatoo flew overhead.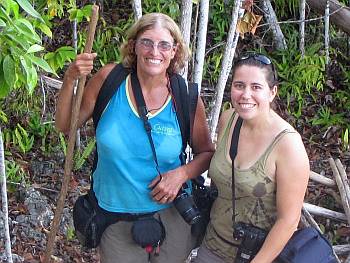 Hiking in the Raja Ampat forest, photoshooting birds
The next day the tourism office put on a full day powerboat trip for the 9 of us to see several islands, and have a great lunch at a dive resort. The winds and seas were crazy, and we were all soaked, but it was fun. We got back in time to shower and be met for dinner: a full‑on event with a big buffet, short speeches, and dancing by the local school kids who dressed as fish and coral to demonstrate Raja Ampat's dedication to conserving the coral reefs. Then we all danced in the sand until the sweat ran.
But the last day was the best, when 5 of us were taken by power boat to the 2 best snorkeling places in the Dampier Straits. The visibility was over 100' (30m) and we swam with turtles, barracuda, and clouds of dazzling reef fish over brilliant hard and soft corals. We topped off the day with a trip to the local market where our young guide, Ranny, bought a huge purple banana flower which she cooked on Ocelot. We hosted 2 other cruising boats and feasted on tuna sashimi, and spicy banana and papaya flower vegetables. What a great beginning to Amanda's month with us!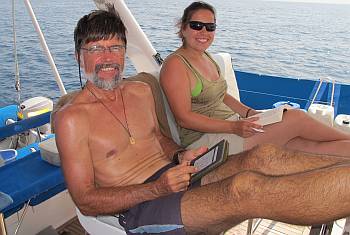 Great to have Amanda back aboard after 6 years
Wanting to show Amanda more of the area, we sailed north between Gam and Weigeo to the Kabui Pass, an ocean cut so narrow that we felt it prudent (and fun) to spend 2 days there snorkeling through the pass, recording times of slack and low water, and choosing the best time to squeeze Ocelot through. With Jon on the helm, Sue on the depth sounders, and Amanda part‑way up the mast to watch for shallows, we had a safe but exciting passage to the west. We had hoped for a good run under strong winds to the north, but the winds laid down and we motor‑sailed the 50 miles north, back to Wayag, crossing the equator yet again.
Now back in the land of karst mountains, clear water and white beaches, we dinghy‑explored this magnificent archipelago. Yesterday Amanda and Jon dove with a cruising friend who is a dive instructor, as Amanda hasn't dived since 2007. We'll continue exploring and snorkeling in this fun paradise. When the winds allow, we'll sail south again to explore more of this almost uninhabited corner of Indonesia.
Fair winds and calm seas -- Jon, Sue and Amanda Hacking
Indonesia Letters: Up | Triton Bay 2017 | Baliem Valley | Raja Ampat & Kofiau | Through South Indo | Yacht Wreck! | To Dili, East Timor | Triton Bay 2015 | Whale Sharks! | Banda | Ambon | Raja to Balbulol | Xmas in Raja Ampat | Raja Underwater | Raja Ampat | Crossing the Equator | Arrive Raja Ampat | To Morotai | To Sulawesi | Jungles of Borneo | Beautiful Bali | Dancing & Diving | Venting Volcanos | Indonesia Arrival | 24 July 06 | 22 July 06
Related Pages: Indonesia Home | Diving Indonesia | Cruising N&E Indo | Cruising S&W Indo | Indonesia Letters | SE Asia Flora/Fauna
Indian Ocean: Laos Letters | Vietnam Letters | India Letters | Nepal Letters | Indonesia Letters | Malaysia Letters | Thailand Letters | Sri Lanka Letters | Maldives Letters | Chagos Letters | Seychelles Letters | Madagascar Letters | Mayotte Letters | Africa Letters
Top Level: Home | Destinations | Cruising Info | Underwater | Boat Guests | Ocelot | Sue | Jon | Amanda | Chris | Site Map | Make a Comment
---
Lifetime
Commodores
of the
Seven Seas
Cruising
Association

If our information is useful,
you can help by making a donation
Copyright © 2000‑ Contact: Jon and Sue Hacking -- HackingFamily.com, svOcelot.com. All rights reserved.