Through South Indo
17 October 2015, from Belitung, Sumatra, Indonesia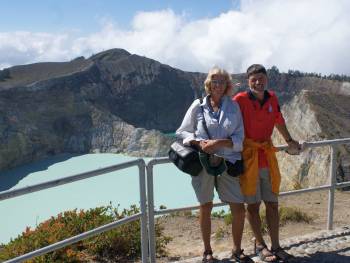 Kelimutu Lakes of Flores. Still beautiful!
Dear Friends and Family,
We last wrote from the eastern end of Flores island, and in the last 6 weeks we have sailed more than 1100 miles to the west, all still in Indonesia! What a big country! To see the places that we talk about below, see our "where's Ocelot" map at the bottom of our homepage - it's a zoomable Google map that shows everywhere we've been for the last year.
Flores was like an old friend, as we sailed the same northern coast in 2006 with Amanda. We found some new anchorages this time, and left the boat for a day to explore the volcanic interior and the Kelimutu Lakes, famous for their brilliant blue and turquoise colors. Comparing photos from this year and 2006, the lakes were yellow orange back then and pale blue this time.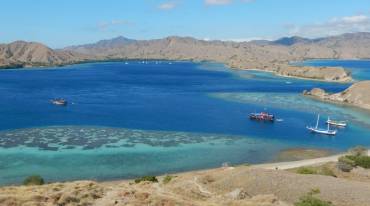 Clear waters of Komodo NP, Loh Gebah anchorage
On the edge of Komodo National Park we were pleasantly surprised to find that the once grotty, corrupt town of Labuan Bajo has grown into an almost charming tourist town with lovely small restaurants and cleaner streets. In the park headquarters on Rinca Island we did a 3‑hour walk in the golden hills. We saw about 12 wild Komodo dragons, one of which was digging a hole for her egg nest. Another dashed out of the undergrowth and pushed us off the trail to show us who was boss! We did some diving, and were pleased to find the same colorful soft corals and huge fish we remembered from 2006.
It was with trepidation that we approached the huge island of Sumbawa for it was here in 2006 that we had some petty theft issues and very aggressive locals, whose attitudes verged on harassment. But this time, those same anchorages and villages were filled with laughter and friendly children in canoes. Was Sue's having learned a lot more Bahasa Indonesia the key? Maybe it helped, but we like to think this later half‑generation has learned the value of friendly communication.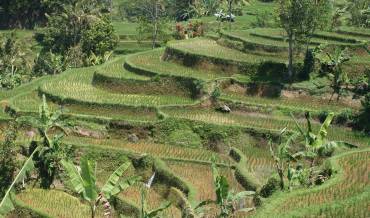 Beautiful Bali rice terraces
A new stop for us was the large island of Moyo, which has one very ritzy resort and the resources to protect its coral reefs. We got in some great diving and snorkeling here, sighting nice sharks, turtles, and huge snappers.
Our next major stop was Lombok, a rapidly growing tourist destination with fancy hotels on the west coast beaches. We anchored away from the fray, though, in a small bay on the north coast. It was here that Jon's dad, Colin, joined us for his 3‑week adventure into Indonesia! We got a car and driver (the roads were insane with trucks, scooters, and no shoulders) to see much of the island, including a brief forest jaunt over the shoulder of Mt. Rinjani, the 12,000 foot (3700m) volcano. Changes from 2006 were disappointing, as the island has swelled with people and small shops, and the miles of rice fields and countryside we remembered from 9 years ago have largely given way to huge population pressure.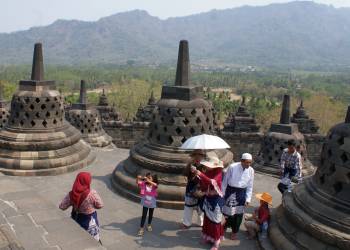 Borobudur ruins entice tourists from many lands
We had a great sail to Bali (WIND!) with volcanoes looming, then anchored on the north shore at Lovina Beach. Unlike Lombok, Bali delighted us as it had years ago. Somehow the people have managed to control growth and tourism so that much of the local culture and beauty of the natural landscape and rice paddies are still in the forefront. Jon braved the roads of northern Bali and we drove inland with Colin, coming upon a community temple procession. Colin amused the Balinese by dancing to the rhythm of their drums and cymbals. Google Maps worked fine except when we lost cell signal in the middle of rice paddies, and when we were sent on roads too narrow for a car! A new adventure was to visit the national park in the NW corner where we spent a day diving, finding some colorful new nudibranchs and huge schools of trevally.
From Bali we did a couple overnight sails to small islands in the Java Sea, places just to put the hook down as we headed for our final destination with Colin: a small archipelago known as Karimunjawa. There we rented 2 motor‑scooters for the day, with Jon and Colin on 1, and Sue on her own. We terrorized the islands on outrageously bad roads, but had great views and fun stretches of good pavement on steep hills. Highlights included a walk through the mangrove forest on a lovely wooden boardwalk, seeing the wind-swept beaches on the east coast, and watching skilled woodworkers building a fishing boat. No more than 10 cars or trucks passed us all day. A real pleasure!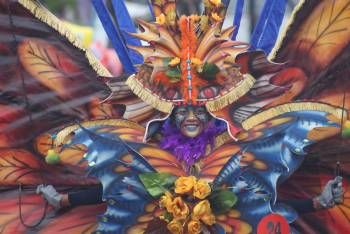 Amazing costumes at Rainbow Parade, Belitung
The wind, however, was so strong that the daily ferries to and from mainland Java had been canceled for over a week. Panic time, as we had counted on the ferry system to get us to Java so Colin could catch a hopper flight back to Bali for his international flight home. Finally, with very little notice, we jumped on a very full ferry (people sitting on the stairways!) and began a 3-day journey to the heart of central Java.
We had a car and driver, which was a blessing, as the traffic congestion was unbelievable, with nerve‑wracking passing of trucks and scooters on single lane roads. Colin described all of Java as a "suburb of Jakarta", hundreds of miles away! The highlights of our journey were the glorious temple sites of Borobudur (1000 year old Buddhist temple, the largest in SE Asia) and Prambanan, just a scant hundred years younger, but a Hindu temple.
Both enthralled us with their towering structures, exacting geometry and intricate stone carvings. Earthquakes have almost flattened these ancient sites several times, and they are in constant renovation as workers strive to fit each of millions of stone blocks back into place to re-create the dioramas carved into the temple walls. We walked around each of the levels of Borobudur, a journey of some 3 miles or 5km.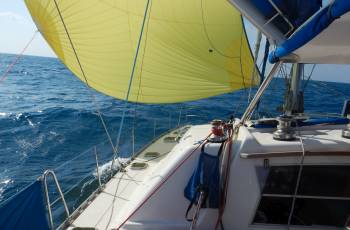 Indonesia DOES get wind! Spinnaker to Belitung
We left Colin at the town of Semarang on the Java's north coast, ready to catch his 6AM flight to Bali. Then we had a 3‑hour drive to Jepara, from which we caught the 6AM ferry back to Karimunjawa and Ocelot.
Our latest adventure was an awesome Rally stop on the tin‑mining island of Belitung, off the southeastern tip of Sumatra. Here we were driven to high schools for dance performances and special meals cooked by the students, visited the "literary museum" honoring international bestseller Andrea Hirata for his book "The Rainbow Troops", and saw a colorful parade put on by the LGBT community annually, where the participants are all dressed as magnificent, huge butterflies or flowers. And all the while we were hosted by charming high school students who practiced their English while guiding us to events or shops, and sharing insights into their culture. Wonderful!
We have just 3 more weeks here in Indonesia, then will head north to Malaysia. We are planning to go back to the US for Thanksgiving and Xmas and look forward to some cool winter weather and lots of time with family and friends.
Wishing you Smokeless Winds and Calm Seas -- Sue and Jon
Indonesia Letters: Up | Triton Bay 2017 | Baliem Valley | Raja Ampat & Kofiau | Through South Indo | Yacht Wreck! | To Dili, East Timor | Triton Bay 2015 | Whale Sharks! | Banda | Ambon | Raja to Balbulol | Xmas in Raja Ampat | Raja Underwater | Raja Ampat | Crossing the Equator | Arrive Raja Ampat | To Morotai | To Sulawesi | Jungles of Borneo | Beautiful Bali | Dancing & Diving | Venting Volcanos | Indonesia Arrival | 24 July 06 | 22 July 06
Related Pages: Indonesia Home | Diving Indonesia | Cruising N&E Indo | Cruising S&W Indo | Indonesia Letters | SE Asia Flora/Fauna
Indian Ocean: Laos Letters | Vietnam Letters | India Letters | Nepal Letters | Indonesia Letters | Malaysia Letters | Thailand Letters | Sri Lanka Letters | Maldives Letters | Chagos Letters | Seychelles Letters | Madagascar Letters | Mayotte Letters | Africa Letters
Top Level: Home | Destinations | Cruising Info | Underwater | Boat Guests | Ocelot | Sue | Jon | Amanda | Chris | Site Map | Make a Comment
---
Lifetime
Commodores
of the
Seven Seas
Cruising
Association

If our information is useful,
you can help by making a donation
Copyright © 2000‑ Contact: Jon and Sue Hacking -- HackingFamily.com, svOcelot.com. All rights reserved.