Banda
9 February 2015, heading for the Banda Island group
Dear Friends and Family,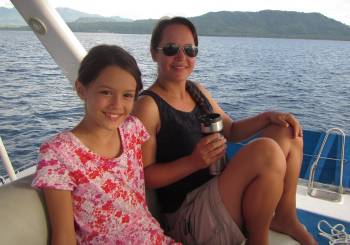 Hannah and Denise sailing with us to Banda!
We've been having a fun time in Ambon, made that much nicer by a US missionary family living ashore. The Moore's helped us find someone to repair our split mainsail, showed us where the best shopping places are, introduced us to some nice restaurants, and even hosted a breakfast superb owl party. So on Saturday we hoisted Ocelot's anchor out of the muck of Ambon's inner bay and took the Moore's and several of their friends for a 35nm sail around to another bay just to the east.
At 6:30 this morning we left Baguala Bay, on the south side of Ambon Island, and set sail for the Banda Island group about 115nm to the ESE. The winds were light out of the WSW, so we put up Ocelot's spinnaker and had a GLORIOUS sail all morning, the best sail we've had for AGES. But then the wind piped up to 10 knots, and with Ocelot scooting along at 7, we realized that we'd arrive in the dark of the morning. So we put the 'chute away and even took 2 reefs in the main in an effort to slow Ocelot down.
We're traveling with another boat, Per Ardua. He's from Ireland, she's from NZ, and they have their 3 young kids on board. It's always nice knowing friends are nearby. We've also got 2 stowaways on board - Mrs. Moore and their 9 year old daughter Hannah! Denise mentioned that they'd never been to Banda, and since the weather looked like the trip would be calm and peaceful, we invited them to join us. So far the weather has been so nice that we're thinking of absconding with them, since they obviously have good weather connections.

Fair Winds and Calm Seas -- Jon and Sue
---
10 February 2015, Banda Islands, Indonesia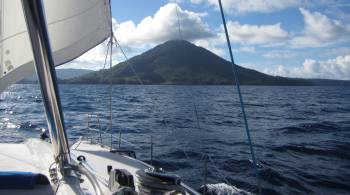 Guning Api volcano as we approach Banda Islands
Dear Friends and Family,
We've arrived! We had a LOVELY sail, flying the spinnaker until about 2pm when we realized that if we continued on this way (doing 7 knots in 10 knots of wind) that we'd arrive in the dark of the morning. So we doused the 'chute (as we call it) and rolled out the jib, but we were still going too fast. So we took 2 reefs in the mainsail, which got us under 5 knots. About 8pm the wind died a bit and our ETA went out into the afternoon, so we shook out the 2 reefs. In the early hours of the morning the wind went right behind us so we moved the jib over to starboard and ran wing‑and‑wing.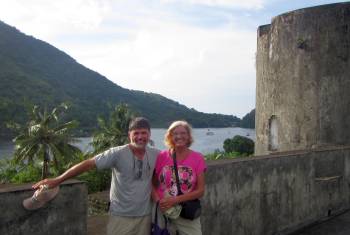 Exploring Fort Belgica, Ocelot anchored behind
The night sky was a delight, as we had the southern cross on our right, and the big dipper on our left. The sky was pretty clear so we used a phone‑app to identify the stars and constellations. Sunrise was glorious (of course) and revealed several of the small Banda islands around us. At 9am we crossed the bar and entered the channel between the island with the town and the island with the volcano, and at 9:30 we picked up a mooring and shut down the engines. It was a slow passage, averaging just over 4 knots, but the most pleasant passage we've had in a LONG time.
About 1:30pm our friends on Per Ardua arrived, picked up a neighboring mooring, and we all headed into town. It's quite cute, with narrow streets, friendly folks, and a 5‑sided Dutch fort on the hill. Banda is the original of the Spice Islands, so we sampled Nutmeg juice and nutmeg jelly. We also made arrangements for a snorkeling trip tomorrow, and a spice‑tour the day after. We certainly plan to climb to the top of the volcano that dominates everything right above us (Google has a superb shot down into the primary caldera) but timing is still TBD.
We're currently at 4°31'N 129°54'E, moored just across from town.
Fair Winds and Calm Seas -- Jon and Sue
---
18 February 2015, Banda Islands, Indonesia
Dear Friends and Family,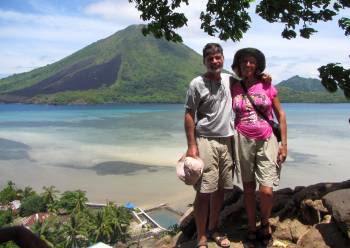 Exploring Banda Besar, Guning Api in background
We had planned to leave Banda on Monday to continue east towards the coast of Papua, but there's a big cyclone swirling high winds and rain all the way up here (about 200 miles north) so we've decided to wait it out for a better weather window. Thank goodness we have the luxury of time to do so, as we're still on our initial 60 day entry visa, with no need to see immigration officials for another 4 weeks.
We've been loving our time here in the heart of the Spice Islands. The old Dutch town of Banda Neira is clean and shady, with small motor scooter sized concrete walkways over and around the hills. Some of the old homes have been renovated, and one such guest house, Mutiara II, owned by a pearl and nutmeg trader named Abba, has become our home away from home when we're ashore. Abba has arranged day tours for us, cooking classes, massages, films on Banda, and even an excursion into the dark streets to hunt the elusive couscous, a small arboreal, nocturnal marsupial with huge round eyes, soft gray or beige fur, and a long prehensile tail.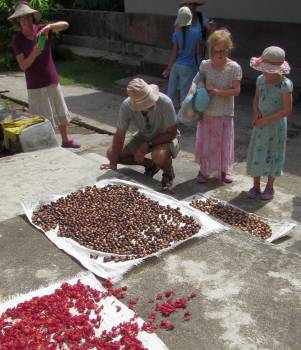 Nutmeg and mace drying in Banda Neira
We've been cruising with Per Ardua, a 40' (12m) ferro-cement cutter from NZ, with Pete and Meillia and their 3 young kids on board, and we've had our friend Denise and her daughter Hannah on board since Ambon. Our first tour took all of us around to the protected NE side of Banda Besar (big Banda island, just south of our anchorage) for snorkeling. The water was clear, free of stingers, and alive with clouds of triggerfish and angelfish. The corals were adorned with yellow and purple tunicates. We've also snorkeled the base of the lava flows where life regenerated much faster than on land after the 1989 eruption.
The Banda Islands are the original Spice Islands, where nutmeg and cloves originated. The Dutch East India Company (VOC) claimed a world monopoly until seedlings were smuggled out by the British. The profits from the spice trade were huge, and the VOC ruled with a heavy iron fist. For history buffs, the book Nathaniel's Nutmeg is a good recounting of the treachery, greed, heroism, and brutality that is the history of the Spice Islands.
We had a long spice tour, also to Banda Besar, where we walked the narrow streets of the village of Lonthoir, past their spirit cave and the 55' (17m) kora‑kora war canoes, brightly painted in symbolic colors. We climbed steps built in the 17th century to a hilltop nutmeg plantation. Here the slender nutmeg trees flourish under the shade of behemoth kenari (tropical almond) trees with their buttressed roots, towering trunks and spreading foliage. Abba asked a local plantation owner to show how they harvest with a woven picking basket to pluck the ripe fruit. We tasted the sour nutmeg flesh, and saw the brilliant red mace veins that surround the nutmeg shell. We watched school kids use long bamboo pincers to pick fallen nutmegs and kenari from the leaf littered forest floor, to take home in woven baskets anything of commercial value. After touring one of the old Dutch forts, we ended the morning with cinnamon tea, fresh donuts and savory fritters at the resort home of an original Dutch family who had suffered grievously in the Troubles just 15 years ago.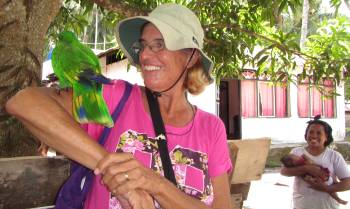 Sue with an Eclectus parrot friend
The staff at Mutiara gave a cooking class for Sue, Denise and Meillia, and although Abba's wife wasn't there to really give direction, Denise speaks Bahasa and was able to translate and ask questions as the cooks ground kenari nuts, fried eggplant, and chopped pungent ingredients together. A feast followed, of course. It started with a pumpkin soup, rich with fragrant nutmeg and chilies, then moved on to the tantalizing main courses: a huge smoked tuna, barbecued and smoked under a banana leaf, with 2 sauces, 1 hot and 1 mild; a Banda Salad with cabbage, cucumbers and tomatoes dressed with fresh tuna ground together with kenari nuts, lime and garlic; a delicious dish of fried eggplant with a rich tomato and kenari almond sauce; fried tempeh balls; steamed veggies with a rich gado‑gado (peanut) sauce; and of course rice and cold beer! For dessert we had glasses of freshly prepared papaya and soursop juice. Yum!
One day we visited the home of the island's only producer of tempeh, the fermented soy bean cakes, and learned how she made them. The beans are boiled in huge vats of water over a propane stove, cooled, rested, then the skins removed before they are coated in rice flour and tempeh yeast, and packed in breathing plastic bags to ferment for a few days. We've also combed the islands' forts, found odd pottery shards, and have been amazed at the friendliness and resilience of a people who were brutally subjugated by the European spice barons.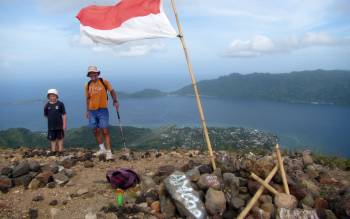 Sam and Jon at the top of Gunung Api volcano
On Monday we chartered a boat with 2 loud 1‑cylinder diesels to take us 7 miles east to neighboring Ai island. Here we watched men carving a new war canoe, had lunch at the friendly Green Peace home‑stay on the beach, and spent hours snorkeling the protected reef off town. Visibility was over 100' (30m) and we could see deep into the blue for turtles, sharks, large wrasse, unicornfish, and the usual colorful butterfly and angelfish. Sue racked up a few more new species. Run Island, the small oval of nutmegs and cloves that was traded for Manhatten(!), lay just 5 miles further east.
On Tuesday Jon and Pete and Sam (10) climbed the volcano. The trail went pretty much straight up the side of the mountain for 2,000' (600m) and was covered in slippery scree that rolled like marbles. It took 2 hours and lots of water to climb up, but the views from the top were superb, looking down on the town, the boats, the many coral reefs, and the surrounding islands. The volcano last erupted in 1989, and still has many fumaroles at the top.
We are still on a deep water mooring off Banda Neira town. If weather permits, we may say goodbye to this lovely historical area tomorrow (Thursday) and begin our 250nm sail east to Triton Bay.
Fair Winds and Calm Seas -- Sue and Jon
Indonesia Letters: Up | Triton Bay 2017 | Baliem Valley | Raja Ampat & Kofiau | Through South Indo | Yacht Wreck! | To Dili, East Timor | Triton Bay 2015 | Whale Sharks! | Banda | Ambon | Raja to Balbulol | Xmas in Raja Ampat | Raja Underwater | Raja Ampat | Crossing the Equator | Arrive Raja Ampat | To Morotai | To Sulawesi | Jungles of Borneo | Beautiful Bali | Dancing & Diving | Venting Volcanos | Indonesia Arrival | 24 July 06 | 22 July 06
Related Pages: Indonesia Home | Diving Indonesia | Cruising N&E Indo | Cruising S&W Indo | Indonesia Letters | SE Asia Flora/Fauna
Indian Ocean: Laos Letters | Vietnam Letters | India Letters | Nepal Letters | Indonesia Letters | Malaysia Letters | Thailand Letters | Sri Lanka Letters | Maldives Letters | Chagos Letters | Seychelles Letters | Madagascar Letters | Mayotte Letters | Africa Letters
Top Level: Home | Destinations | Cruising Info | Underwater | Boat Guests | Ocelot | Sue | Jon | Amanda | Chris | Site Map | Make a Comment
---
Lifetime
Commodores
of the
Seven Seas
Cruising
Association

If our information is useful,
you can help by making a donation
Copyright © 2000‑ Contact: Jon and Sue Hacking -- HackingFamily.com, svOcelot.com. All rights reserved.