Raja Ampat
21 October 2014, Fam Island, Raja Ampat, Indonesia

Amanda and Sue spent hours snorkeling
Dear Friends and Family,
We're currently anchored off Fam Island, one of the very few anchorages in Raja Ampat that's only 30' deep over clear sand (most anchorages here are very deep or coral covered). As soon as we anchored, we all went snorkeling on the reef that surrounds us. Sue and Amanda stayed in for 2 hours, chasing fish with their underwater cameras.
This place is really beautiful. As I write this (late afternoon) the setting sun is casting glowing orange light on the bright green palms ashore. Waves play gently with the soft sand beach. The water is swimming‑pool clear and so warm that we can stay in indefinitely. Colorful parrots fly between the trees, squawking continuously as they always do. There are no people around and not even any lights at night except the stars. Idyllic...
Fair winds and calm seas -- Jon, Sue and Amanda Hacking
---
8 November 2014, near Sorong, Indonesia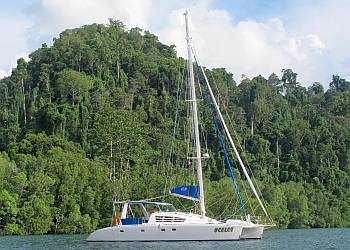 Ocelot in Cockatoo Bay, Salawati. Hear the birds!
Dear Friends and Family,
Indonesia continues to amaze us with its beauty both above and below water. Since dropping off Amanda in Sorong at the end of October, we returned to the big jungle‑clad islands to the west, this time exploring the north coast of Salawati. Thanks to our new navigational friend, Google Earth, and the images we've downloaded, we found a bit of paradise inside a reef system where we could anchor in a pond of water only 50' (17m) deep, on sand. Ashore the bird calls were wild and wonderful. Each morning and evening we were serenaded with hoots, toots, moans, melodies, squawks, screeches, and trills. Because most of the screeching came from sulfur‑crested cockatoos, we named the bay Cockatoo Bay.
Further to the west we anchored off a small village and Sue's struggling Bahasa Indonsesia resulted in a 5am hike into the jungle. The goal was to find the King Bird of Paradise, but it was a misty/drizzly morning and the birds were all tucked up in their leafy retreats. One highlight was to be overflown by a small flock of Blythe's Hornbills that sound like feathery helicopters whirring by. Truly a unique sound, but we wonder what evolutionary advantage there is to such loud flight.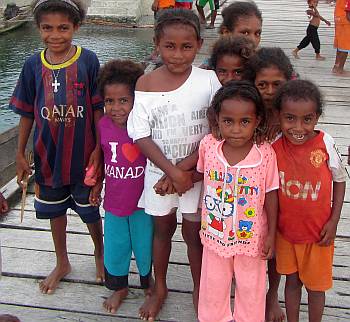 Curious kids on the dock, Salawati village
A couple of cruising families we knew from Thailand/Langkawi sailed in, so we've had some good gatherings. We're now headed back to Sorong, the administrative center of this corner of Papua, where we have to attend to filling propane bottles, renewing our visas yet again, and provisioning for more weeks in the tropical wilderness.
Where to next? Well, that's a very good question. Could be north to Palau (but our weather files are showing north winds there now), east over Papua New Guinea then north and west to Palau (riding light but fair winds, but that's a LONG trip), south to East Timor then east and north to Malaysia again, or NE to the Philippines. Next time we write, we may actually know what we're doing!

Meanwhile, there's lots more to see and do here in Raja Ampat. Sue's been racking up at least 2 new reef fish species each snorkel or dive so that continues to be entertaining and educational.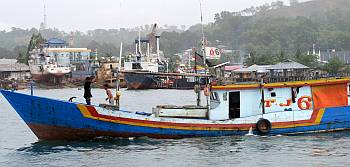 Fishing boat chaos in Sorong harbor
Ocelot's new downwind sail, called a screecher, was inaugurated while Amanda was on board, so we now have more light wind sailing options. Ocelot is thriving and we're all so happy for all the hard work and TLC she got up in Phuket.
Fair winds and calm seas -- Jon and Sue Hacking
Indonesia Letters: Up | Triton Bay 2017 | Baliem Valley | Raja Ampat & Kofiau | Through South Indo | Yacht Wreck! | To Dili, East Timor | Triton Bay 2015 | Whale Sharks! | Banda | Ambon | Raja to Balbulol | Xmas in Raja Ampat | Raja Underwater | Raja Ampat | Crossing the Equator | Arrive Raja Ampat | To Morotai | To Sulawesi | Jungles of Borneo | Beautiful Bali | Dancing & Diving | Venting Volcanos | Indonesia Arrival | 24 July 06 | 22 July 06
Related Pages: Indonesia Home | Diving Indonesia | Cruising N&E Indo | Cruising S&W Indo | Indonesia Letters | SE Asia Flora/Fauna
Indian Ocean: Laos Letters | Vietnam Letters | India Letters | Nepal Letters | Indonesia Letters | Malaysia Letters | Thailand Letters | Sri Lanka Letters | Maldives Letters | Chagos Letters | Seychelles Letters | Madagascar Letters | Mayotte Letters | Africa Letters
Top Level: Home | Destinations | Cruising Info | Underwater | Boat Guests | Ocelot | Sue | Jon | Amanda | Chris | Site Map | Make a Comment
---
Lifetime
Commodores
of the
Seven Seas
Cruising
Association

If our information is useful,
you can help by making a donation
Copyright © 2000‑ Contact: Jon and Sue Hacking -- HackingFamily.com, svOcelot.com. All rights reserved.