Arrive Raja Ampat
26 September 2014, Wayag, Raja Ampat, Papua, Indonesia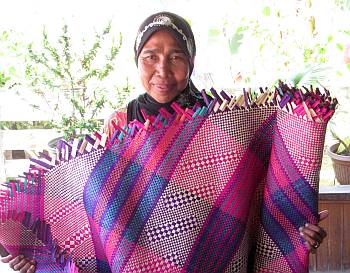 Hand woven mats made from pandanus fiber
Dear Friends and Family,
We left you in Morotai, where we were part of a fleet of 16 Rally boats, with an interestingly international group: 2 Belgian boats, 2 Dutch boats, a woman from the Philippines with 3 yr old son, a woman from Venezuela, a whole bunch of Aussies, Kiwis, and 6 American boats, more Americans we've seen in one place in years!
We enjoyed fish meals ashore for dinner, courtesy of a tiny local restaurant, and island tours. One day we did a tour to 3 outer islands and got to talk to the woman who weaves wedding mats from pandanus leaves, drink cool coconut water from freshly cut coconuts, and then do some of the best snorkeling we've seen so far on this rally. On the historical side, one island was called ZumZum and had statues and commemoratives of General Douglas MacArthur (who pushed the Japanese out of this area at the end of World War 2).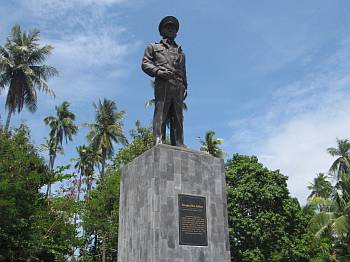 Lots of WWII history. This was MacArthur's island.
The main difficulty with Morotai is that it has only 1 national bank and they didn't take our ATM cards, nor would they change dollars, nor was there a money changer in town. And we had to buy $300 worth of diesel. Finally, the young employees of the tourism department pooled their salaries and changed some dollars plus found a few friends to do so as well. Terrible exchange rate, and expensive diesel, but c'est la vie. The Morotai people couldn't have been nicer.
We were the first boat to leave Morotai and we headed 27 miles south to the town of Tobelo on the Halmahera mainland. Here we anchored at a small offshore island and could flag down "spider boat" water taxis which, for 10 cents, transported us across the bay to the town. Lo and behold, we found diesel for 3/4 of the Morotai price, and the BNI bank ATM which happily spit out 100,000 rupiah notes ($9 bills) for us until it ran dry (at about $300). Sue's Indonesian got another good workout as we negotiated diesel and its transport, and bought a new month of data for our smart phone. Not a word of English was spoken anywhere.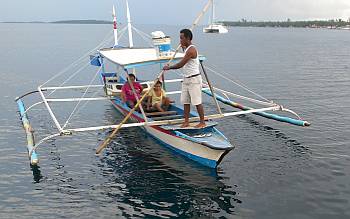 10¢ Water taxi from the anchorage to Tobelo town
Tobelo was a bustling little town, with one major drawback: black and white grit from a nearby volcano rained down on us for 36 hours. By the time we left, Ocelot was covered in speckled grit and sported small grit‑drifts of volcanic ash in every nook and cranny outside, with a finer dusting inside. Ugh. And no rain in sight. We washed the deck in clean salt water, figuring that was better than corrosive grit.
Wanting to day sail south as much as possible before heading east to Raja Ampat, we again left ahead of the fleet (very unlike us). We spent the next 2 nights tucked against black sand beaches under rolling hills of coconut palms, seeking protection from the heavy southerly winds. At one little village the only anchoring spot that wasn't shallow reef was so deep (20m/65') that we hesitantly picked up a local black mooring ball, but were happy to see good strong line holding it in place. On our third day the wind was in our face, and strong enough to kick up 2 meter seas, meaning Ocelot slammed up and down which slowed our forward progress. We turned off to the east and had a rollicking sail towards a tiny island where 5 rally boats had sought shelter. We radioed them and they admitted that maybe 1 more boat could squeeze in.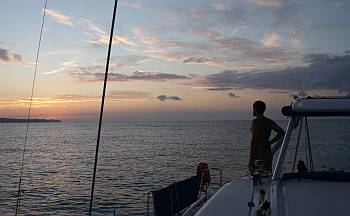 Chris enjoys a quiet sunset at Pulau Yu
So last night we had a short, peaceful night at Pulau Yiew, under a lighthouse, anchored in 40' (14 m) over dead coral and rock. Chris and Sue had a good snorkel in lovely clear water (60' viz). We just missed seeing the resident manta rays who feed in the anchorage each evening.
We left at 0300 under a starry sky, with bio luminescence in the bay, en route to Wayag island, our first stop in Raja Ampat. We've had a glorious sail all day with nice winds off the beam, but we've been fighting a 2‑3 knot current. Even so, we should be able to anchor in the early afternoon. Will the Ocelotians finally meet the world‑famous clear water and astounding underwater biodiversity that we've heard about? Stay tuned.
Fair winds and calm seas -- Jon and Sue Hacking
Indonesia Letters: Up | Triton Bay 2017 | Baliem Valley | Raja Ampat & Kofiau | Through South Indo | Yacht Wreck! | To Dili, East Timor | Triton Bay 2015 | Whale Sharks! | Banda | Ambon | Raja to Balbulol | Xmas in Raja Ampat | Raja Underwater | Raja Ampat | Crossing the Equator | Arrive Raja Ampat | To Morotai | To Sulawesi | Jungles of Borneo | Beautiful Bali | Dancing & Diving | Venting Volcanos | Indonesia Arrival | 24 July 06 | 22 July 06
Related Pages: Indonesia Home | Diving Indonesia | Cruising N&E Indo | Cruising S&W Indo | Indonesia Letters | SE Asia Flora/Fauna
Indian Ocean: Laos Letters | Vietnam Letters | India Letters | Nepal Letters | Indonesia Letters | Malaysia Letters | Thailand Letters | Sri Lanka Letters | Maldives Letters | Chagos Letters | Seychelles Letters | Madagascar Letters | Mayotte Letters | Africa Letters
Top Level: Home | Destinations | Cruising Info | Underwater | Boat Guests | Ocelot | Sue | Jon | Amanda | Chris | Site Map | Make a Comment
---
Lifetime
Commodores
of the
Seven Seas
Cruising
Association

If our information is useful,
you can help by making a donation
Copyright © 2000‑ Contact: Jon and Sue Hacking -- HackingFamily.com, svOcelot.com. All rights reserved.