Raja Underwater
23 November 2014, Raja Ampat, Indonesia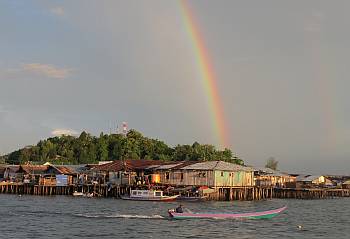 Almost beautiful. Sorong waterfront under a rainbow
Dear Friends and Family,
We've been having an AWESOME few days of diving...
The officials in Sorong finally renewed our Indonesian visas, making us wait most of a week but only charging us $25 instead of the $80 each they charged us a month ago.
We then headed south to the island of Misool -- Which means nothing to you, we're sure.

But if you go to our "Where's Ocelot" map and switch to Satellite View (upper right) and zoom in south of Sorong, you'll see the vast archipelago we've been exploring.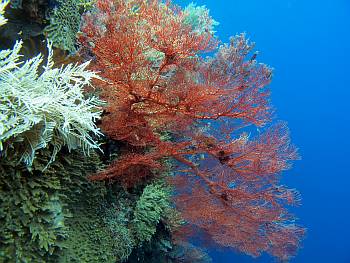 Red gorgonian sea fan and white stinging hydroid
Anchorages here are generally much deeper than we like. We carry 260' (80m) of anchor chain, and we prefer to have a 5:1 scope when anchoring, which means we don't like to anchor in water over 50' (15m) deep. Our previous maximum anchoring depth was 75' (23m) in 2006 (and Jon had to dive down to recover the anchor, as it got stuck under a rock). But on Nov 16 we had to anchor in 130' (40m)! Luckily, the winds have been very gentle, so much so that we've had to motor much of the time, so Ocelot didn't drag.
For the last several days Ocelot's been sitting on a mooring next to the Misool Eco Resort. The folks at the resort are very friendly and happy to fill our scuba tanks, so we've been diving most days. The islands here have fringing coral reefs that drop down in vertical walls, which makes for wonderful diving. Visibility underwater has been about 60‑100' (20‑30m).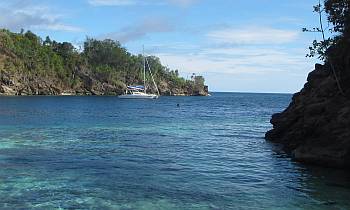 Ocelot on the mooring, Misool Eco Resort
Diving here is delightful but the currents can be strong and can change suddenly, so we always take the dinghy. Usually our friends tow it while they snorkel above us, or Jon keeps one hand on the long dinghy painter while we dive. Sue is still finding at least 2 new (to us) fish species per snorkel or dive. One new interest are the tiny but colorful nudibranchs, but they're difficult to spot as they look like blobs on the already colorful corals.
When we're not diving, we're snorkeling on the shallower reefs, between the islands and the drop‑offs. Here the light's better so we get better photos. We've seen vast fields of hard and soft corals, in all colors - reds, greens, dark purple with electric blue tips, yellows, browns, you name it. Clouds of fish surround us, staying just out of arms reach. We've seen schools of giant hump‑head parrot‑fish, sharks, rays, groupers, poisonous lion‑fish, turtles, trevally, wrass, vividly colorful angel‑fish and butterfly‑fish (some brilliant purple with bright orange accents), lots of anemone with their attendant anemone‑fish (think: Nemo), huge schools of Fusiliers with their electric‑blue bodies and bright yellow tails, elegant Moorish Idols with their ridiculously long dorsal fins, lobsters, the list goes on and on.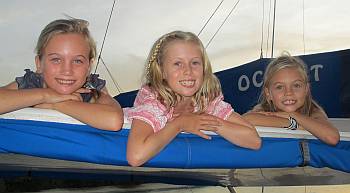 Love those cruising kids! The Nalukais visit Ocelot
Part of the joy here has been exploring with friends on a big aluminum catamaran (Nalukai) with 3 little girls. Jeremy is a live wire who's always looking for more places to explore. We loaned them our 2nd underwater camera (theirs died) so evenings have been filled with trying to identify all the fish and corals we've seen and photographed, accompanied with delightful discussions, food and drink, of course.
The Eco‑resort has leased many of the surrounding islands and waters from the local villages, and made them no‑fishing, no‑take zones. They've contributed to educating the locals about the damaging effects of bombing the reefs (still a common practice in Indonesia, as well as much of SE Asia). It's difficult educating subsistence fishermen to take advantage of eco‑tourism, but many have now built modest "home‑stay" cottages over the pristine waters, and there's a booking network to help them along. They're starting to appreciate the benefits of preserving their reefs.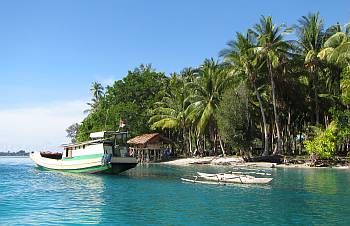 Fishing homestead in the Boo Islands west of Misool
Calvin, who runs the diving operation at the eco‑resort, is also the founder of the Misool Manta Project. Manta rays are huge filter‑feeders, but are being slaughtered for their filter‑racks, which get sold to the Chinese medicine market (for $250 each!) His project (and others) have been instrumental pushing through legislation to ban hunting Manta rays in Indonesia. There is hope.
We have another 2 weeks or so before we need to deal with visa extensions again, so we're heading slightly northwest to another set of islands, and hope to meet up with Nalukai again in about a week for more cruising fun.
Fair winds and calm seas -- Jon and Sue Hacking
Indonesia Letters: Up | Triton Bay 2017 | Baliem Valley | Raja Ampat & Kofiau | Through South Indo | Yacht Wreck! | To Dili, East Timor | Triton Bay 2015 | Whale Sharks! | Banda | Ambon | Raja to Balbulol | Xmas in Raja Ampat | Raja Underwater | Raja Ampat | Crossing the Equator | Arrive Raja Ampat | To Morotai | To Sulawesi | Jungles of Borneo | Beautiful Bali | Dancing & Diving | Venting Volcanos | Indonesia Arrival | 24 July 06 | 22 July 06
Related Pages: Indonesia Home | Diving Indonesia | Cruising N&E Indo | Cruising S&W Indo | Indonesia Letters | SE Asia Flora/Fauna
Indian Ocean: Laos Letters | Vietnam Letters | India Letters | Nepal Letters | Indonesia Letters | Malaysia Letters | Thailand Letters | Sri Lanka Letters | Maldives Letters | Chagos Letters | Seychelles Letters | Madagascar Letters | Mayotte Letters | Africa Letters
Top Level: Home | Destinations | Cruising Info | Underwater | Boat Guests | Ocelot | Sue | Jon | Amanda | Chris | Site Map | Make a Comment
---
Lifetime
Commodores
of the
Seven Seas
Cruising
Association

If our information is useful,
you can help by making a donation
Copyright © 2000‑ Contact: Jon and Sue Hacking -- HackingFamily.com, svOcelot.com. All rights reserved.