Raja Ampat & Kofiau
19 December 2016, Raja Ampat, East Indonesia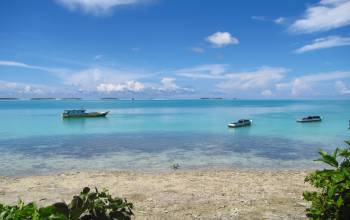 Maratua Lagoon, Kalimantan. Back in Indoesia!
Dear Friends and Family,
As we write we are anchored off Waisai, the tiny capital of Raja Ampat, in eastern Indonesia. The Holiday season is moving into full swing in Papua. In the "big" town of Sorong, where we go to resupply, Christmas carols are playing at the shops, plastic Christmas trees stand decorated and ready for sale, and shopping staff sport reindeer antler‑hats. The Chinese Buddhist pagoda has illuminated all 7 levels and looks like a big Christmas tree on the hill. All this, from the most populous Muslim nation in the world!
Meanwhile, being more or less on the equator means it's hot and humid, but the nights are blessedly cool. It's strange getting used to Christmas in the tropics!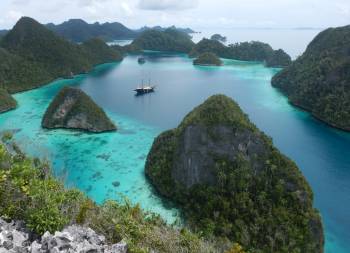 View of south bay Wayag, northern Raja Ampat
Back in August/September we traveled with 10 other cruising boats on the "Sail Raja Ampat Rally" along the NE coast of Kalimantan (Indonesian Borneo) stopping in several idyllic anchorages to snorkel and dive. Then we crossed to the north coast of Sulawesi, where we made 4 Rally stops. We were greeted, toured around and danced to. We tasted freshly ground ginger coffee and succulent tuna steaks grilled on beach fires. We were given "snacks" of fish and rice cakes, tofu curries, chips, candies and water at least 5 times a day. We saw some amazing displays of drumming and dancing, and a bit too much karaoke, which the Indonesians seem to love (and expected us to participate in). We even met the local king and queen of one province, and the grandson (now 90) of the last king of another. Every chance we got, we talked about the need to protect the oceans and the reefs. The destruction is terribly wide-spread, but it's hard for a mostly subsistence economy to commit many resources to it.
At a couple of rally stops the organizers provided 2 English speaking students for each boat to be our guides. This was a wonderful opportunity to get to know each other's cultures a bit better.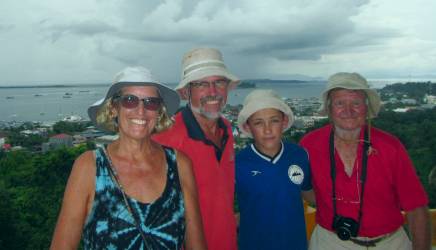 The Ocelot crew (with Rainer & Colin) at Sorong's Pagoda
At the NE corner of Sulawesi we stopped near Manado and the famous Lembeh Strait, where we did a bit of snorkeling (colds kept us from diving) and saw our first pajama cardinalfish. Cute!
Wayag was our fist stop in Raja Ampat. It's an archipelago of limestone karst monoliths thrusting up through the beautiful blue water. No villages, just wild nature. From there we sailed south to Sorong, on the Papuan coast, to meet Jon's dad, Colin, ("87 years young") and our youngest nephew, Rainer(14). They sailed through Raja Ampat with us for a month. With them we enjoyed 5 days of the Raja Ampat Festival and Colin was the hit of the evening when he danced (ballroom style) with our tour guide, Sherly, to the astonishment of hundreds of locals. Rainer learned that his teenage face attracted dozens of admirers (school girls, boys, families) who wanted to have their pictures taken with him. He was a great sport about it all! We visited several favorite anchorages in Raja Ampat and did lots of snorkeling with them, and some "interesting" walks ashore -- one up a forest trail before dawn to see the Red Birds of Paradise. Rainer got several scuba dives with our Swiss friends who took him under wing.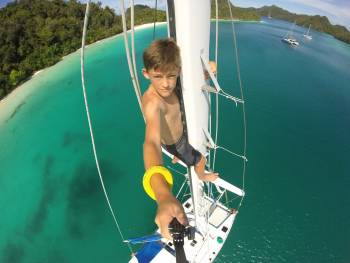 Our nephew, Rainer, loves to climb the mast!
After Colin and Rainer left we did another grand "tour de Raja" with long‑time friends Karen and Jon, doing more diving, tons of snorkeling, and more forest hikes.
We have 2 more months in Raja, and look forward to a Christmas party with 3‑4 other cruising boats in a pretty bay on southern Gam Island, then New Years in Sorong, where the fireworks will surround us. There are already LOTS of "practice" fireworks going off every night.
Our current plan of record (written, as always, in the sand, below the high tide line) is to stay in Raja Ampat until February, when our visas run out. Then we'll park Ocelot up a river and fly to Malaysia for a week or so to get new visas. When we return to Ocelot, we'll sail SE to Triton Bay, another area of extreme underwater biodiversity, for some more diving. When the winds turn back to the SE in April/May, we'll start making our way west for 2,100 miles(!) to get back to Malaysia.
We wish you all Selamat Natal! Selamat Tahun Baru! May you have a joyous holiday season, and may 2017 bring you much happiness, prosperity, and fulfillment.
Fair Winds and Calm Seas -- Jon and Sue
---
9 February 2017, Kofiau Group, Raja Ampat, East Indonesia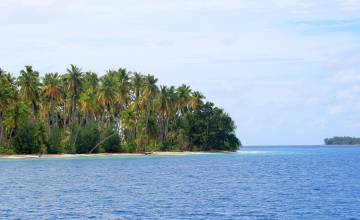 Clear water, green islands of Kofiau, Raja Ampat
Dear Friends and Family,
We're still exploring Raja Ampat, the area along the northwestern side of the island of New Guinea (the east side of which is Papua New Guinea). There are many island groups sprinkled around Raja Ampat, most of them impossible to get to without a boat. These are the ones we like to explore!
Having spent 3 months exploring northern Raja Ampat, last week we sailed about 100nm west of Sorong (the only big town and provisioning place) to the Kofiau Group, composed of 2 big islands and a couple dozen smaller ones. They're "oceanic" islands, which means they're off the continental shelf, so big pelagic fish and dolphins are often seen. We're currently anchored up against the east side of Walo Island, with lots of reefs around us.
Unlike the high limestone (karst) islands of most of Raja Ampat, Kofiau's islands are low, mangrove-rimmed, with casaurinas and coconut palms, surrounded by white sand beaches and vivid reefs. There are very few people, and only 1 village.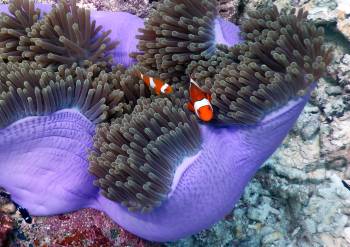 Nemo and family inside a Magnificent Sea Anemone
Dutch friends sailed in 2 days after we got here. Ben's a dive instructor, and they have a compressor on board, so we've been doing some WONDERFUL diving with them. The south side of Walo Island, and the south side of Sino Island (just north of us) both gave us great dives. The occasionally strong currents provide lots of nutrients for fields of vibrant corals and schools of brightly colored reef fish.
If you look closely at the east side of Walo Island, you can see a series of dark spots in the water just south of us. Those are reefs on the bottom (40' or 12m down) and that dive is called Wallo Bommies, which we did just today. We swam through clouds of reef fish, exploring each bommie, then followed compass lines south over stretches of white sand, to each of the other 4‑5 bommies. Purple, yellow, green, and red sponges and soft corals decorated each bommie and created homes for the damsels, anthias, tobies, surgeon and angelfish.
Sue manages to photograph at least one new (to her) fish species pretty much every dive - she's developing quite a collection. Jon's happy just floating around and enjoying the show in this great underwater theater. Evenings are usually spent with our Dutch friends, discussing what we saw and where we want to dive the next day.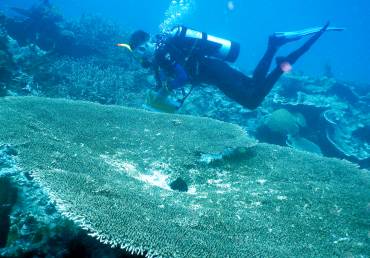 Jon dives near huge plate coral, Walo, Kafiau Islands
Our future plans haven't changed significantly - we'll fly to Malaysia to renew our visas later this month, then head south towards Triton Bay and play there until the winds turn around and let us sail west.
But our big news is that we're about to become parents again! A medical miracle!

OK, our youngest nephew, Rainer(14) will be joining us in Malaysia and flying with us back to Ocelot for several months. He's excited to learn more about the world, both above and under the water, and his enthusiasm is infectious. Should be fun!
Fair Winds and Calm Seas -- Jon and Sue
Indonesia Letters: Up | Triton Bay 2017 | Baliem Valley | Raja Ampat & Kofiau | Through South Indo | Yacht Wreck! | To Dili, East Timor | Triton Bay 2015 | Whale Sharks! | Banda | Ambon | Raja to Balbulol | Xmas in Raja Ampat | Raja Underwater | Raja Ampat | Crossing the Equator | Arrive Raja Ampat | To Morotai | To Sulawesi | Jungles of Borneo | Beautiful Bali | Dancing & Diving | Venting Volcanos | Indonesia Arrival | 24 July 06 | 22 July 06
Related Pages: Indonesia Home | Diving Indonesia | Cruising N&E Indo | Cruising S&W Indo | Indonesia Letters | SE Asia Flora/Fauna
Indian Ocean: Laos Letters | Vietnam Letters | India Letters | Nepal Letters | Indonesia Letters | Malaysia Letters | Thailand Letters | Sri Lanka Letters | Maldives Letters | Chagos Letters | Seychelles Letters | Madagascar Letters | Mayotte Letters | Africa Letters
Top Level: Home | Destinations | Cruising Info | Underwater | Boat Guests | Ocelot | Sue | Jon | Amanda | Chris | Site Map | Make a Comment
---
Lifetime
Commodores
of the
Seven Seas
Cruising
Association

If our information is useful,
you can help by making a donation
Copyright © 2000‑ Contact: Jon and Sue Hacking -- HackingFamily.com, svOcelot.com. All rights reserved.