2011 Veg Festival
5 October 2011, Phuket, Thailand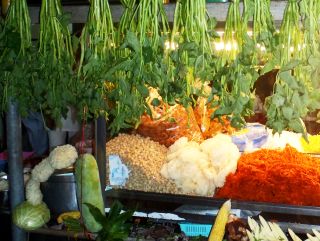 Vegetarian street food at the Festival
Dear Friends and Family,
Well, it has been raining pretty steadily for 9 days and now we know why!
The huge Phuket Vegetarian Festival takes place from 27 September through 5 October, and by tradition it rains every day of the Festival! Thailand is so wet this week that if we didn't already have a boat we'd consider getting one! (Bangkok is flooding)
A "Vegetarian Festival" sounds pretty calm and innocuous. To us westerners it isn't anything of the sort, and the name doesn't really do it justice at all.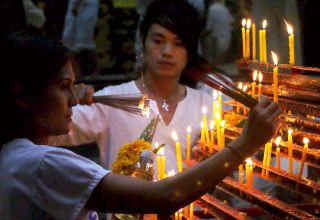 Lighting incense at Jui Tui Temple, Phuket
This Festival originated about 185 years ago here on the island of Phuket where over 30% of the population are Chinese or of direct Chinese descent. According to some historians a troupe of Chinese opera players arrived in 1825 and they and much of the community in central Phuket became very ill, with many deaths. The travelers blamed the illness on the fact that the people had not paid homage to the Nine Emperor Gods during the first nine days of the ninth lunar month. The troupe promptly began the ritual cleansing, abstaining from sex, alcohol, anger, aggression, and eating meat -- and the illness abated. Impressed, the people of Phuket embraced the ceremony fully.
Sounds good, right? Nice and quiet, meditative-like. But the Chinese of Phuket take this to a new level: all the abstinence and prayer allows some people of "exceptionally pure heart" to go into trance. After being isolated in the temple, they emerge in frenzied dance. They are the Mah Song. Translated as "entranced horses" the Mah Song are specially chosen from each temple. We read that these are unmarried men, and women without family ties. But in fact, our boat contractor, Golf, was chosen as Mah Song for 5 years at Bang Neow Temple in Phuket, even when married. He told us, with his shy smile and tip of the head, that one must not have alcohol, meat, or "other things", and one lives in the temple for 2 weeks. For 9 days these Mah Song will perform acts of incredible self-mutilation and daring feats from which the whole community benefits - These "entranced horses" carry away the evil from the community. Although this festival takes place all over SE Asia, only here in Phuket (lucky us!) do they have the tradition of Mah Song.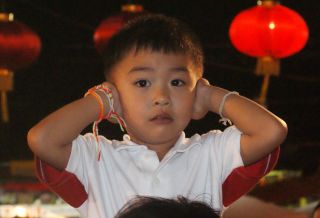 Firecrackers are LOUD!
On a rainy Sunday night we rode a motorbike into town, joining the hoards of other small bikes filling the roadways. We never thought it would be hard to find parking for a motorbike, but we'd never been to a festival like this. The place was packed and we joined the throngs of people all dressed in white. Phuket Town is not very big, and the main activity centered on Ranong Street where the good‑natured Thais jostled for fruit drinks, sweets, and bowls of rice or noodles. Most shops were closed, but the streets were lined with food stalls selling all sorts of unidentifiable goodies. Lots of deep fried egg rolls, donut‑like things, steamed bao and big steaming cauldrons of stews and soups. Sue's favorite was a thin egg‑crepe thing filled with fresh crisp bean sprouts and sweetened crushed peanuts.
We wound our way to Jui Tui, the city's largest Chinese temple, and mixed with the throngs of Chinese who were lighting candles, crashing cymbals, and throwing long strings of firecrackers into huge firecracker "closets" made for the explosions. This firecracker closet was showing signs of distress, as some of the "firecrackers" more closely resembled bombs. Did we say noisy?
Fire-Walking at the Phuket Vegetarian Festival

This was the evening of fire walking at five of the eleven temples, but the event for Jui Tui was a good 30‑minute walk away, so we chose another temple on the map and set out. I think all the people who spoke good English were hiding that night, as we had a very difficult time asking directions. It could be because this is NOT a tourist event and the main participants are the Chinese. There were very few tourists about, and even the ethnic Thais who often work with tourists and gets lots of English practice were largely absent.
Having found Sui Boon Tong we learned that the fire walking was happening another mile away, so off we went, umbrellas in hand. A few minutes later a pickup truck pulled over and a young woman who had answered our inquires at the temple offered us a ride. This event is not a small fire pit like we saw in Fiji. No, this was in a big open field and the fire "pit" was about 10' x 20' (3m x 6m) and piled high in glowing coals. A huge rain squall hit just as we arrived, and our umbrellas immediately attracted a small hoard of 5‑6 kids looking for shelter. We wondered if the rain would affect the fire. Not a chance! When the rain stopped the wind picked up and the entire pile sizzled and glowed bright red!
Pre-procession preparations, Whips & Skewers

Throughout the event there was lovely music playing. It resembled a chant but was more musical, very similar to the "Ohm‑mani‑padme‑ohm" music that played through much of the Nepal Himalayas, but with different words. We think it was in Thai so we couldn't understand it, but it sounded very calm and spiritual. You can hear it as the background music of the fire‑walking video (right).
The fire‑walkers arrived accompanied by horns and drums and cymbals, in a procession with many men (and some women) in embroidered vests and white shorts. In their trance‑state they walked with their heads shaking from side to side, and they all had attendants alongside to guide them. We were able to move in pretty close to the fire, and although we always had attendants between us and the coals, we could feel their heat. When the adepts began crossing the fire one at a time we realized this was not fire "walking", as much as fire jogging, and who can blame them? Trance or not, it had to hurt! Only a couple guys sauntered across or did a sort of jig. The joggers kicked up huge flares of sparks. Attendants stood alongside tossing something onto the coals that popped and crackled like popcorn. All of this to the loud accompaniment of drums and horns and shouted exhortations (from a monk?)
Phuket Vegetarian Festival Procession

At 7am Monday morning we again took a motorbike into Phuket Town to see that day's procession. The custom of processions heralds to the time when a Phuket man went to China to bring back stone effigies of the Emperor Gods, and the people went to the shore to meet him and the gods when he sailed back.
Neither the early hour nor the intermittent pouring rain reduced the crowds. We arrived at Jui Tui Temple in time to see the Mah Song emerge from the altar rooms with whips around their necks. Surprisingly they did not whip themselves, but instead flashed the straps in the air like firecrackers going off. Then, surrounded by attendants all in white, they were led to seats in the courtyard. There, attendants used surgical gloves and alcohol to clean the stainless steel "pins" (the English word used by our friend Golf) which were better described as skewers, poles or swords. Then these items were pushed through the cheeks of the Mah Song. Some adepts inserted the items themselves, others had, or needed, help. Not a word was said, not a groan was heard or a tear shed, and very little blood was in evidence. The adepts were obviously in a trance, although some seemed to have more awareness of their surroundings than others. Usually one or two attendants carried black flags, which were presumably there to attract the evil sprits but they were also used to wipe the sweat from the faces of the adepts or to protect their faces from the rain during the piercing.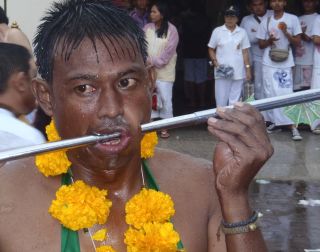 Mah Song, in trance, with a long metal pole
Talking to Golf later, we learned that so deep was his trance that he never remembered anything of the fire walking or the procession. In the five years that he participated, he went from having a stainless steel "pin" the size of his index finger poked through his cheek, up to a pole 1" (25mm) in diameter pushed through his cheek. Today, the scars he bears look like small puckers on his cheeks that could pass for dimples.
Once pierced, the Mah Song and attendants left the temple to begin the 3‑hour procession through the streets of the town. With them in the procession were palanquins carrying stone gods, several flower‑bedecked trucks and cars with non-pierced adepts, the hundreds of adepts, and others who just wanted to walk with the Mah Song. The dissolving red paper from thousands of firecracker casings looked like splotches of blood in the streets puddled with rain water. Families stood under cover of their front porches with tables laid with beautiful red and gold embroidered table cloths on which they placed tea, fruits, sweets, candles and flowers. They put their hands together in the traditional Thai "wei" position as the procession passed. Adepts in the trucks handed out blessed candies or threw flowers to the families. The Mah Song, in varying states of trance, stopped at tables along the route to bless the food or touch the hands of the people.
These blessings were to transfer any evil spirits or bad luck from the townspeople to the Mah Song, who had been specially prepared and protected from these spirits during the preceding weeks of abstinence in the temples.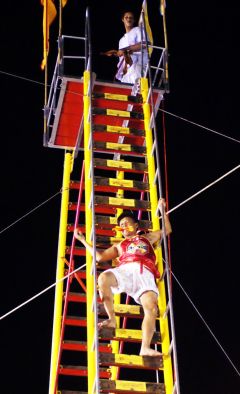 Bladed Ladder climb, down-side
Far from being solemn, there was a festive air to the whole thing. Since there was no cordon, we walked along with the procession, and people wandered in and out of the procession at will. Cameras were everywhere, and the Mah Song were surprisingly complacent about stopping to have their pictures taken with, for instance, a saxophone poking through his mouth. If anything, it was dismaying to see that the rituals have become dramatized, and it sometimes seemed there was a competition between Mah Song as to who had the most outrageous piercing. The most bizarre, to us, were the 14 strands of barbed wire, the full beach umbrella pole, the full saxophone piercing, the massive red wrench, and the festive three-tired umbrella pole. These long and heavy items needed assistants to help hold the piercing item and to be sure festival participants and pedestrians didn't bump into them. The most authentic looking was the full tree branch, about 1" diameter and rough. Back at the temple we watched as the skewers, sticks, fish hooks and poles were removed, and amazingly, there was sometimes no evidence of the wound!

Red Lanterns brighten a Chinese Festival in Phuket
That evening we returned with other cruisers, Steve and Gayla off Ariel (who drove us in, bless their hearts!) and found some tasty vegetarian meals. Well, perhaps too tasty. It could have been a durien stew. Couldn't get it from nose to mouth! So we munched egg rolls, more of those omelets with peanuts and bean sprouts, and fresh mandarin juice in a slushy. Then we made our way to yet another temple: Bang Neow, which is pronounced just like it looks. We know, because we had to try lots of ways of saying it before we found someone who said, "Ka, Ka, Bang Ne-ow! There, there." This event was the Bladed Ladder Climb, where adepts walk barefoot up and down a 50' (15m) high ladder where the steps have been replaced by sharp knife‑blades (think of a huge step stool, with ladder steps on both side and a platform at the top).
We didn't get to feel the steps, but by the way the adepts, all in a head-shaking trance, walked gingerly on the calluses of their feet, it must have been sharp! Golf says they are like razors. The crowds were thicker here than at the fire‑walking, but at least we could see up the ladder, so we still got a good view. Young boys banged on drums and clashed cymbals every second right next to us. Apparently the louder the music the more the evil sprits are chased away. Given that, we are quite without evil spirits at the moment!
So those were the main events of the festival. Things we missed were food offerings to the gods, choice of next year's attendants, pole raising and lowering, and at one temple, Nailed-Bridge Walking. Now that would be interesting to see. Must save something for the next time.
POSTED RULES FOR THE VEGETARIAN FESTIVAL
Cleanliness of bodies during the festival
Clean kitchen utensils and to use them separately from other who do not join the festival
Wear white during the festival
Behave physically and mentally
No meat eating
No sex
No alcoholic drinks
People at mourning period should not attend the festival
Pregnant ladies should not watch any ritual
Ladies with period should not attend the ritual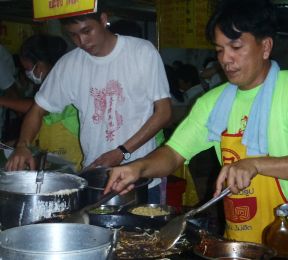 Street food vendors at the Festival
You'll be happy to know that we have followed most of the Ten Rules for the Vegetarian Festival. We've bathed daily, eaten mostly vegetarian food this week, and have abstained from quarrels, lying, and aggression. We've worn some white (not an easy color for boat clothes) and we have behaved ourselves. Well, ... mostly. But as for the other abstentions, well, ... no comment. We are filled with evil‑spirit‑chasing noise, and Sue has some evidence of self‑mutilation, in the form of 10 blisters on her grit‑rubbed feet after miles of walking on wet streets!
We asked Golf if he was still participating as Mah Song, and he laughed, shook his head, and said, "No. Five years. That is enough, I think."
Wishing you blue skies and cleansing rain and no evil spirits -- Sue and Jon
Thailand Letters: Up | Terrific Thailand | Thai Interior | Changing Direction | Bay of Bengal 1 | Bay of Bengal 2 | Wet and Fuelish | Andaman Arrival | Andaman Sea | Thai Arrival | 2011 Veg Festival | Phang Nga Bay
Related Pages: Thailand Home | Thai Newsletters | Thai Diving | Thai Cruising Info | Thai Services | SE Asia Flora/Fauna
Indian Ocean: Laos Letters | Vietnam Letters | India Letters | Nepal Letters | Indonesia Letters | Malaysia Letters | Thailand Letters | Sri Lanka Letters | Maldives Letters | Chagos Letters | Seychelles Letters | Madagascar Letters | Mayotte Letters | Africa Letters
Top Level: Home | Destinations | Cruising Info | Underwater | Boat Guests | Ocelot | Sue | Jon | Amanda | Chris | Site Map | Make a Comment
---
Lifetime
Commodores
of the
Seven Seas
Cruising
Association

If our information is useful,
you can help by making a donation
Copyright © 2000‑ Contact: Jon and Sue Hacking -- HackingFamily.com, svOcelot.com. All rights reserved.