Bay of Bengal 1
20 April 2011, heading East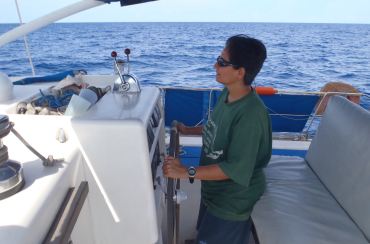 Shantha took the wheel while we got radio email
Dear Friends and Family,
Since making our huge decision and turning left for SE Asia, life has gotten much calmer. We have vibrant, colorful sunsets, a full moon to guide our way at night, brilliant crimson sunrises, and a pretty flat ocean. We even had a lone dolphin come and play in our bows this morning. As I write this (from our helm seat at 4pm) we have bright sun, blue skies punctuated with fluffy white clouds, a gentle breeze from the SE to cool us down and push us gently along, and almost no whitecaps on the flat sea. This morning we had a series of squalls form up behind us (including one with a funnel cloud!) but they didn't chase us.
Most of the time we've been close reaching into 10‑13 knots of wind, just ghosting along at 3‑5 knots so we're not expecting to set any records. Winds are predicted to be quite light, and we're expecting to have to motor much of the last bit from the Nicobar Islands to Phuket, but we left Chennai with a BUNCH of fuel - in addition to the 340L (90 gal) in our tanks, we got an additional 475L (125 gal) in jugs. We get about 2nm/liter (7nm/gal) so we shouldn't have problems getting to Phuket.
At noon today we were at 10°18'N 82°33'E, or about 950nm from the southern tip of Phuket as we drift across the Bay of Bengal (see a Google map of our positions here).
Fair Winds and Calm Seas -- Jon and Sue Hacking
---
21 April 2011, heading for Phuket
Dear Friends and Family,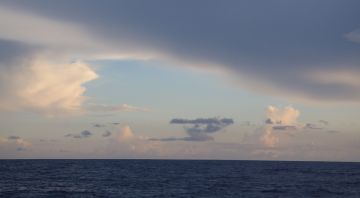 Dramatic skies on the Bay of Bengal
Last night was a bit tense. We had lots of clouds ahead and many of them were putting on lightning shows. We dodged between them as best we could and eventually went right under a cloud that had been blocking the moon and preventing us from seeing more. Luckily there were no strong winds under that cloud and we came out into ... moonlight! The rest of the night passed well, but the low winds meant we were motor-sailing.
At 4:45 this morning we saw our first loom, just the barest hint of the sky getting a bit less black. For the next hour we were treated to a slowly building crescendo as the sky and clouds got lighter, then started turning delicate pastel shades of pink and orange before turning a deep crimson and finally a brilliant gold as the sun rose in glorious splendor, heralding the start of a new day.
And a glorious day it has been. The sky dawned bright and beautiful, the sun was warm, the clouds were small and puffy white, and we've had a nice breeze from the SE so Ocelot's been happily close reaching into 10‑16 knots of wind. Let's hope it continues tonight. We've had to dodge a couple of rain-clouds, but not many.
At noon today we were at 10°18'N 84°07'E, or 366nm from Chennai (in a dogleg) with 857nm to go to Phuket (see a Google map of our positions here). Sometime last night we passed our 1/4 point and tonight we hope to pass our 1/3 point. The light winds and close sailing angles have meant a slow passage, but it's been comfortable, and having Shantha along has made it much more fun.
Fair Winds and Calm Seas -- Jon, Sue and Shantha
Thailand Letters: Up | Terrific Thailand | Thai Interior | Changing Direction | Bay of Bengal 1 | Bay of Bengal 2 | Wet and Fuelish | Andaman Arrival | Andaman Sea | Thai Arrival | 2011 Veg Festival | Phang Nga Bay
Related Pages: Thailand Home | Thai Newsletters | Thai Diving | Thai Cruising Info | Thai Services | SE Asia Flora/Fauna
Indian Ocean: Laos Letters | Vietnam Letters | India Letters | Nepal Letters | Indonesia Letters | Malaysia Letters | Thailand Letters | Sri Lanka Letters | Maldives Letters | Chagos Letters | Seychelles Letters | Madagascar Letters | Mayotte Letters | Africa Letters
Top Level: Home | Destinations | Cruising Info | Underwater | Boat Guests | Ocelot | Sue | Jon | Amanda | Chris | Site Map | Make a Comment
---
Lifetime
Commodores
of the
Seven Seas
Cruising
Association

If our information is useful,
you can help by making a donation
Copyright © 2000‑ Contact: Jon and Sue Hacking -- HackingFamily.com, svOcelot.com. All rights reserved.