Changing Direction
19 April 2011, 170nm south of Chennai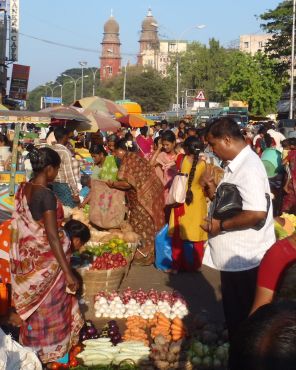 Fruit and veg provisioning in Chennai
Dear Friends and Family,
After several days of scrubbing the perpetual coal dust of Chennai out of Ocelot, including running most fabrics and all the salon cushion covers through the washing machine, we finally left port just after noon on Sunday, 17 April. We have an expensive permit to visit Chagos in May so we were heading that way, with a stop at the southernmost of the Maldives (Addu Atoll) and a possible fuel stop in Galle, Sri Lanka.
With us this trip is Shantha Ravikumar, a laser sailor from the Tamil Nadu Sailing Association that has been our host in Chennai. Shantha is delightful and really wanted to do some ocean passaging, and we figured that the extra crew would make our night-watches easier.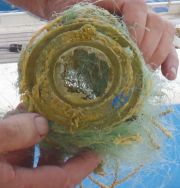 Propeller-fused fishing net
We wanted to go through the very shallow gap between Sri Lanka and India (so called Adam's Bridge or Palk Straits) as this would cut off over 150 miles and give us a better angle on the wind. But our friends on "Out of the Bag" and "Vamp" had both attempted this passage, and while Out of the Bag had successfully rounded the SE end of Pemban Island (Lands End) they reported that the water there was too shallow for Ocelot. Vamp had attempted to go through the train bridge at the west end of Pemban Island but ran into completely inept officials who didn't even know the clearance height of the (non-opening) car bridge just beyond the train bridge. With strong currents and insufficient room to turn Vamp around between the bridges if the clearance was too low, Vamp decided to abandon the attempt and just head around Sri Lanka the long way, having wasted several days. After hearing their stories, we decided that it wasn't worth it to even try. (It seems crazy that they haven't dredged a deeper channel, as the shallows are only 1‑2 miles wide)
But our trip down the east coast of India proved to be quite difficult. We were able to sail the first 12 hours, but then we needed an engine ticking over. The winds were smack in our faces and we were fighting against a 1‑2 knot current as well. Monday morning we caught a floating fishing net and Jon had to go over the side to cut it free. After an hour of cutting he had to remove our port propeller in order to remove a 4" (10 cm) disk of fused polypropylene rope that had formed between the propeller and the sail-drive. The fishermen returned about then, demanding compensation for their poorly marked net. After much shouting we gave them our last Rs1,000 (about $20).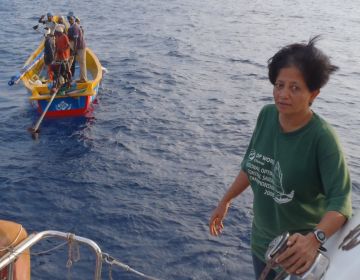 Sleepy Shantha had to negotiate with fishermen
But looking at our weather files we realized that the SW monsoon has arrived with a vengeance. The trip from Chennai to Galle would be uncomfortable but probably manageable, but the 650nm passage from Galle to the Maldives would be straight into the monsoon winds and much worse. And just this time of year in 2007 we found a huge 3‑knot east-flowing current. The combination of wind and current against us just looked too difficult, so at 10am today we decided to turn east and head back to Phuket, Thailand. This is a trip of 1,100nm, but the winds and currents should be much more favorable.
This has been a difficult decision for us. We (and Shantha) had been very much looking forward to Chagos. Our very good friends on Vamp were also looking forward to playing in Chagos with us, and they have no on-board email so they won't even find out we've changed direction until they get to an internet cafe in the Maldives. We're also giving up spending a year in Africa with them. But such is the cruising life sometimes.
At noon today we were at 10°34'N 80°53'E, or 170nm south of Chennai (we'd only just turned). We've been updating our position reports so you should be able to see them here. We're all well on board, if a bit sleep deprived as we usually are at the beginning of a passage.
Fair Winds and Calm Seas -- Jon and Sue Hacking
Thailand Letters: Up | Terrific Thailand | Thai Interior | Changing Direction | Bay of Bengal 1 | Bay of Bengal 2 | Wet and Fuelish | Andaman Arrival | Andaman Sea | Thai Arrival | 2011 Veg Festival | Phang Nga Bay
Related Pages: Thailand Home | Thai Newsletters | Thai Diving | Thai Cruising Info | Thai Services | SE Asia Flora/Fauna
Indian Ocean: Laos Letters | Vietnam Letters | India Letters | Nepal Letters | Indonesia Letters | Malaysia Letters | Thailand Letters | Sri Lanka Letters | Maldives Letters | Chagos Letters | Seychelles Letters | Madagascar Letters | Mayotte Letters | Africa Letters
Top Level: Home | Destinations | Cruising Info | Underwater | Boat Guests | Ocelot | Sue | Jon | Amanda | Chris | Site Map | Make a Comment
---
Lifetime
Commodores
of the
Seven Seas
Cruising
Association

If our information is useful,
you can help by making a donation
Copyright © 2000‑ Contact: Jon and Sue Hacking -- HackingFamily.com, svOcelot.com. All rights reserved.