Cruising Impressions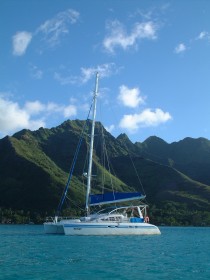 Describing life on a boat to a non-cruiser is tricky. I certainly didn't know what to expect, and my parent's impressions from the 1980s aren't entirely true anymore. I should point out that while there are aspects of the life that I like, I wouldn't spend the rest of my life doing this. With that in mind, I'll make the attempt to give you some idea of what the cruising life is like from my point of view.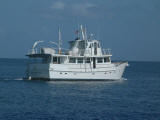 Cruising and sailing are not the same thing. In fact, some cruisers are actually on motorboats (not many, but a few.) But even ignoring the differences between sailing and motoring, cruisers don't tend to spend a lot of time on the go. On most days, we don't move Ocelot at all, or if we do we only go a few miles. Some cruisers don't move for months at a time. Life on passage is completely different, but I'll get there later.
Cruising is comparable to international travel in a floating camper van. Our 'house' is small but mobile, home being wherever it is. We are a little more self-sufficient (boats are mostly self-contained, and most cruisers rarely go to docks) but other than that difference I can't think of a better analogy. Being more self-sufficient means that we can go places where there basically is no land support, even water or fuel. In Ocelot's case, water is renewable and electricity is free. Provisions allowing, we tend to seek out secluded anchorages.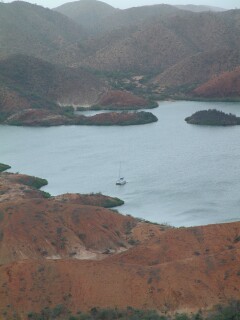 Some cruisers do tend to stay in groups, usually somewhere like St. Martin, Martinique, or Venezuela where provisioning is easy and many boats can anchor in a sheltered bay. We aren't really like that, though we did spend several months in Margarita, Venezuela. We prefer to go to areas as untouched as possible, and explore the natural beauty both above and below water.
The downside of such a mobile lifestyle is that meeting and staying with friends is difficult. There is a definite cruising community, existing even with people who have never met before. Most cruisers will help out other cruisers and make friends easily, but few will actually spend all their time in the company of another boat, except perhaps in a large, long-term anchorage.
[ Home ] [ School ] [ Contact Info ] [ Boat Equipment ] [ Cruising Life ]
[ Life on Ocelot ] [ Traveling ] [ Sailing ] [ Other cruisers ] [ Exploring ashore ] [ Underwater ] [ Cultures ] [ Provisioning ] [ Electricity & Water ] [ Weather ] [ Schedules ] [ Internet & Phones ] [ Driving ] [ Sports ] [ School ] [ Meals & Chores ] [ Recreation Aboard ] [ Moving Ocelot ]
Top Level: Home | Destinations | Cruising Info | Underwater | Boat Guests | Ocelot | Sue | Jon | Amanda | Chris | Site Map | Make a Comment
---
Lifetime
Commodores
of the
Seven Seas
Cruising
Association

If our information is useful,
you can help by making a donation
Copyright © 2000‑ Contact: Jon and Sue Hacking -- HackingFamily.com, svOcelot.com. All rights reserved.