Kalimantan
This section covers the history, natural history and travel information about Kumai, Indonesia. Kumai is the gateway to see the Orangutans of Kalimantan, Borneo, Indonesia.
Our sailing track from Kalimantan, Indonesian Borneo, to Singapore and Malaysia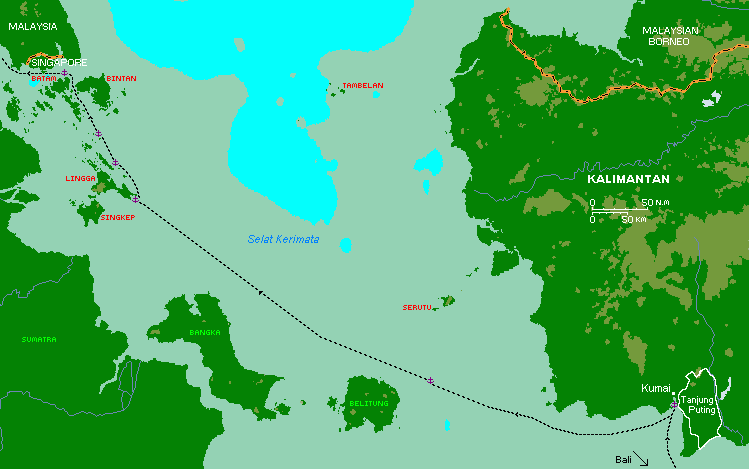 Major islands: Borneo, of which Kalimantan is the Indonesian part in the south and east.
Population: Over 10 million people inhabit this portion of Borneo that belongs to Indonesia.
Religion: Islam. Some Protestant Christianity among the Dayak people.
Language: Local languages of the Dayak people and (officially) Bahasa Indonesia.
Landscape: Kalimantan, Indonesia has very high mountains in the north (on the border of Malaysian Borneo), and extensive river systems and mangrove, with tropical rainforest (and now palm plantations encroaching) in the south. Lying on the equator, it is hot and steamy year round. Tanjung Puting National Park is a nature preserve with rivers, rainforest and secondary forest.
Visited: 8 to 13 October, 2006.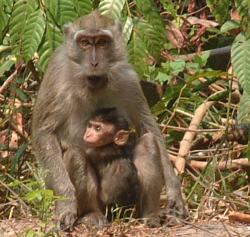 Macaque mother and baby
For more info and photos see our Jungles of Borneo Indonesia newsletter which covers our river trip adventures in Kalimantan, Indonesia. A really interesting read is Reflections of Eden by Dr. Birute Galdikas, the anthropologist who studied the orangutans and is responsible for enlightening the world about their plight. The famous Dr. Louis Leakey helped jump-start Dr. Galdikas's efforts in Kalimantan, just as he helped Dr. Jane Goodall's research with chimpanzees, and Dian Fossey's Mountain Gorilla research, both in Africa.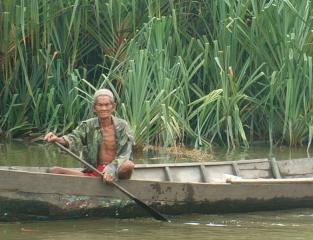 Kalimantan's people still live on the river
History: Because of its position on the East-West trade routes many early peoples visited the shores of the island of Borneo (now known as Kalimantan, Indonesia). Hinduism arrived in Kalimantan about the 5th century. Later, when Islam spread east in the 15th and 16th centuries people of the sea port towns were converted. During the 17th and 18th centuries the Dutch and British fought for control over the ports, pepper trade and coal mines. For a time the Dutch used the coast as a hang out for their pirates to raid British ships. It was the finding of oil reserves that brought the British and Dutch together when they formed the Royal Dutch Shell company in the early 1900's. It was the rivalry between Britain and the Dutch that led to the division of Borneo into Malaysian (and later the Sultanate of Brunei) and Indonesian territories. Under President Soekarno many people were moved to Kalimantan during his years of "transmigrasi" resulting in a mixed population of original Dayaks and "imported" Bugis and other Muslims from Java and elsewhere. This has led to clashes over land and fishing rights.
(Amanda) We probably wouldn't have gone to Kumai, Indonesia if it weren't for the cheap and easy trips to the orangutan reserve - in fact, I'm not sure we would have gone to Kalimantan, Indonesia at all. As it was, we barely stayed a day in Kumai before going on the river trip, and another day afterwards before sailing away. The smoke was extremely bad, almost mind-boggling after the pure air we've experienced throughout our cruise. It took about a week to air out the boat when we left, and everything had to be washed to get the stale wood-smoke smell out.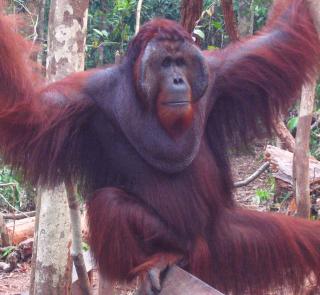 Big Tom, dominant male of Camp Leaky
But that was all worth it for the chance to see orangutans, most of which were raised in captivity but some wild ones too. When we watched at the feeding stations, I could sometimes pick out individual apes from their personality. One baby, the son of Princess (who incidentally has learned to 'speak' and understand some sign language, most notably the signs for "Food" and "Thank you"), we called "Bouncy Baby" for his habit of swinging and climbing and hanging on the vines and springy trees around the platform. A teenaged male was easy to spot - he'd lounge around in trees until the feeding platform was empty, then sneak in for a feed, furtively looking around for any larger males or a female who would scold him for being a pig. The dominant males were very impressive with their low-hanging throat sacs, hard cheek pads, and thick arms and legs. At one point Big Tom took over the viewing seats, making us all beat a hasty retreat to one side. Another time, he was perched in a tree above a corner of the path and we skirted slowly around the edge to get past. Back at camp, Samson, a young male who refused to be rehabilitated, looked very human as he slept on the lawn, tried to get into one of the buildings, drank coffee out of a mug and took a bath with soap on the riverbank.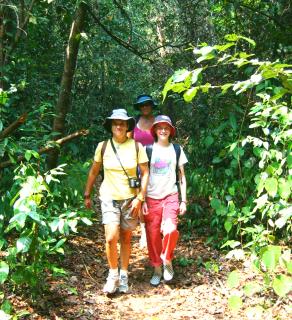 Kyle and Eliza (sv Estrela) with Sue in the
background, hiking in the jungle
We also had a chance to go for a hike through the jungle of Borneo. We kept an eye out for orange color in the trees and eventually saw a wild orangutan, napping in a tree. The ones at Camp Leaky are monitored every day by volunteers who get up early to hike to an orangutan they'd left the night before, follow the orangutan all day, note where the animal sleeps, then hike back to Camp Leaky, where they write up a report. Orangutans choose a new place to sleep each night, get up early, and don't follow ground-paths through the forest, so I have lots of respect for people who can do that every day! It was hard enough spotting the orangutan, let alone following it when swung off through the trees. But for most of that hike I was photographing the plants that someone had put signs on - quinine, ironwood, rubber trees, trees that orangutans can eat from, plants that are edible for humans, plants that are poisonous. We'd also occasionally come upon a metal plate nailed to a tree, signaling that someone had seen an orangutan eat from it and giving the date. It was nice to have a good hike through the forest before going back to the somewhat cramped klotok (local boat we stayed on) for dinner.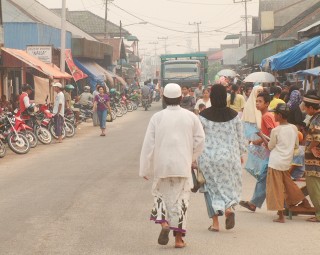 Kumai's busy main street. Note the smoky sky.
(Sue) Although there's no doubt that being on the Kumai River of Borneo and seeing the wildlife and orangutans was the highlight of our Kalimantan visit, I thought I'd fill in some of the gaps. The town of Kumai, Kalimantan, Indonesia is a small river settlement far up the Kumai River. Here the water is chocolate brown and streams past the mangrove forests on either bank. Kumai itself is about one street wide and runs for almost a kilometer along the river. A single road leads inland to the nearest large town, Pangkalanbun, where we went by bus to find an ATM to get some cash. The people of Kumai tend to be shopkeepers, fishermen, farmers, or employees of the several eco-tourism companies that have sprung up to meet the demand of the international tourists wanting to see the orangutans. The homes are modest cement or wooden buildings with large, open rooms and kitchens in the back. Outhouses are common. I liked walking the main street, poking into and out of fruit and veggie stalls, and small "everything" shops where you can find batteries, cloth, plastic buckets, shoes, kitchen wear, machetes, and foods like canned condensed chocolate milk -- an Indonesian favorite. A few older-model busses and cars plied the streets, but the main source of transport was the small motor scooters so common throughout Indonesia. I loved seeing the Muslim women in their long robes and head scarves zooming on their scooters through town to and from work and shopping, or picking up their kids from school, and piling the kids on the scooter with them.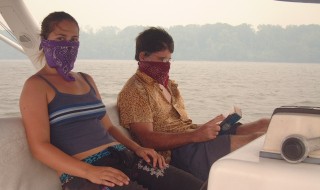 Banditos on Ocelot? Nope, smoke protection!
The worst part of being in Kalimantan, Indonesia in October was that it was the time of year when the forests and cane fields are burned and the air was dense with wood smoke. In fact, some days it was so bad that we couldn't see the few hundred yards across the river from Ocelot to the town docks. The sky stayed a hazy gray, and we heard that many of the local people had chronic respiratory problems caused by the smoke. Ecologically, the worst thing about the smoke is its cause: wealthy plantation owners are illegally burning prime rainforest to plant more palm oil trees to meet the increasing world market (mainly in Asia). This is not only an ecological disaster because of the smoke, but it is reducing the already threatened habitat of many Borneo plants and animals: most notably the wild orangutans and Proboscis monkeys. International attention may help reduce this problem: 1,000 miles away, in Singapore, the smoke was still so bad from the fires in Borneo that the Singapore government was (in 2006) putting pressure on the Indonesian government to stop the burning. We shall see. As it was, we wore wet bandanas over our faces all the way down the Kumai river and for the next 24 hours sailing to the west. After turning north we re-entered the smoke belt a couple days' sail south of Singapore.

Orangutan love, mother and baby
(Jon) We actually weren't in Kalimantan, Indonesia for very long - just a bit more than a week. But the chance to go up the river to the Orangutan sanctuary with our friends on Estrela by local klotock boat was something we couldn't pass up. We seldom sleep off Ocelot because it makes us nervous, but for this trip we had a local man staying on Ocelot and looking after things, so it was quite delightful to get off Ocelot for a few days - sort of like a vacation. Since that wonderful trip is covered in our Jungles of Borneo newsletter, I won't go over it again here.

A Dayak fisherman on the river
The smoke from the illegal burning of the rain-forest was more annoying to Sue and Amanda, but I still found it unpleasant. I'm not sure why the Indonesian or Kalimantan governments weren't doing anything about it. Perhaps they'd been paid off by the palm-oil plantation owners who were illegally trying to expand into the National Park. Unfortunately, the National Park has many peat-bogs in it, and once those start burning they're very hard to put out. Still, the smoke was causing an international incident, with Singapore (over 1,000 miles away!) making a very justified complaint to the UN, as the smoke limited visibility to about a mile even that far away. The Indonesian authorities should be ashamed of themselves.
It was because of the smoke that we chose the track we did when we left Kalimantan heading for northern Indonesia. Most boats take a north-easterly track so they can spend a night at the island of Serutu, Indonesia but boats ahead of us were reporting almost zero visibility from the smoke and some scary shipping activity resulting in close encounters of the "get-me-outa-here" kind. So we chose a more westerly track, sailing due west from the Kumai River mouth until we were out of the smoke-bank before heading north-west towards Singapore. By now the Rally fleet that had left Darwin together had spread out and only 4-5 other boats chose our course, but several boats came together again as we crossed the equator at the island of Kentar, Indonesia where many an equator-party ensued.
Indonesia Destinations: Up | E Nusa Tenggara | Komodo & Rinca | W Nusa Tenggara | Bali | Kalimantan
Related Pages: Indonesia Home | Diving Indonesia | Cruising N&E Indo | Cruising S&W Indo | Indonesia Letters | SE Asia Flora/Fauna
Indian Ocean: Indonesia | Singapore | Malaysia | Thailand | Nepal | India | Sri Lanka | Maldives | Chagos | Seychelles | Madagascar | Mayotte
Top Level: Home | Destinations | Cruising Info | Underwater | Boat Guests | Ocelot | Sue | Jon | Amanda | Chris | Site Map | Make a Comment
---
Lifetime
Commodores
of the
Seven Seas
Cruising
Association

If our information is useful,
you can help by making a donation
Copyright © 2000‑ Contact: Jon and Sue Hacking -- HackingFamily.com, svOcelot.com. All rights reserved.