Madagascar Coast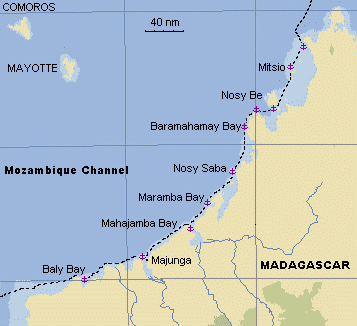 We sailed south along the NW Madagascar coast
Landscape: Much of the West coast of Madagascar is low hills with dry scrub but there are areas with dense forest where lemurs live. Water only clear offshore. Coastal water red from erosion. Thatched hut villages. Thousands of sailing dhows.
Visited: 7 October to 3 November 2007
You can see more photos and read a lot more about sailing to Madagascar and sailing the coast in our Madagascar Newsletters and our Madagascar Cruising section.
Thinking of traveling to Madagascar? Domestic and international flights serve the airport on Nosy Be. This green and hilly island has a growing number of resorts and some boat charter companies. Here you can get a glimpse of how an ancient way of life is still carried on as you watch the hand-hewn wooden dhows ply the waters of the island. If you charter a boat for a few days, you'll be able to visit Tani Keli with its clear waters for snorkeling, Nosy Komba with its friendly village and protected Black Lemurs, and 40 miles north you can see how coastal Malagasy live in a small thatched hut village on the island of Mitsio. Flights from Madagascar's capital, Antananarivo (usually abbreviated 'Tana) serve the coastal town of Majunga (aka Mahajanga). This busy port hosts lovely colonial architecture where colorful rickshaws criss‑cross the city. Its nearby attractions include Cirque Rouge (which we saw from the sea -- an awesome red sandstone geological sculpture) and Ankarafantsika National Park with its 8 lemur species.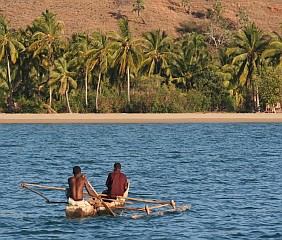 Heading home on Madagascar's coast
(Sue) A profusion of hand-hewn pirogues and sailing dhows welcomed us to the western Indian Ocean. It was something I had expected in Africa, but not in Madagascar. But then again, I wasn't sure what to expect. With roots from Indonesia and Africa, the Malagasy (MAL-gash) peoples use wooden boats with lateen sails as a means of transport for both goods and people. Whole families often filled the boats. Larger dhows laden with wooden beams or thatch for building materials ghosted quietly by on the light winds. At low tide, they dropped their sails as they approached the town of Hellville on Nosy Be, and poled their way into the harbor. Having heard so much about the lemurs and rainforests of Madagascar, it was surprising to learn about this coastal environment.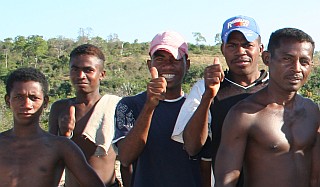 Malagasy men after trading fruit for clothes
The northwestern coast of Madagascar is in the wind shadow of the island's high mountains, which means the SE tradewinds are blocked. The sea is generally flat and the sailing, in both traditional dhows and modern sailboats, is fantastic. At our first anchorage (north of Mitsio on the map) we were met by a young man who offered us fresh lobster. Having no Ariary (Malagasy money) yet, we offered to trade some old clothes which were hastily donned. We found the villagers all along the coast to be friendly, though their French was somewhat limited. Some did not understand the concept of trading fruit for clothes (we got a mango the size of a football once!), but were thrilled when they saw what we were offering.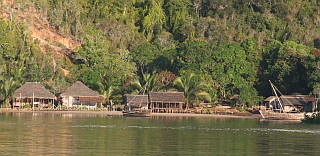 The chief's home and village dhows, Honey River
My favorite places along the coast were probably Baramahamay Bay (known by cruisers as Honey River) and Moramba Bay. Honey River had several small villages along the shores of the shallow bay and the chief of one collected honey from the hills. We were able to trade clothes for this pale, fragrant honey placed in old soda or wine bottles. Yum! At Moramba Bay we anchored near karst-carved islets covered in ancient baobabs trees. Smaller coastal trees were alive with gray and white Dimorphic Herons and black Vasa Parrots. We are lucky to be able to visit places like this, that almost no land travelers would find.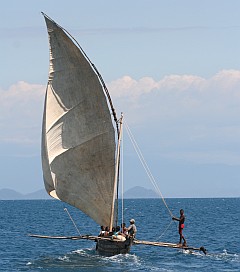 Madagascar wooden outrigger dhow
(Jon) Sailing along the coast of Madagascar was delightful on several different levels. The people are wonderful sailors, with lots of boats sailing hither and yon in vast profusion. These dhow‑rigged boats are often very crude, with booms of lashed together wooden sticks and sails of whatever cloth can be found, but they're out there doing it. Close to this western coast, the normal tradewinds give way to more gentle breezes that blow from shore in the morning, and then turn around and blow from the ocean in the afternoon. This pattern is great for trading up and down the coast. Since the roads vary from extremely difficult to non‑existent, virtually all coastal commerce is by boat. I so enjoyed watching these boats come and go, all done with pure sailing skill, as they carry no motors.
Although the people have virtually no possessions, they're not beggars like we found so often in Indonesia. People were happy to trade whatever they had (honey, fish, lobsters) for the many used clothes we brought as trade goods. Even when we brought a huge bag of clothes to a village, it took them a while to understand that we were giving them to the village.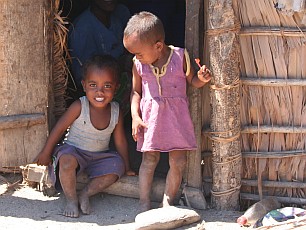 Children of Mitsio village, Madagascar
Hellville, on Nosy Be Island, was an interesting vision of crumbling colonial architecture. We saw few walls that would have passed a US structural inspection, yet they were still in use. Some buildings had collapsed, and most were just left. Yet they were busy repaving many of the streets. Very strange.
There were lots of islands and bays to explore as we sailed down the coast, so the coastal cruising was fun. Unfortunately, most of the cruising fleet had already passed us by so we didn't have anyone to cruise with at first. We were already in the nominal cyclone season so we were feeling a bit rushed. This meant that we sailed fairly long distances - typically 40‑60 miles a day. It was fun when we finally caught up with 3 other cruising boats and could slow down and enjoy the coast a bit more with them. Majunga was the only real town of any size that we visited (besides Hellville), but Majunga has a bad reputation for crime against visiting yachts so we didn't hang around. We just pulled in, bought some diesel as quickly as we could, and left to sleep on the other side of the bay (with our alarm system active). Too bad, as the town looked interesting to visit.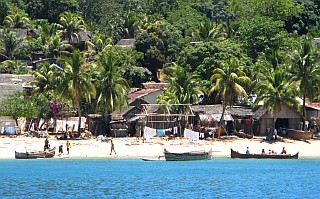 Village on Nosy Komba
(Amanda) Madagascar's coastline is not like many others we've encountered. The poverty of the people leads to small grass and thatch villages sprinkled along the islands, not the typical tropical resorts that we've come to expect. I believe we only saw one resort along the coast, on Nosy Komba next to Nosy Be. The Nosy Be area is somewhat touristy, with Hellville's craft and cloth market and Nosy Komba's embroidery and carving market. There you can buy embroidered cloth, sea shells, carvings, and flavored rum as you walk down the sand pathways nodding hello to all those who beg you to buy from them. But the rest of the coast rarely sees a tourist.
What stands out in my mind from Madagascar's coastline is Tani Keli, a little island just south of Nosy Be. Everyone talks about it as having spectacular snorkeling. Spectacular for Madagascar, perhaps, which is otherwise desolate and bleached. Tani Keli actually had clear water, but we only hopped in to scrub the grass from our hulls. I would have liked to stay longer, but unfortunately we were on a time crunch.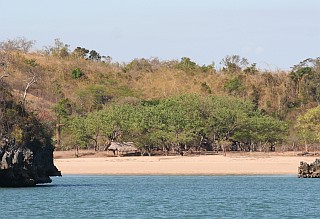 Lone house on the shores of Moramba Bay
Nosy Saba was actually almost abandoned, which was nice and calm and relaxing. No fishermen coming out to the boat as we anchored. The beach was lovely and long, and we climbed up the rather steep hillside to the top of the island - where tire tracks and a distant tractor signaled that the island wasn't uninhabited. But we didn't actually encounter anyone, and the feeling of being alone on the island was beautiful. As was the island itself, with flowing hills of grass that danced and swayed in the wind. Of course the wind came up from the wrong direction at about 10pm, causing us to leave that beautiful place in the middle of the night, in search of refuge on the mainland.
Moramba Bay, which was mostly uninhabited, was lovely to explore via dinghy - although the coral beaches made landing difficult. Mom and I spent several hours exploring the coves and inlets and photographing the birds that lived there.
Up | Madagascar Coast | Madagascar Inland | Madagascar Home | Madagascar Letters | Madagascar Journal | Mad Flora & Fauna | Cruising Madagascar
Indonesia | Singapore | Malaysia | Thailand | Nepal | India | Sri Lanka | Maldives | Chagos | Seychelles | Madagascar | Mayotte
Top Level: Home | Destinations | Cruising Info | Underwater | Boat Guests | Ocelot | Sue | Jon | Amanda | Chris | Site Map | Make a Comment
---
Lifetime
Commodores
of the
Seven Seas
Cruising
Association

If our information is useful,
you can help by making a donation
Copyright © 2000‑ Contact: Jon and Sue Hacking -- HackingFamily.com, svOcelot.com. All rights reserved.